This race certainly took a lot out of me and it was a very humbling experience on all counts. The race was tough, the toughest I've raced thus far and I was out of my comfort zone for the entire race  (taking 'Get out of your comfort zone!' to a whole new level!). I slipped into the dark place a few times and I had to keep pulling myself out, repeatedly muttering under my breath to myself: "I just want to finish, I just want to finish". I mean, I flew all the way out here and I want that finisher medal, towel and cap badly LOL!
Coming into this, my expectations were simple – to just complete the race and enjoy the experience. It is the World Championship and this is where the best of the world gathers to compete once a year; and I was just grateful for the opportunity to toe the start line. In fact, I got all teary eyed while waiting in the start pen and I felt a wave of emotions engulf me. I wanted to bawl right there and then, but tak glam la, so must maintain. It's been nearly two years and what a journey it has been (if you know the background).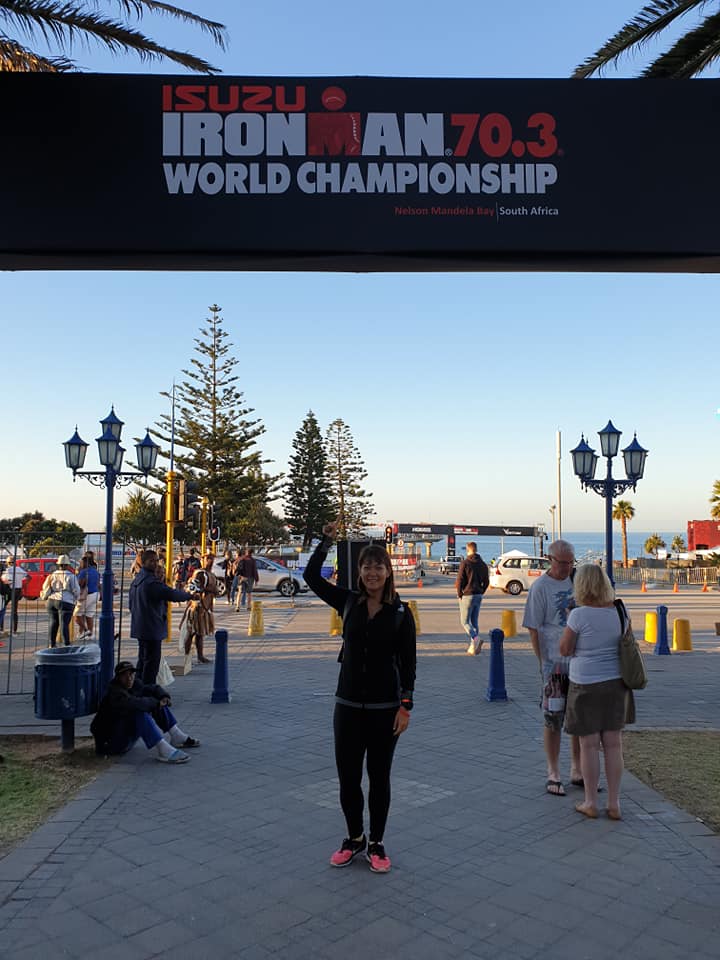 PRE-RACE
This is my first time flying out of Asia to race and I was excited, also because I had my friends (IronProject boys Ian, Anthony, Ernest), Jaime and the super cutie Oliver, plus my mum. We flew into Cape Town via Johannesburg (SQ does a one-hour stopover in Jo'burg before continuing on to Cape Town so you don't have to get off the plane), before taking a domestic flight from Cape Town to Port Elizabeth. From there we rented cars to get to this four-bedroom house that eight of us adults (plus one kid) shared for the race week.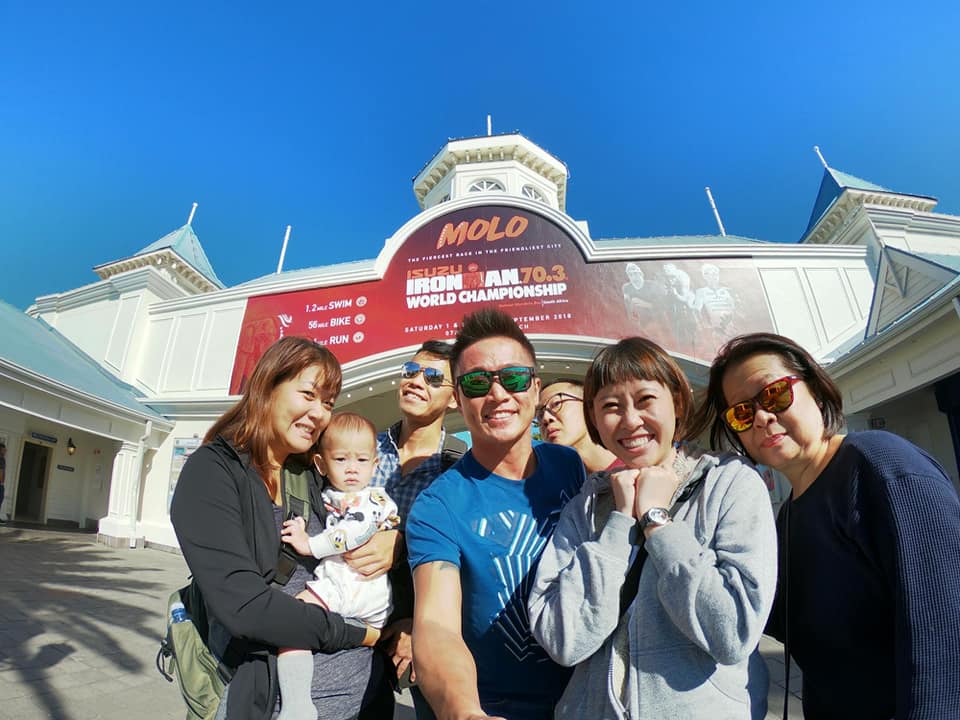 Port Elizabeth is a beach town, with palm trees lining the streets and endless views of the sea. The weather wasn't too cold – with temperature around 20 degrees Celsius (like aircon) – and it was almost perfect when the sun came out. We got in on Wednesday afternoon and we went for food first, before going to athlete check-in.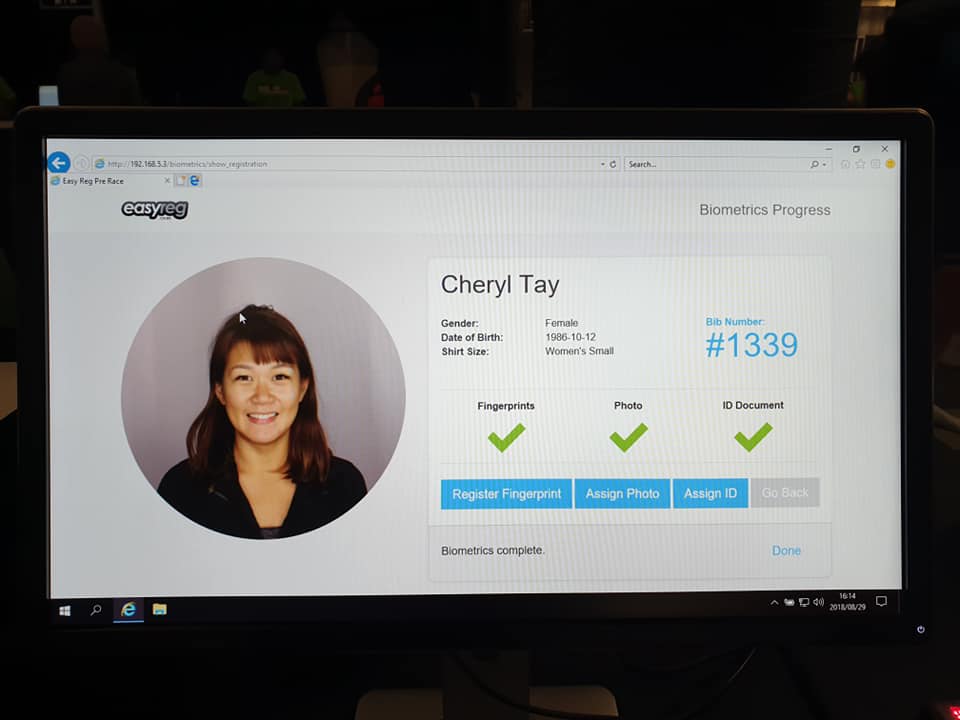 The registration was so cool (using biometrics) – we walked in, got our headshots taken, then moved over to the next station to register our fingerprints, before moving on to collect our bibs and backpack. (I was secretly very excited about the backpack!) We got an email at night though, that they will be mailing us a new backpack because this one had defects. YAY!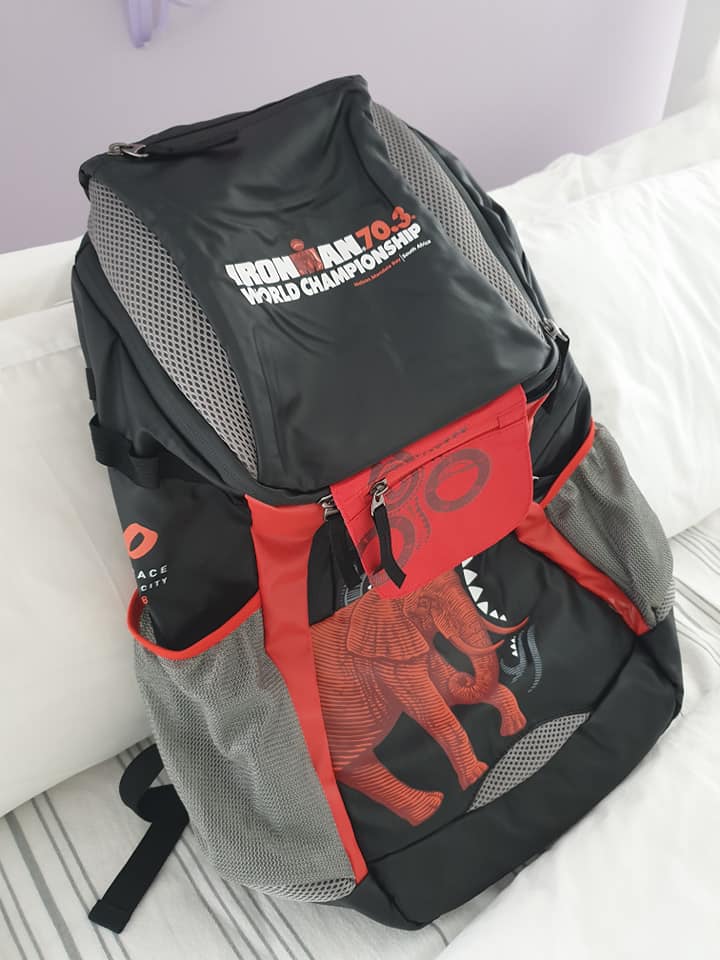 What was next? SHOPPING at the race expo and also the official Ironman merchandise store, which had SO many things I wanted to buy but I had to control myself lol.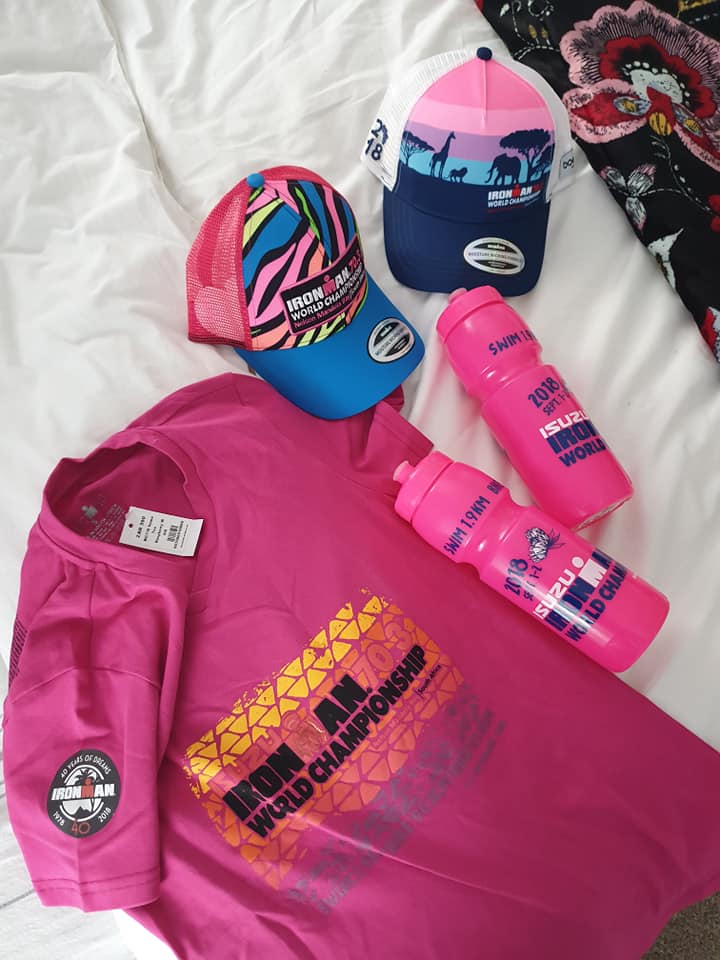 On Thursday morning I went for a test ride with Ian, Anthony and Ernest. Before we came, we had friends telling us that it was very windy and cold so the bike might be quite bad. I was worried but thankfully when we rode out, it was windy but not too cold phew. The road conditions were quite rough though; I could feel all my fats vibrate as I cycled HAHA.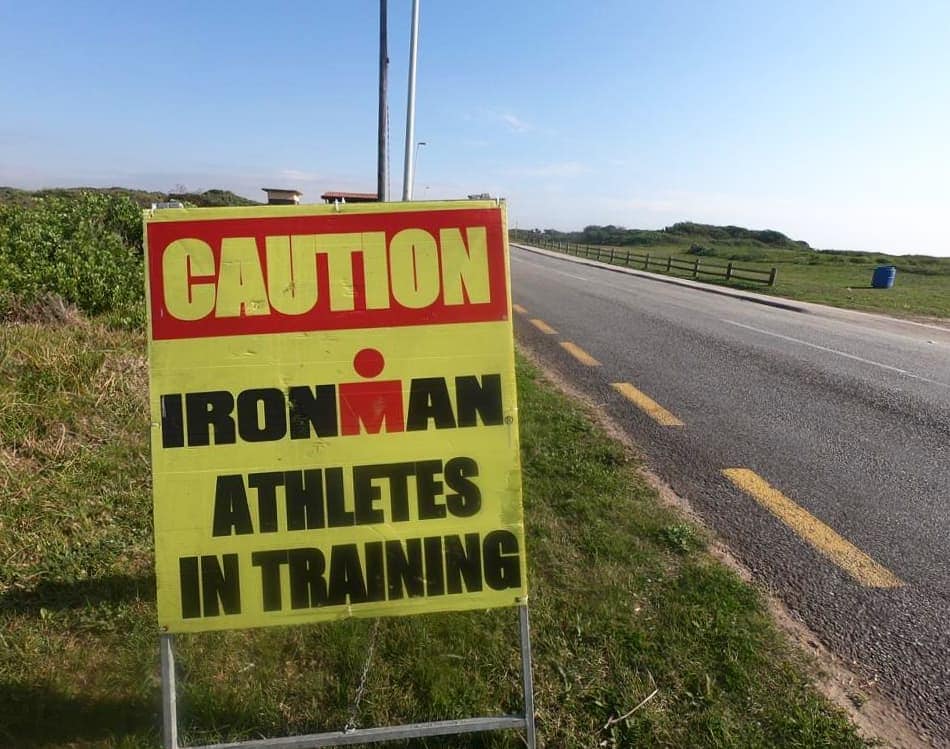 The best thing? THE VIEWS. SO NICE that we had to stop and be tourists.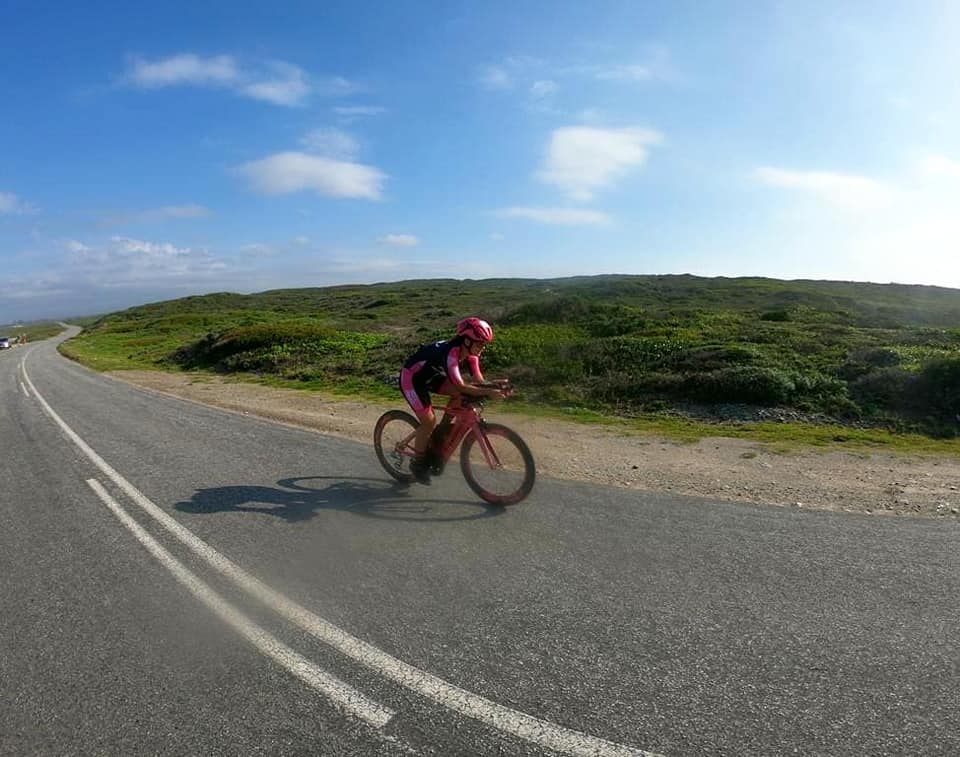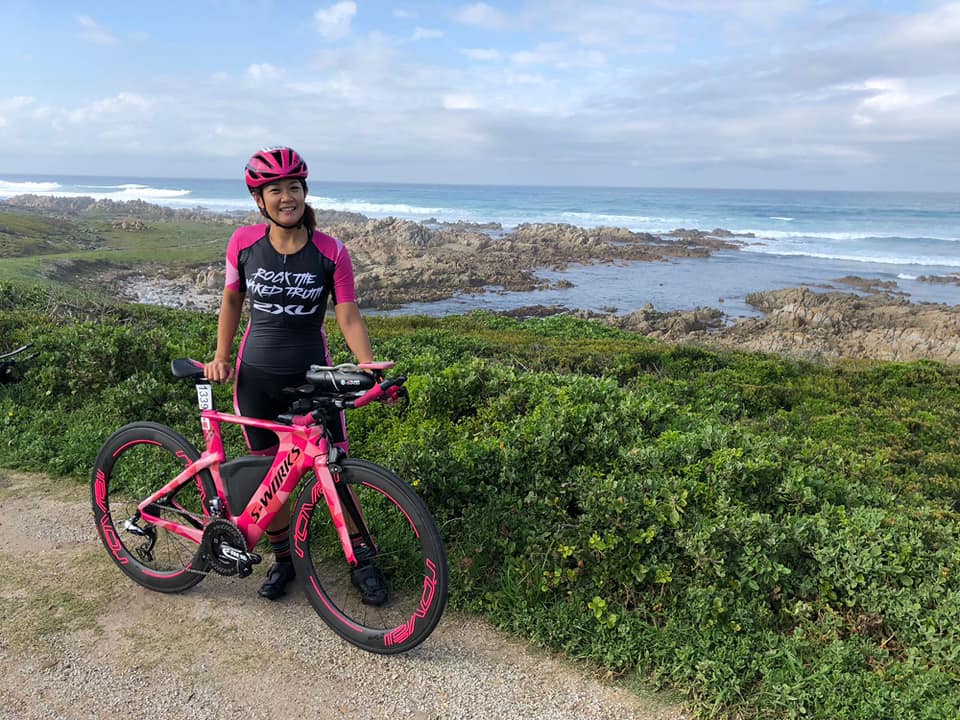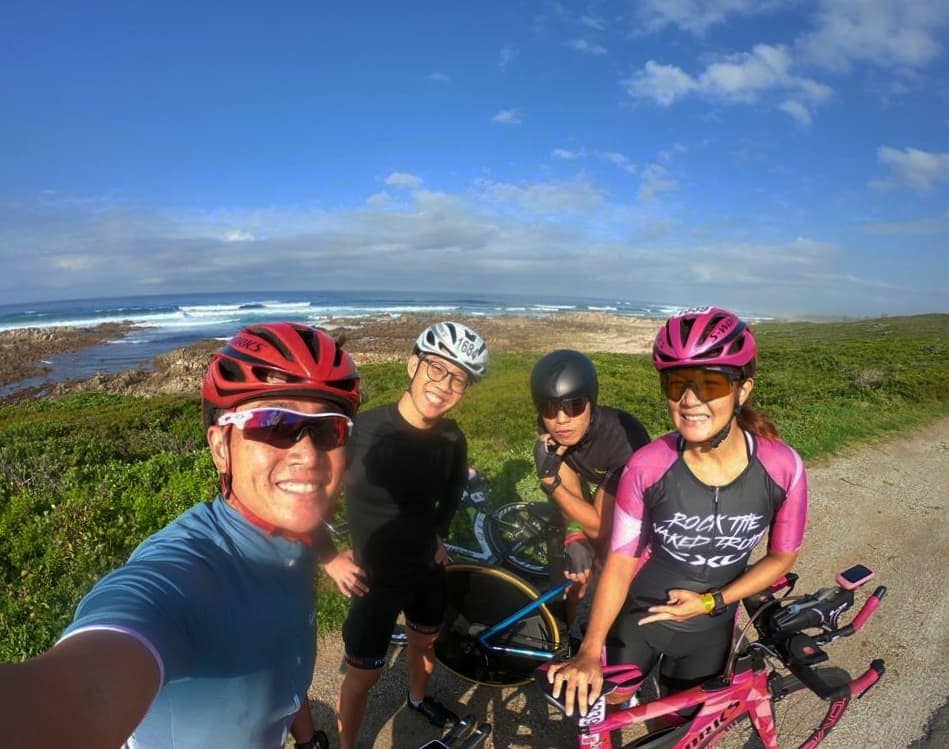 In the afternoon, we went for the Parade of Nations where every country represented at this race will have its flag and anyone (friends and family too) could just join and walk. It was also a good time to see who else from your country is there. I made lots of new friends here!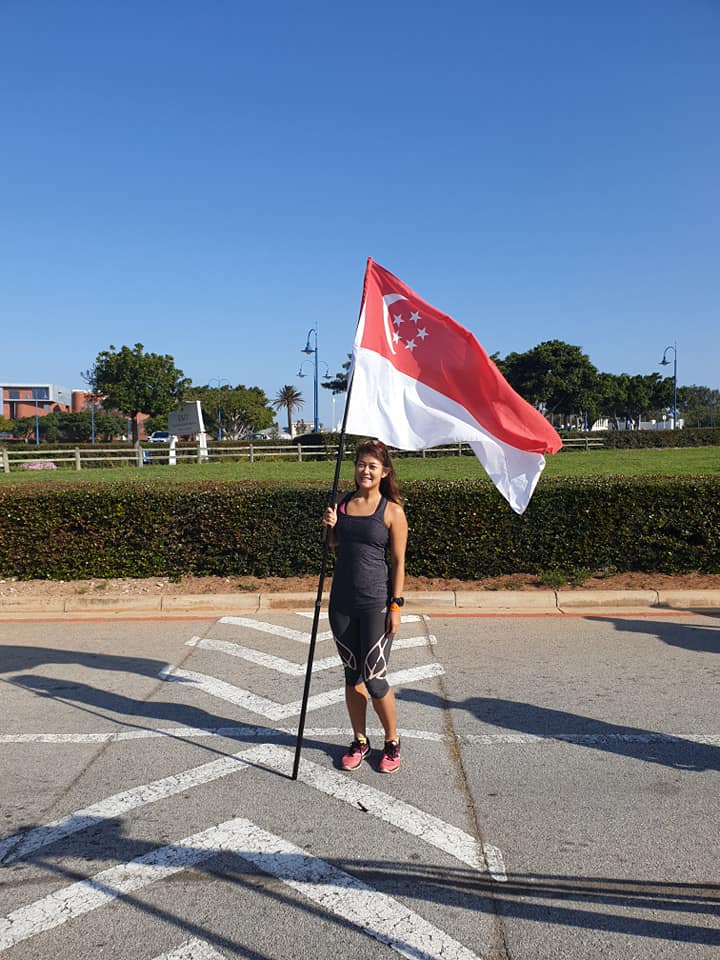 Later in the evening was the carbo load dinner, or welcome dinner. Hmmm of all the races I've been to before, the selection of food here is the weakest – there was just one table with six dishes (I cannot remember exactly how many). I think we have been spoilt in Asia! Usually there are a few tables/sections – one for appetisers like salads, one for the main dishes and one for desserts – so this was quite dismal. Drinks were also chargeable, even water! I think I just ended up eating a lot of meatballs. Athletes get to attend the welcome dinner for free, but guests, like my mum, had to pay US$35 (no drinks included). I ended up finishing her meatballs too.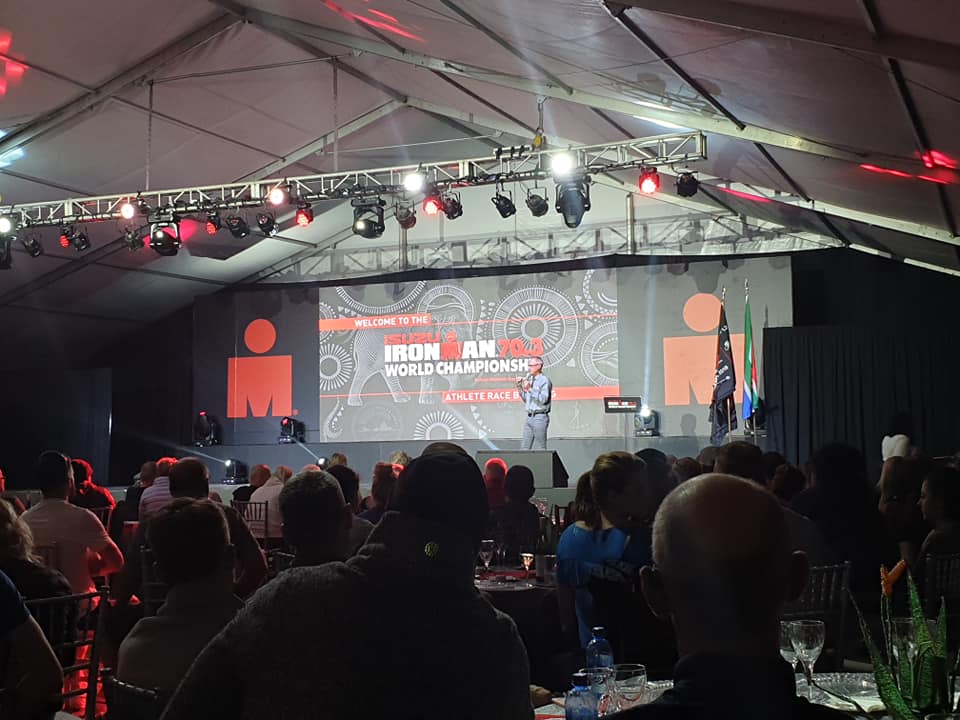 Friday morning I did a test swim with Charlene and Sarah. OMG the water was so cold, like 17-19 degrees Celsius! We wore wetsuits but my face and hands, that are not covered, were so frozen – I wanted to get out of the water as soon as I could!! BRRRRR. And who said the water at OCBC Aquatic Centre was cold?!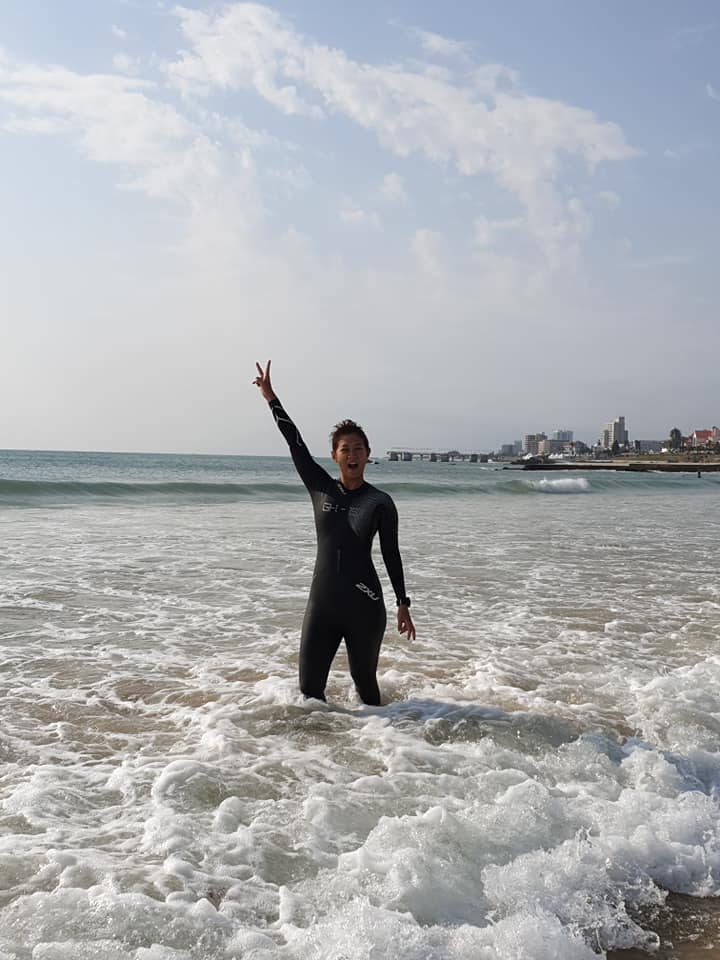 The women race on Saturday; that means we needed to check in our stuff on Friday afternoon. Transition is split into two – with T1 near the swim start/end and T2 about 2km down where the finish line is. I cycled down to T1 to check in my bike and hang up my bike bag on the rack first. Helmets had to be kept in the bike bag overnight too. And then I walked down to T2 to hang up my run bag. All checked in! Now to just head back and rest early for the race the next morning, WOOOOOO!!!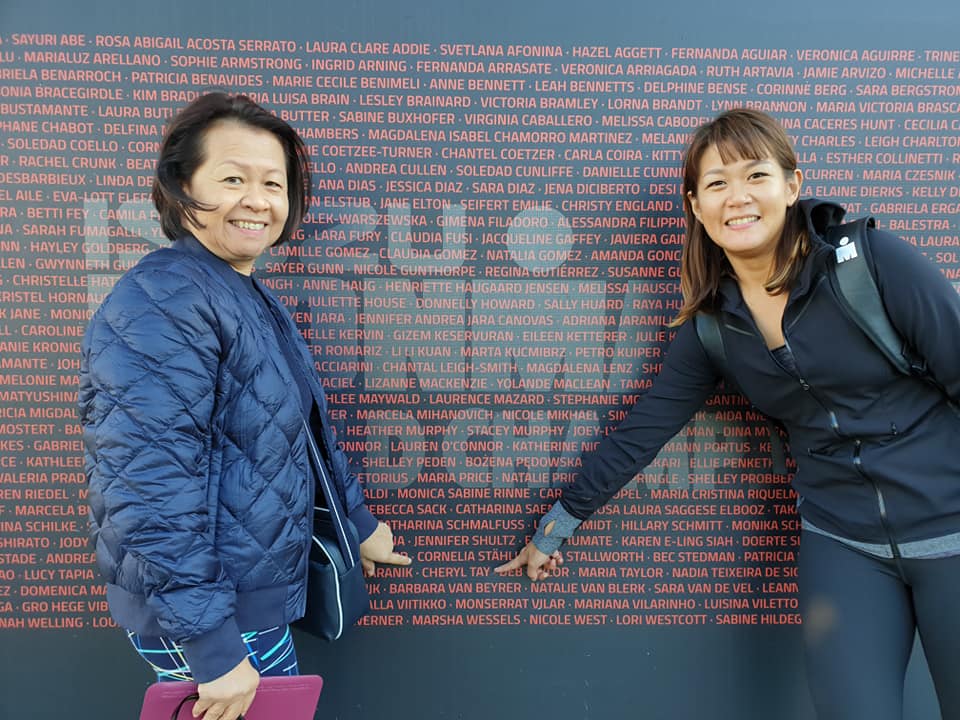 On race morning, I was feeling normal. I just went about eating my usual pre-race breakfast and checking one more time that I had everything I needed. I chose to wear the sleeved trisuit (first time I'm wearing sleeved) because of the cold weather. We could access our bike and bike bags in T1, but T2 (where our run bags are) is off limits. Usually after I'm done with transition, I will go and test the water for a bit of warmup but here we weren't allowed to get into the water; thus I just had to do some stretching.
Altogether there were 1,500 women from all around the world and we were flagged off in waves, according to our age group. I was in Wave 6 at 8.10am, which was 40 minutes after the pros flagged off at 7.30am. Within our wave, we were then released 10 at a time every 15 seconds into the water. While I was waiting for my turn, I started to get emotional and I really felt like crying. I can't believe I was there! And then I was off!!
SWIM
The swim was so cold (15 degrees Celsius) that morning and I struggled to breathe. I kept having to take big gulps as I came up for air and I couldn't find a rhythm. There were no lane ropes, so it was just swimming from buoy to buoy. As a result my lines were a little jagged and I swam about 100 metres extra. Most of the time I was swimming alone too, because they spaced us out to start, so I felt quite lonely! Urgh it was so cold and I was so relieved to see the shore. As I lumbered out of the water, I glanced at my watch and went "OH SHIT ". 44 minutes. It's slower than my usual, but ok never mind, let's not think about it and just move on!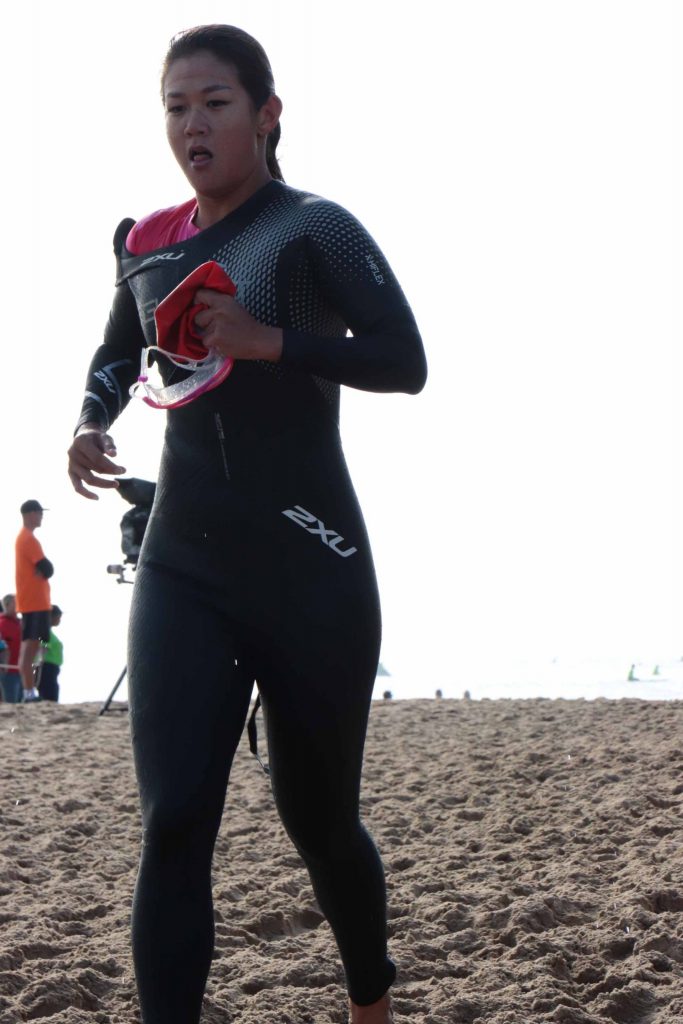 As I was approaching T1, there were several pairs of volunteers waiting for us. They were the wetsuit strippers, designated to help you remove your wetsuit as quickly as possible. They are so pro man! Two guys came to me, told me to lie down and they took off my wetsuit WHOOSH just like that. I headed to the rack to retrieve my bike bag next and then sat down on one of the chairs provided to start getting my bike stuff on.
A volunteer came over to help each of us and I was so grateful for her help! My hands were so numb from the cold that I couldn't even put my socks on wtf. After she took everything out of my bag for me, (including opening my gel packet for me and laying out my bike shoes), she put on my helmet and shades for me and then she could feel my frustration as I struggled with the ankle guard. "I know you are racing, but relax and I will help you," she said as she helped me put on my socks. Ok finally got everything I needed for the bike, with her awesome help, then I quickly packed my swim stuff into the bike bag and passed it to the volunteers at the drop-off area before I ran to get my bike.
BIKE
Immediately out T1 was the start of a climb and for the first 11km we were climbing and climbing. Although we had gorgeous blue skies, it was windy and cold. And the roads were rough, except for a few hundred metres here and there of smoothness. I was battling the headwinds, trying to work the hills and praying that I will get warmer as the bike leg progressed. This was a tough course indeed! There were hardly any long stretches of flats and it was just mostly up, down, up, down. It's one loop out and back, and before you hit the U-turn point, there were big hills to conquer on the way in. That also means having to face the same hills on the way out!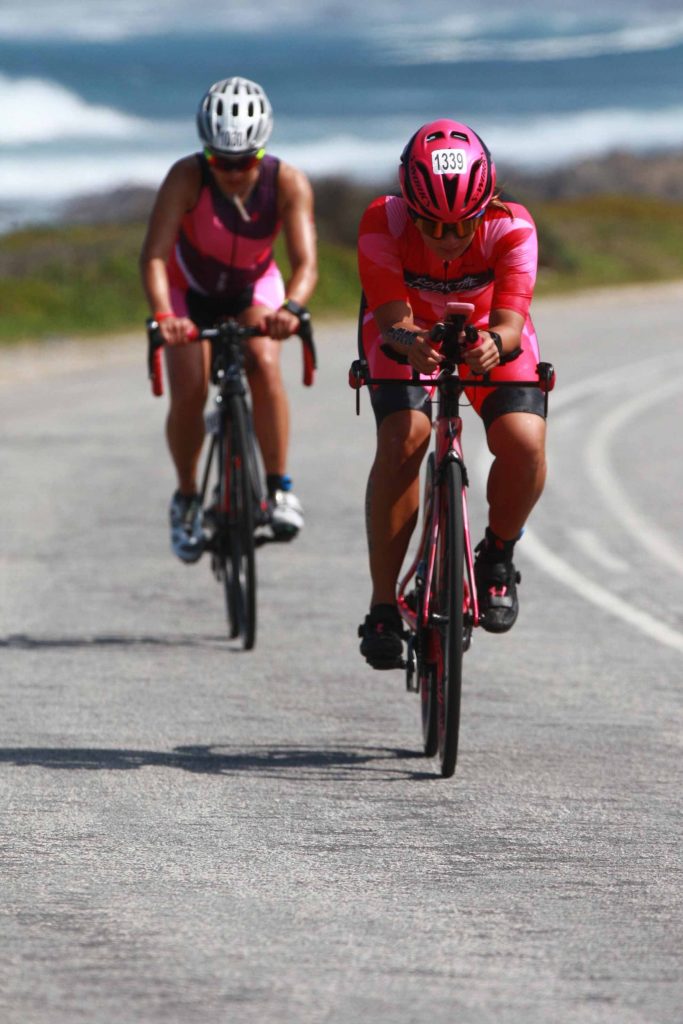 At this point I decided to throw all timing out the window and just focus on completing the course. Some of the downhills were scary (I was going at 60km/h for one) and they had some turns a little tight that I had to hit the brakes because I was scared of crashing. The first 60km were the hardest and then the last 30km we caught the tailwind and it was easier at last.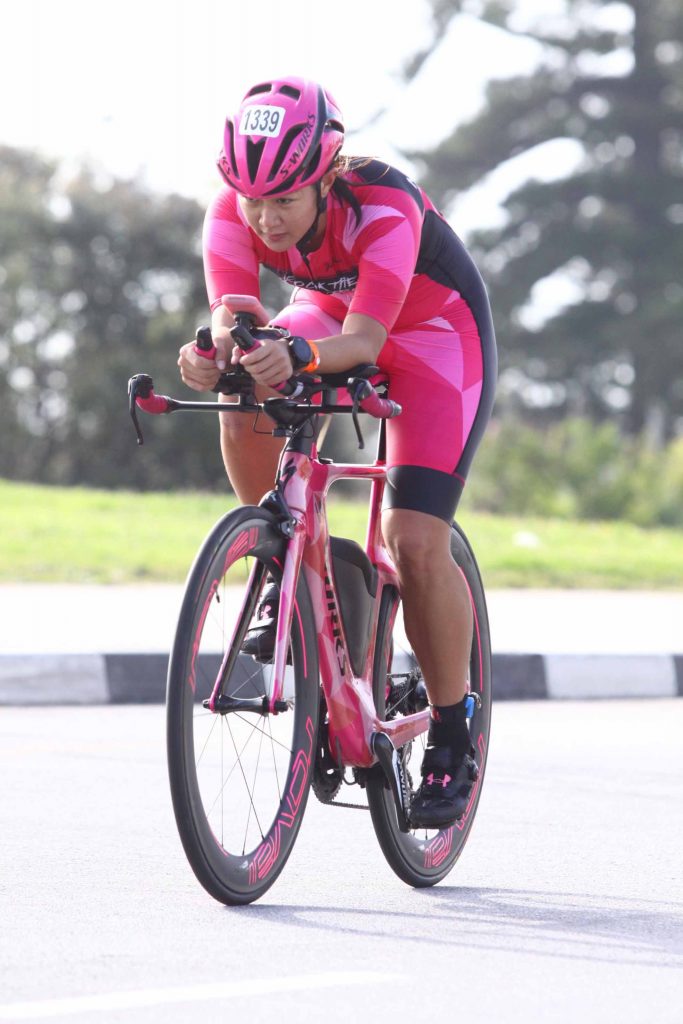 However, my legs were cooked by then, from pushing too hard on the hills. I took water at every aid station and my nutrition plan on the bike was executed as planned, but my legs were almost hitting the wall because of the hills. I started to worry here, because I could feel the strength of my legs were depleting by the minute. I was also being overtaken, with all these crazy fast girls zooming by me. I was already going at 40+km/h because of the tailwind, so what speeds are they going at man?! Here, I was feeling a little demoralised but I shook it out of my head and just kept spinning. Bike time was 3:12.
T2
Seeing my mum and my friends cheering for me as I cycled into T2 really helped but I was pooped from the bike leg man. T2 was really fun though! I dismounted and passed a volunteer (known as bike catcher) my bike, then ran over to the rack to get my run bag. The second my legs hit the ground, I knew something was wrong. My legs didn't typically feel these heavy off the bike, pfffft. My ankle (the injured one) was also hurting at this juncture, but never mind, just keep going. Again, I sat down on one of the chairs and a volunteer came to help me. T2 was a lot quicker – just changing of shoes and swopping the helmet for my cap then out you go.
RUN
I read somewhere that the run course is good for PB. It's two loops, mostly flat, except for the slopes at both turnaround points. So naturally I was hoping that I could try to do a run PB here, especially when the weather was so shiok to run in. It was still windy, but the sun was coming up so it was lovely! Yeah the weather did get more heated as we ran, but it's nothing like the heat in Danang and Cebu.
But after the first 2km, my legs felt so sore. Pffffft. This nice lady talked to me for about 1km, asking me where I am from and all that, and I replied her but I was feeling quite sian already. She took off when I couldn't keep up the conversation oops. A few ladies also complimented my trisuit (yay!) and I really tried not to think about my legs.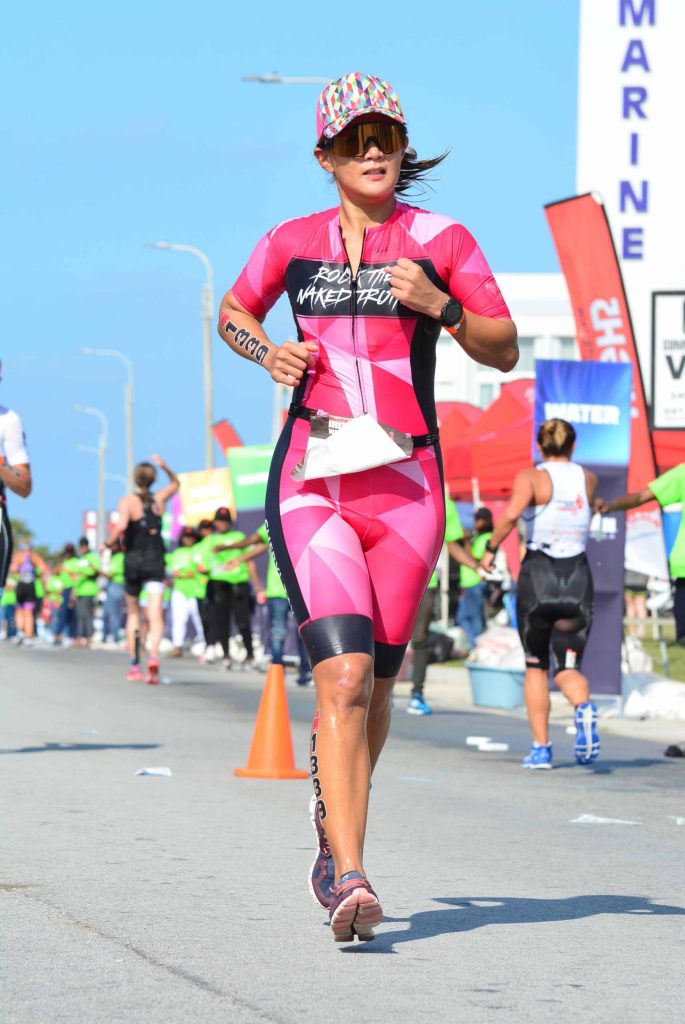 Each time I hit the slope, I was practically just dragging my feet along because they seemed to be getting heavier. I told myself to just finish it and take it home, chanting to myself "I just want to finish, I just want to finish", no matter how lousy I was feeling. Admittedly I lost some of the fight and just cruised to the finish. Thankfully, my mum and friends cheering for me gave me a boost each time I passed them. My mum and Sarah's mum was on one side, with Ian, Jaime, Oliver and Anthony across. Ernest was somewhere taking photos for us with his DSLR. And then Elaine Young was further out on the course shouting for us and it really helped!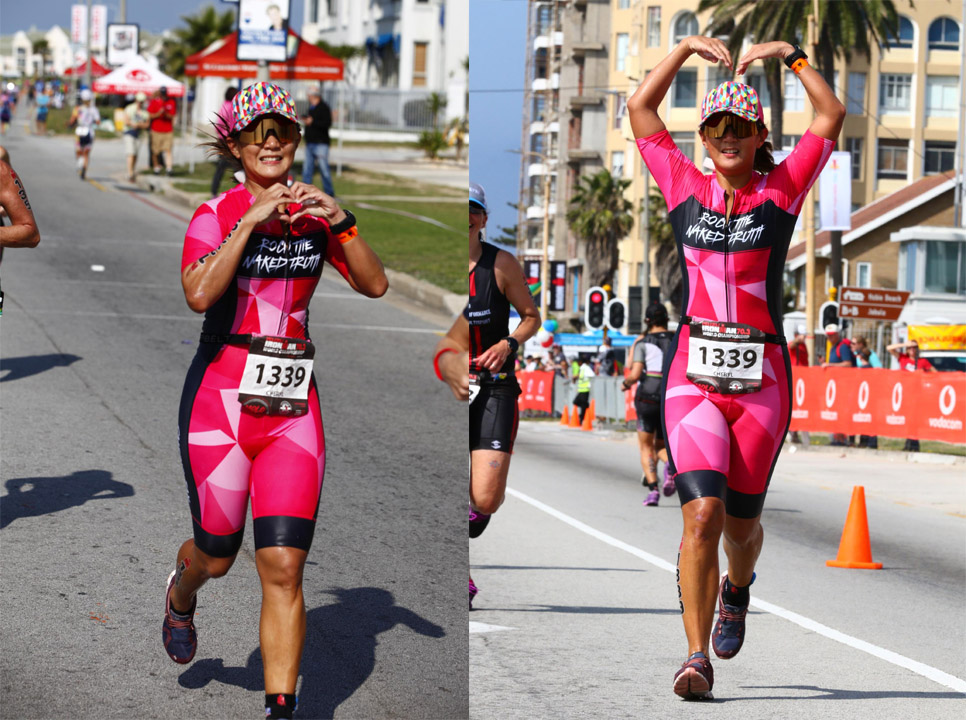 Oh I have to say, the aid stations were AMAZING – each aid station has a few tables for the different things (sponges, cola, gels, electrolytes, banana, water) and the volunteers were readily offering you everything so you could just keep running and not have to stop at all. Water was served in a plastic packet, instead of a cup, so what you do is bite off the edge and drink from there. You can then hold onto this packet the rest of the way. Genius!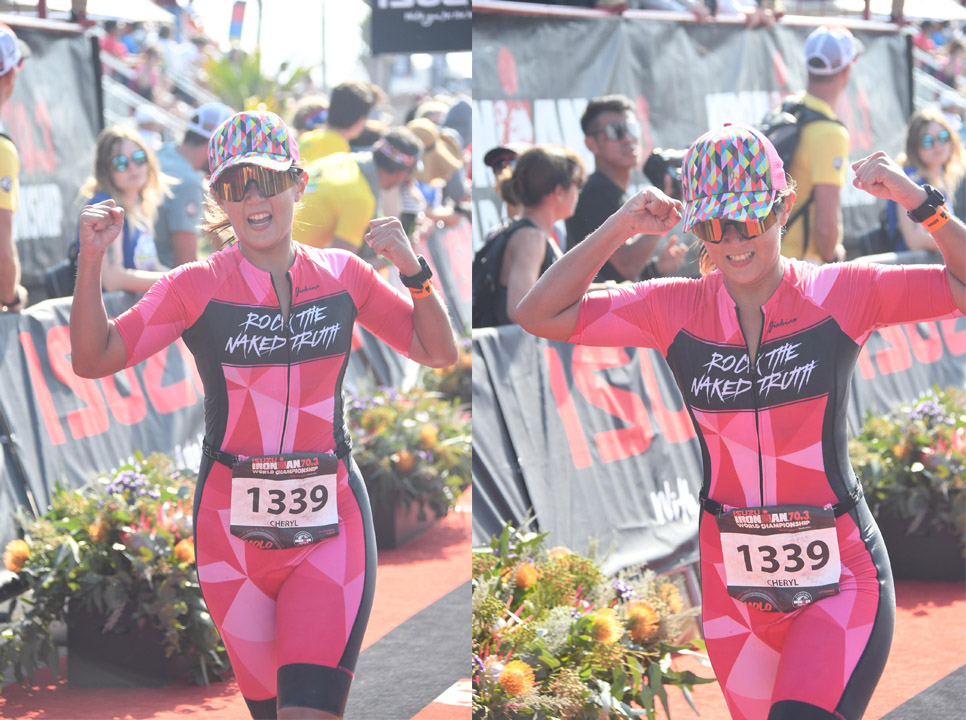 Finally… I was soooo relieved to see the finishing chute!!! Usually I would pick up the legs and sprint hard to the end, but not this time. I was just happy to bring my legs home, for a run time of 2:08. And I did. So surreal to hear the emcee announce my name as I ran in, giving him and some of the supporters high-fives. Just an amazing amazing experience!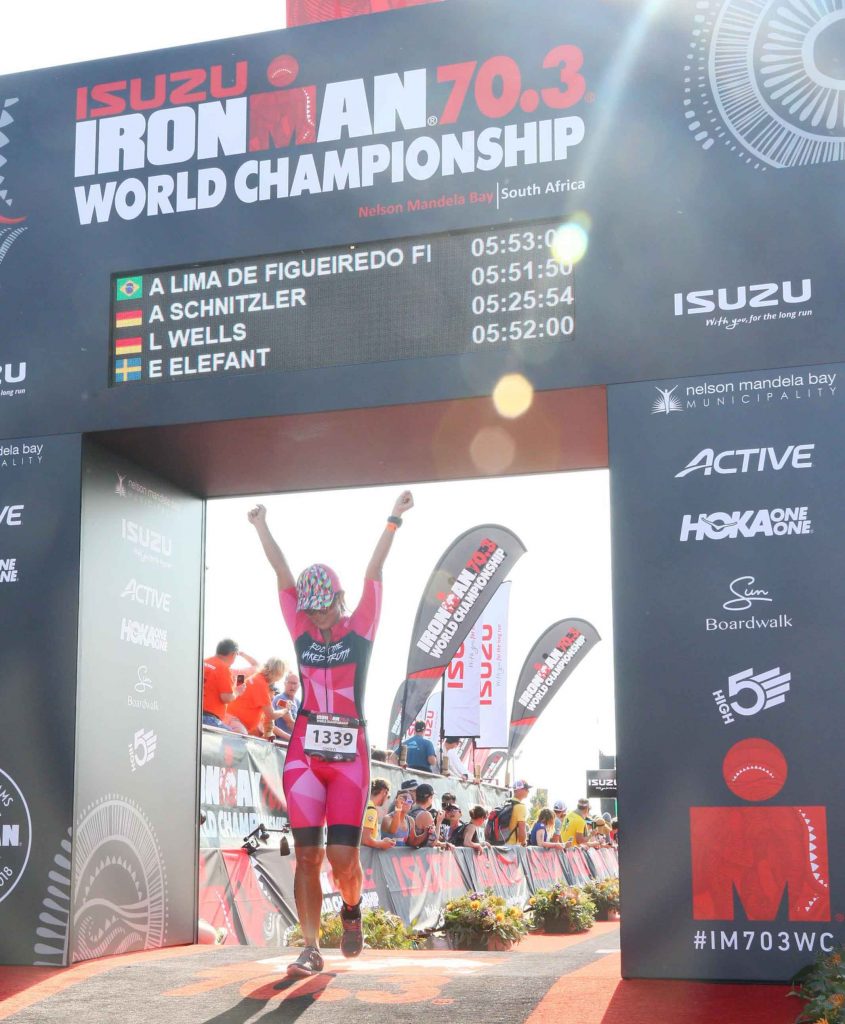 Do I feel like I could have done better? I think I could, but I did what I could with what I had. I guess you can say this race exposed my weaknesses and I definitely have a lot to learn from here. My legs were aching so badly the next morning – I haven't felt this level of soreness in a while man. Given the conditions I faced coming into this, with the ankle sprain and the throat infection, I will take it. Total time was 6:14.
Getting my sweaty fingers on the medal was WHOA. The medal is much bigger than the usual ones you get and it's heavier and thicker too. You also have the option of getting your name and timing engraved, at about S$10.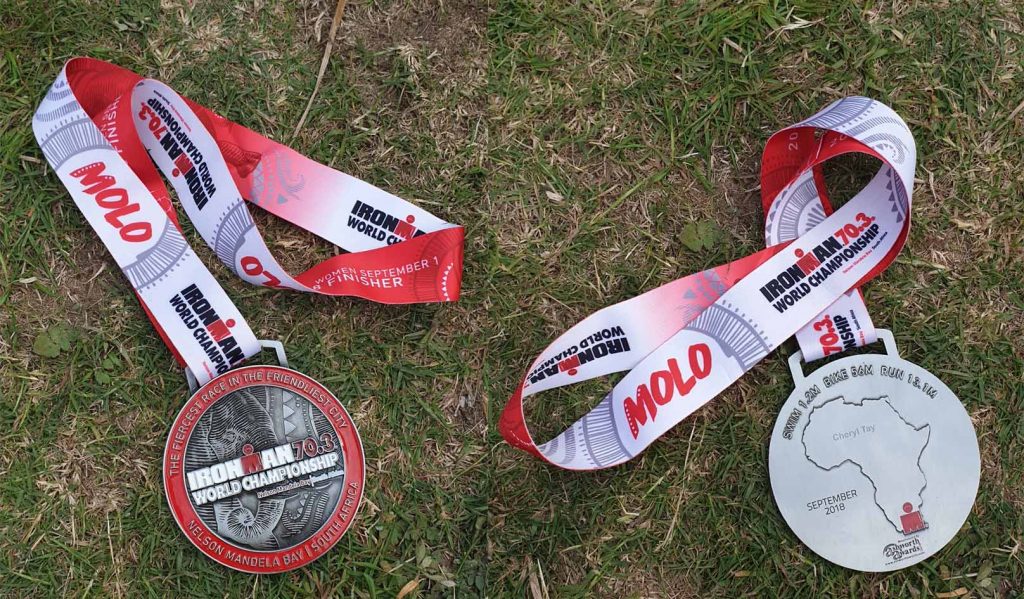 Already being here is a huge thing and an experience I will remember always! Everything about the race is so well-organised and professional – I mean, wetsuit strippers and bike catchers, WOW. I am very very grateful to the 3,000 volunteers for their time and effort – THANK YOU.
It was also cool that the women and men race on different days, so I could get the chance to watch the boys at work! I had a very good time racing with my friends and we then extended a few days after, in Cape Town, for a post-race break.
Thank you thank you thank you everyone for your support and well wishes. It really means a lot to me. The next race will be another milestone as I go for my first full Ironman in Langkawi, Malaysia in November. Pray for me guys!!
P.S. I TOOK PHOTO WITH LUCY CHARLES! SHE'S SO PRETTY OMG AHHHHH!