After my first time racing in Danang in 2017, I didn't want to race there again because I had a bad race and it scared me off. But I went back again last year (had bike trouble) and then did it for the third time last Sunday. LOL!! Aren't we suckers for punishment sometimes?
I guess I had some unfinished business here so I kept going back and hey, I finally got the monkey off my back. I achieved my PB (5:31:43) this time! YAYYYYYY YAY YAY!!!
Danang is known for being a very hot race and this year was no exception. I struggled quite bad on the run (as did everyone I suppose) and I couldn't find the legs, so I just carried them home to the best I can. I think I left everything out there so although the run wasn't what I targeted, I'm still happy with the result – a PB and a 4th place (yes, again lol) in my age group.
PRE-RACE
In the past two months after Ironman 70.3 Bangsaen, training hasn't been as smooth; with lots of things going on for me with travel, events and other commitments. It got to a point where I was losing motivation and feeling tired all the time. I didn't have the mood to train on most days, I was making excuses, I was just dragging myself through some days or skipping training even.
So going into this race I didn't want to set any expectations for myself – I always say that I will just do the best I can on the day itself and manage race conditions the best I can. The good news is, I didn't fall sick before the race!
I travelled with the same group of awesome people from Iron Project again (yes, with my favourite baby Oliver) (and with the addition of Craig and Adrian) and we stayed in a huge 4-bedroom villa at Furama Villas, which is along the run route and about 2.6km from the race hotel Hyatt.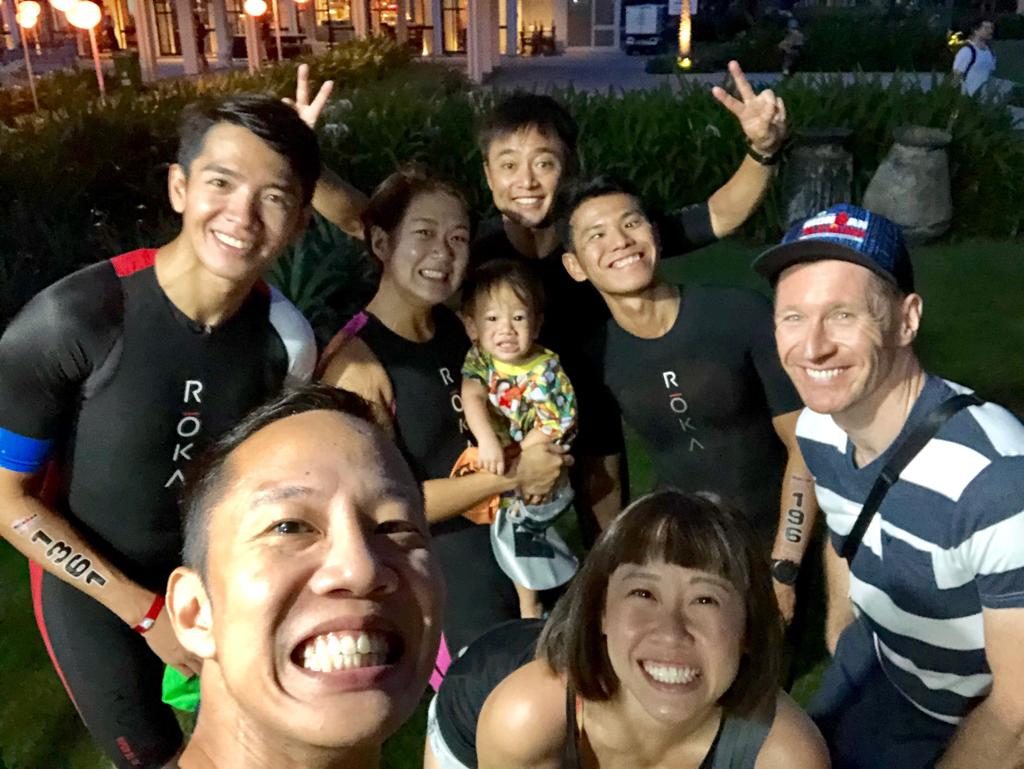 In the few days before the race, we just chilled mostly and got our test swim/bike/run done. The weather was quite cloudy with rain on some days and on Saturday after we checked in our bikes, a huge storm hit us. Was there hope for a cloudy/rainy day on Sunday? Nah, the weather forecast showed HOT HOT HOT. And true enough it was.
RACE MORNING
I went to bed at 8pm with the alarm set for 2.30am after preparing my transition bag, but somehow I woke up at 11pm and I had a hard time falling back asleep after. I was telling my body, please please go back to sleep, I need the rest, why are you awake!! Eventually I slept and when the alarm went off I had to snooze a little because I wanted to sleep more LOL. I hauled myself out of bed anyway and went to the kitchen to get breakfast, but I didn't have much appetite so I just took a banana and an energy bar. It was just too early to eat anything more!
When we got to the transition to put our stuff for the race, it was really cool seeing a lot of familiar faces. I don't have the exact number of Singaporean athletes, but of the 2,200 participants, I think there was quite a significant percentage of us.
As usual, the pros started first and this year there was a super exciting pro lineup with reigning Ironman World Champion Patrick Lange, Tim Don (the man with the halo), Craig Alexander and Holly Lawrence because it was the Asia Pacific Championships. I didn't get a chance to take any photos with them but being in the same race as them and watching them fly was pretty awesome anyway.
It was a rolling start for the age groupers from 6am, so here we go!!
SWIM
The swells this year weren't as bad as last year, but it was still annoying. During the warmup swim, my goggles got knocked off a few times while I tried to manage the swells, so during the race I tried to tackle the waves differently such that I don't lose my goggles. Good news, my goggles stayed on. The swells were only for about 200m out and after that it was time to fire the engine.
I found my rhythm and just kept going, navigating around the buoys and trying not to get kicked by others. Throughout the swim, I didn't look at my watch and just focused on swimming. We had the swells again on the last 200m back to the shore and although they were pushing us towards the shore, it still got a little aggressive and I got washed over by some big waves, leaving me sputtering.
Finally my feet found the ground and I stood up to walk the rest of the way in. This was where I took a peek at my watch and it showed "36:11", oooooh swim PB!! I got out of the water in the most un-glam manner, clumsily trying not to trip over my own feet. Final swim time was 36:58 when I crossed the timing mat!
T1
The swim exit is a little shorter than previous years so that was good. T1 was simple – grabbed my bike and then ran out with it till the mount line, where I saw Jaime and Adrian who were cheering for us.
BIKE
The bike route is the same as before. You go along the run route of 10km and then out another 8km till you cross the bridge, then you do two loops here (each loop is about 10+km). There was only one notable change – last year, we did both loops on the same road, but this year the second loop was done on the opposite side of the road (the other side of the divider) so you can't really see your friends because the bushes in the divider will block your sight. This helps to ease the congestion though.
I heard someone yell my name from the opposite direction on one of the loops, but I'm very bad at recognising people on the bike so I'm sorry I didn't respond!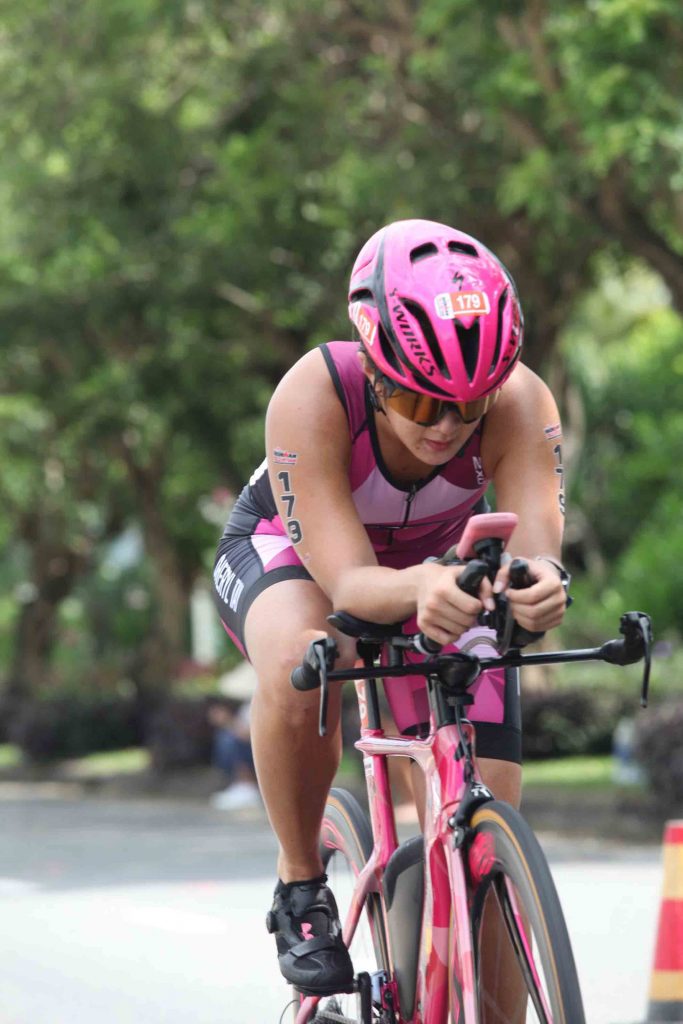 After these two loops, you go back on the bridge and do the 18km back to the transition, pass the transition and go on for another 6km before making a last u-turn back to transition. It is a little mindf*cking to pass the transition and still have to carry on – I just want to go in!!
The sun was getting hotter as we biked and I found myself tiring around the 60km mark. I looked up at the sky and there were nice white fluffy clouds so it didn't look like there was gonna be any chance of rain, which means it was gonna be a hot day for the run. I remember I biked too hard at my first Danang race in 2017 and I totally died on the run after, having to walk-jog the last 5km and I didn't want that to happen again, so I was careful not to go crazy on the bike.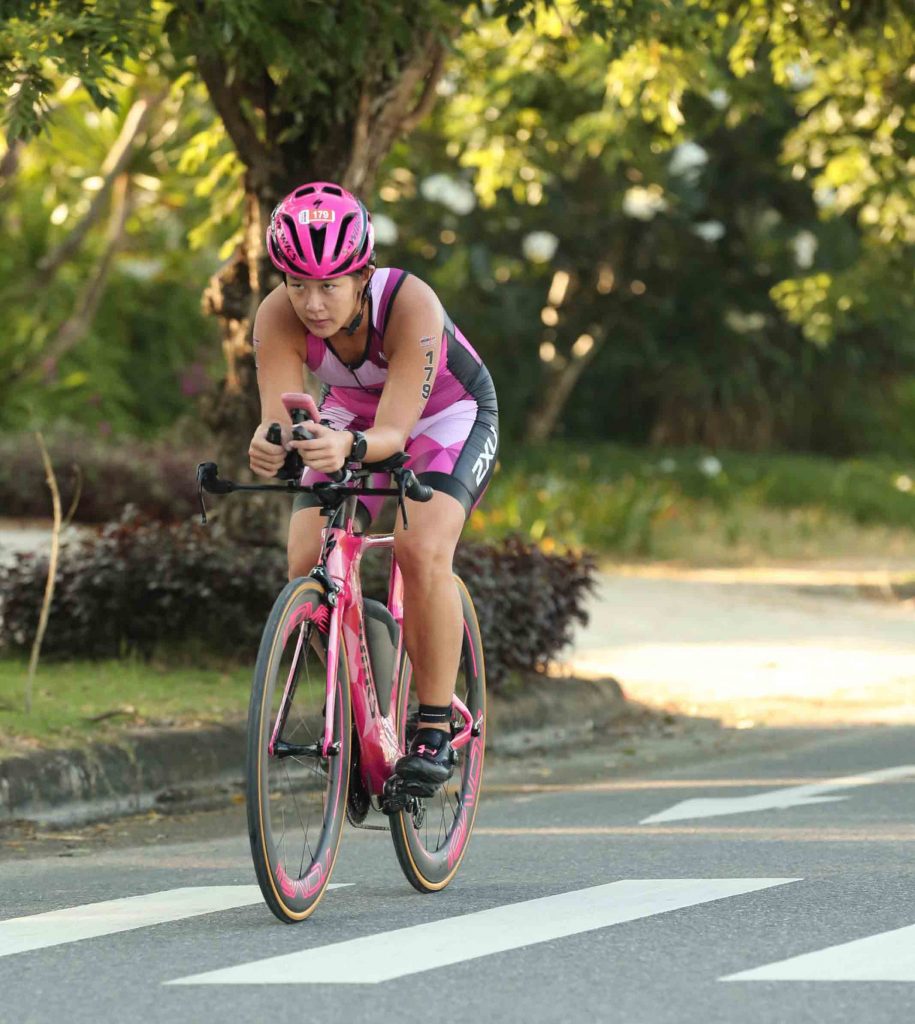 T2
As I cycled into transition, I saw Anthony and Adrian at the dismount line. I forgot to smile for the cameras! I tried to run with my bike as fast as I could manage, got my run stuff on and got out. At the run out I saw my favourite baby Oliver and I stopped to give him a fist bump but I think he was in a cranky mood so he just stared at me grumpily LOL. And then it was off for the most painful part of the race – the half-marathon in the stupid heat!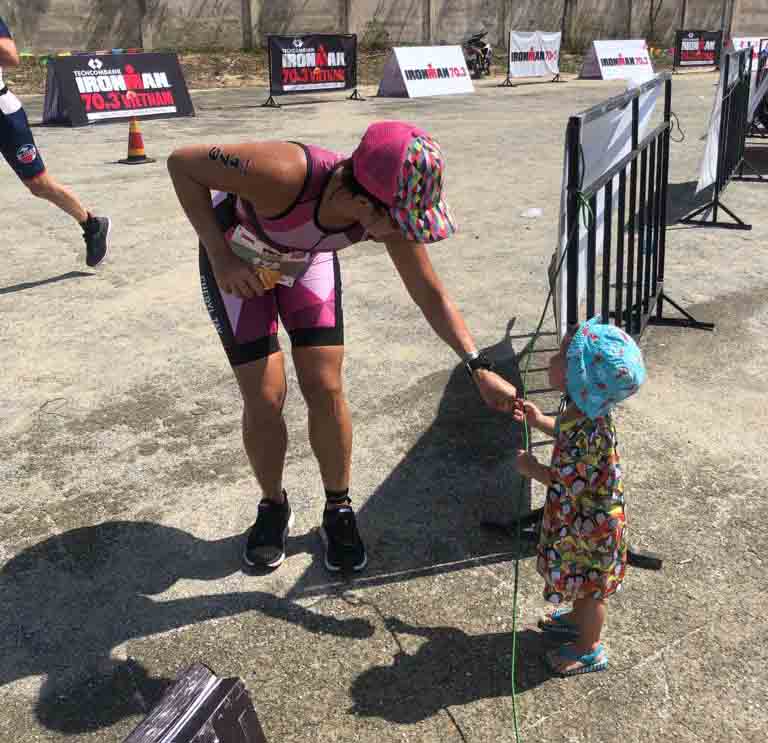 RUN
When I first ran out, I felt the sense of dread creeping up from behind me because it was getting stupid hot and will get stupid hotter. All the "WHY am I doing this to myself", "WHY do I like to make myself suffer", "WHY do I put myself through this pain" kept running through my mind. I tried to shake off the negativity and just told myself to shut up.
At around the 3km mark, I ran past the resort where our villa was and the thought "omg I should just f*ck this shit and run into the aircon and grab an ice cold can of ginger ale" went through my mind LOLOLOL! But no, I forced myself to carry on.
My intention was to start out slow and try and pick up the speed later, but errrrr… nope that wasn't to happen this time.
In my first 5km, all the pros were coming back and they didn't look like they were enjoying themselves either, which was a little bit of a consolation, but they are so fast!!! Post race, Patrick Lange was quoted saying, "I haven't gone through a hotter race than 70.3 Ironman Vietnam so far. Even compared to Kona, this was a completely new level of severe heat and exhaustion. During a race like that, you really go to dark places sometimes. Overcoming them will make you stronger for every single race that is yet to come." But he was only out there for 3 hours 49 minutes! He was back before 10am!!
Anyway, I was just going 1km at a time and I was really looking forward to the aid stations but the water wasn't cold and the sponges weren't chilled! Aaaaahhhhhh that's a crime!! The sponges were different too – bigger and stiffer and not as absorbent. Only one or two of the aid stations had chilled sponges/water; the rest were warm 🙁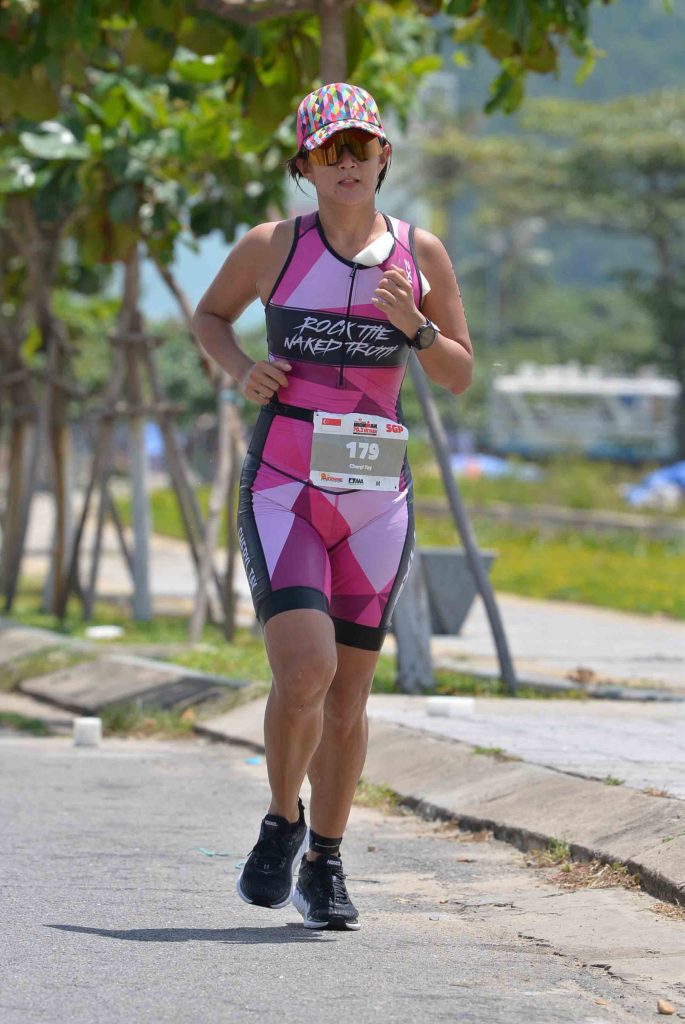 After the u-turn at the halfway point, I was like, ok let's see if I can try to pick up the pace… nope! My heart rate was spiking but my pace was slowing – body was overheating I guess. I tried to call out to friends and give high-fives, just to try and distract myself but man, the run was sheer torture. It was really just #survivalmode.
Seeing the finish line is always a relief and I was so happy to cross it. I only looked at my total time after I got the finisher medal and I was like, oh 5:31:xx, HEY that's a PB! (I can't see the total time of the race on my watch, or I don't know how to see it, so I didn't know my exact total time till I stopped the watch.)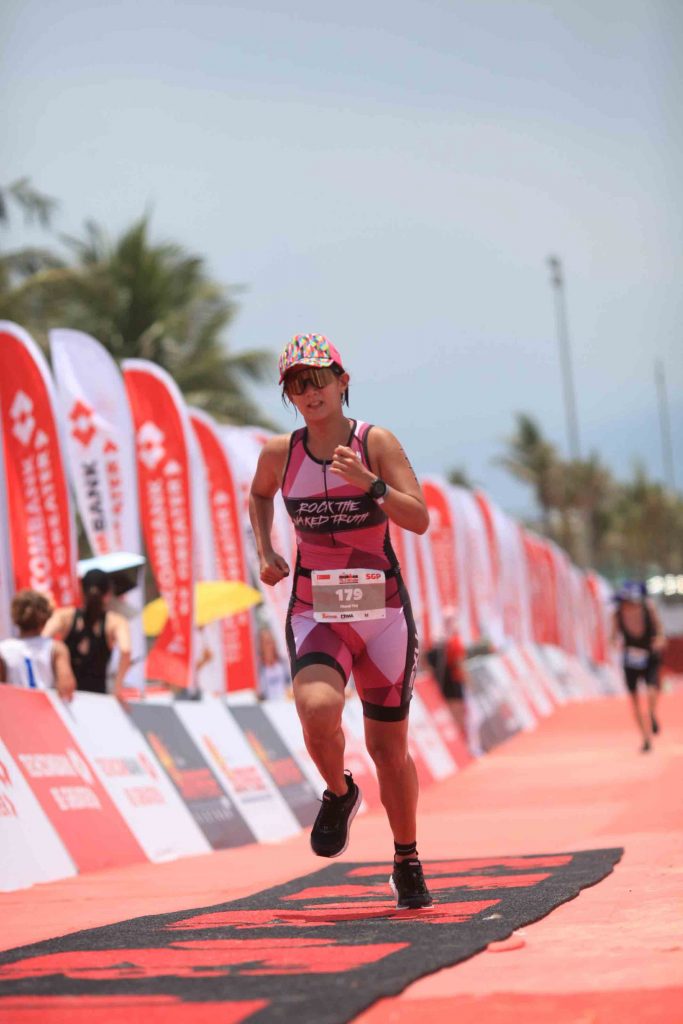 Honestly I was feeling a bit disappointed about my run, but in hindsight it was a really hot race and I think everyone else suffered on the run too, so I'm just happy with my PB of 5:31:43! I finished 4th in my age group (AGAIN, I know) and that's ok too. I think I left everything out there and that's good enough.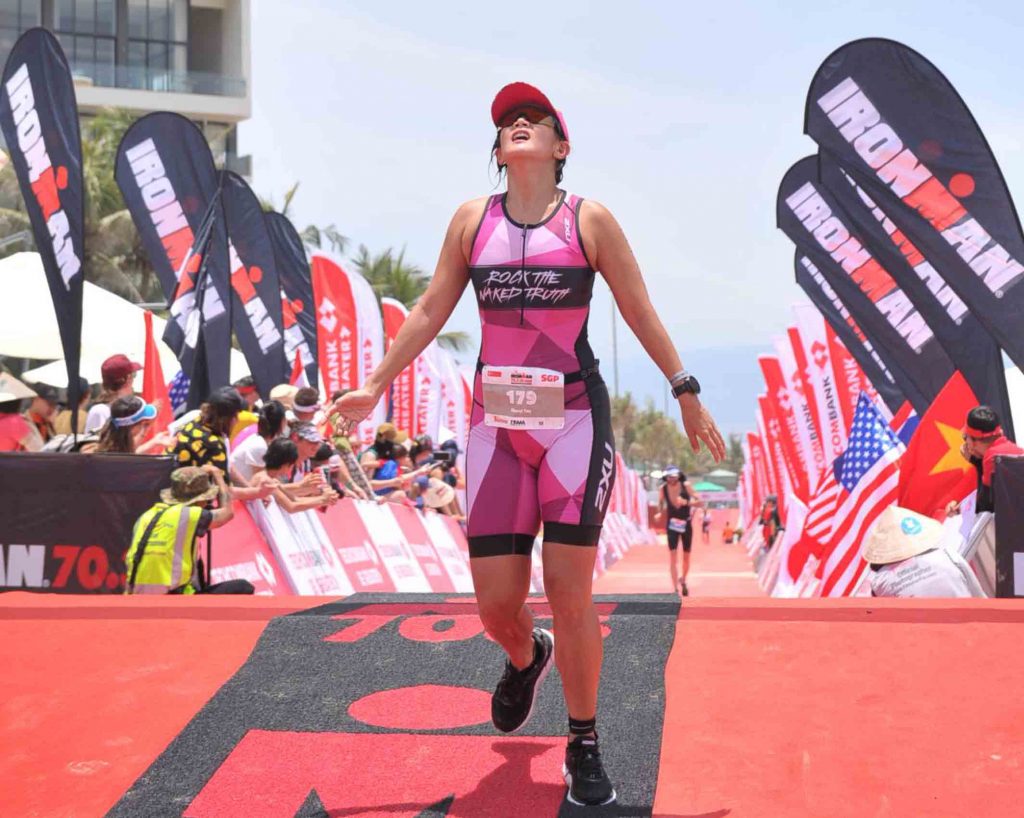 Thank you everyone for the support and best wishes, and also thank you to my coach Colin for adjusting and adapting my training programme to my schedule. Trust the process they say, and trust your coach!
Next up – the Volvic Volcanic Experience (VVX), 25km trail race in France in two weeks' time!