It was so bloody hot at Danang – like 40 degrees Celsius – and I bonked on the run. I knew the Ironman 70.3 Vietnam was going to be hot, but I wasn't prepared for this intensity.
Arriving three days before race day, the weather was actually slightly overcast with cloudy skies and I was hoping it would stay that way. I did my test ride, test run and test swim, and I was eager to see how the past five months of training would pay off.
On race morning, I woke up feeling normal and I was the first to be up in our villa of six. I did another check of my bike and run bags, to make sure I had everything I needed for transition. All good.
Once we were waiting at the start line though, I started to feel nervous and it was written all over my face, so I took a few deep breaths and looked up into the sky to try and calm myself down. Then it was time to rock and roll.
Charging into the sea on a rolling start, I walked out a little bit across the shallow seabed before starting to swim. It was an anticlockwise rectangle and at some points it got a bit choppy, but I just wanted to get out of the water as soon as I could. Because it was a rolling start, the men and women are all mixed together and I was getting pushed left and right in the water. I think I scratched a few men's calves too, oops.
The swim felt long-ish and true enough, the Garmin showed 2.1km. The transition area was about 300m-400m away with a little slope up so I was trying to catch my breath and it felt SO FAR. First we had to take our Bike bag that's hanging on these hooks, run into the changing tent to get geared up for the Bike leg, and then run into the bike area to get our bike before heading out to ride. (In Phuket, we had a box next to our bike and we could just leave everything there.)
I was excited for the bike leg because it was my first time racing the Queen Bitch (my Specialized Shiv S-Works). The course is flat all the way, with just two bridges we had to cross, and the wind conditions were in our favour initially. After crossing the bridges though, the winds started to turn towards us and I was just fighting to keep my cadence steady. On the way back, the winds started to come in more and I could feel my body tire, but I pushed on, maybe a little too hard. The last 12km was torturous because we had to pass the transition area for 6km before U-turning back. When I saw the transition area I just wanted to turn in and not go on anymore!
I ran out of electrolyte drink somewhere at the 70km mark and I didn't want to stop and take water from the hydration station so I got quite thirsty after the bike leg. I also forgot to leave a water bottle in my Run bag or at the bike area, so I was dying. Parched. After we parked our bikes back, we had to run back to the hooks to get our Run bag, get into the changing tent to change to our running gear and then head out.
Looking at my watch, I was stoked to see a 2h 44min bike time – a PB with an average of 33kph – and I was on pace to achieve my target time. However, at this point, the sun was in full blast and the Vietnamese heat hit me pretty hard. When my legs hit the burning tarmac, I knew something wasn't right. My legs had no strength left in them.
Thinking back now, I miscalculated my nutrition on the bike and I ran out of drinks, plus I might have pushed too hard on the bike. I got too carried away with how good and smooth the Queen Bitch felt so I kept pushing. Basically, I underestimated the impact of heat on the body.
I was managing a 6:45-7:00/km pace on the run at first and I stopped at every hydration station to get chilled sponges and drinks. But I found myself running slower and slower as there was no shade on the run. My legs couldn't move. I bonked. And then as the heat wore me down more, I wanted to just go home. It was so painful mentally and physically! I had a brief moment of motivation when Ling Er gave me a high-five, but after that I struggled to find the mental will.
The run course was a straight 10km out and back, so at some parts it could get lonely, but I wanted to just get to the finish line no matter how slowly I was going. I hadn't taken any gel yet but after the halfway mark, I thought maybe taking some gel could help me inject some strength left into my exhausted legs. BIG MISTAKE. I took two packets of gel and in the last 6km, I got stitches in my left side that hurt so bad I had to stop and walk. From then on, it was a stop-walk-run-stop-walk-run all the way to the finish line.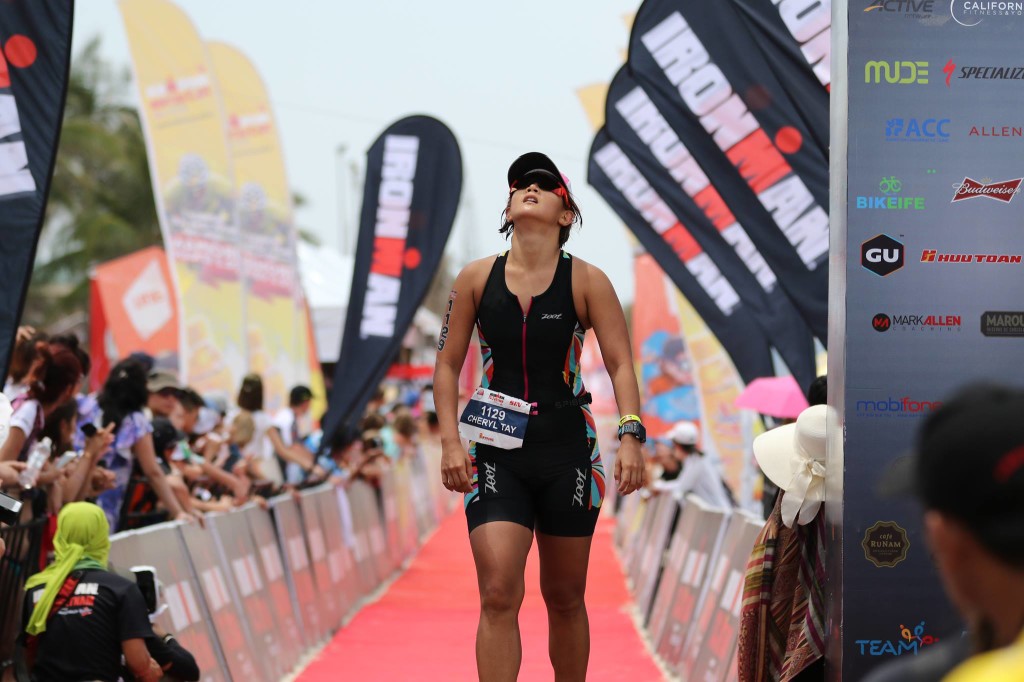 I eventually finished with a time of 6:13, which is way off my target time, and I am upset with myself. But as I often say, there is always another race to look forward to. I made a couple of mistakes this time – miscalculating nutrition on the bike, riding a bit too hard, getting shocked by the heat etc. etc. and giving myself too much pressure.
It's ok – we will learn from every race and each experience helps us to grow. I'm just glad it's over and I completed it. My next Ironman 70.3 is in 10 weeks' time in Bintan, so I'm not gonna waste anymore time feeling sorry for myself.
Thank you again for all the love and support!