Have you bought your tickets to the Juventus versus Singapore Selection match yet? If you have not, I have two pairs of tickets (Category 4) to the match to give away! 
All you have to do is like and share this photo on my Facebook page, and I will then pick two lucky winners!
Winners will be contacted via Facebook message and I will then need your personal particulars (full name, I/C number, contact number, email) so I can send you the redemption letter. Ticket collection will be at the World Sports Group office from 4-8 August. Tickets will be issued to the winning I/C number so please do not submit entries on your friend's behalf.
Contest closes 27 July 2014, Sunday, 2359h.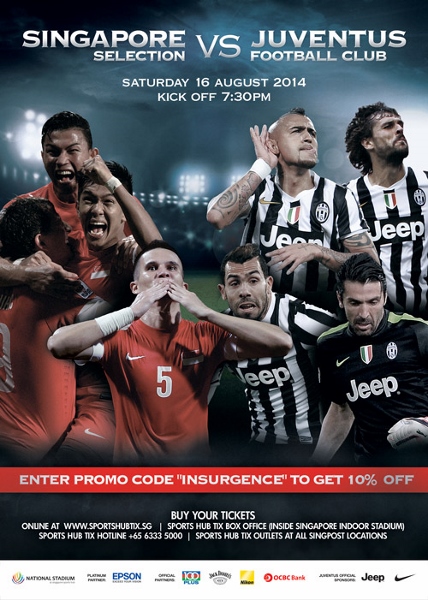 Meanwhile, you can still purchase tickets. Get 10 per cent off when you use the promo code 'INSURGENCE'.
The Juventus FC vs. Singapore Selection game will be held in the National Stadium on16 August 2014. It will be the very first major event to be held at the brand new Sports Hub, Singapore's new crown jewel.
Related articles