The smiles of joy from the winners' faces on the podium put a nice wrap to the end of the Asian Karting Open Championship (AKOC) Singapore race weekend held at Kartright Speedway on 30 November and 1 December, but it wasn't the victories that were the most memorable for me. Here are five traits that stood out most:
1) Innocence 
The under-12 Cadet category (or Mini ROK as it is known in AKOC) is the cutest, with all the young ones, but it is also the most mischievous. They are a noisy bunch off track, squealing and jumping all over the place and teasing one another to no end. It's a joy watching children play together and it's a pleasure seeing how their biggest issue in 'politics' is how A didn't let B play XYZ game on his iPad.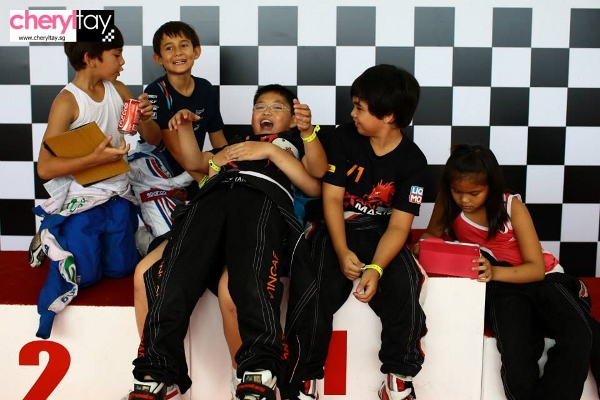 Sure, there are snide remarks thrown here and there especially about their overtaking attempts on each other on the track, but I realised it's the innocence of these children that I miss most, as it gets lost in the adult world.
One of the kids Dylan Bondi was trying to get Bianca (cute little girl racer) to let him play some Zombie game on her iPad and she told him to go download it himself on his mum's phone. His reply? "My mum is not letting me download that game to play because I finished last." Totally cracked me up.
2) Friendship
Although they are rivals on the track, trying to beat each other and overtake, all the competition ends once they cross the finish line.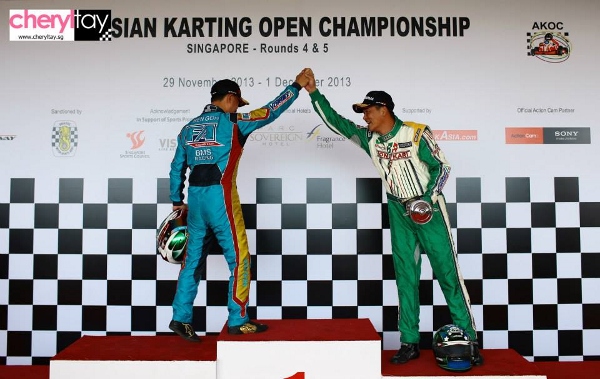 There is also friendship between the driver and their mechanic or driver coach. This relationship is very important so that they can ensure that the best package is put out there. I love it when the mechanic gives a 'knuckle-knock' just before his driver goes out on track.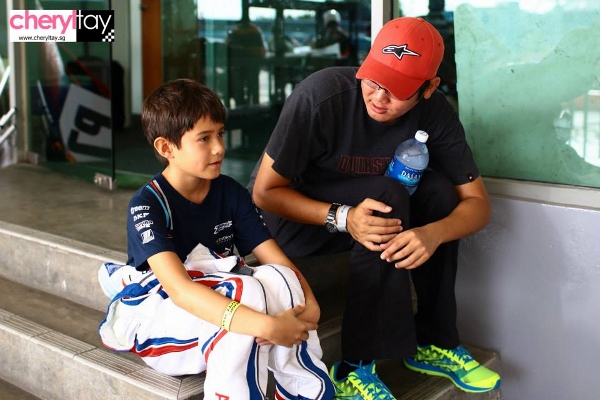 3) Family ties
I find it really cute when I hear loud cheers and screams during the race, especially for the Cadets. Their family members get super anxious and yelp for joy when their son/daughter overtakes someone, or shout with worry otherwise. As the kids are still very young, most of them have their families with them.
You see fathers and mothers helping their kids with their racing gear…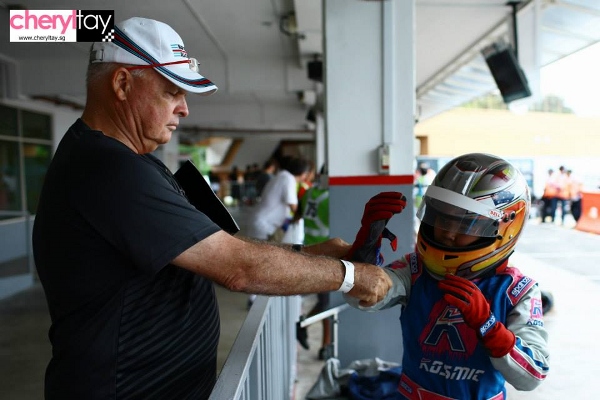 Dylan Bondi's mum even took on the role as mechanic, helping to carry the kart without a care for getting dirty.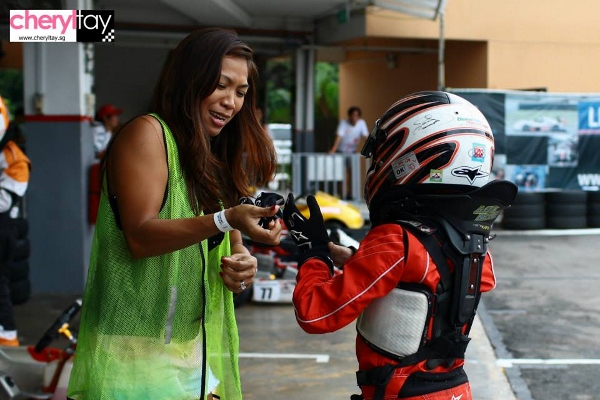 4) Resilience
Sometimes, you can be having it good all weekend when suddenly mechanical troubles strike. It can be beyond the driver, but the good ones never give up and keep pushing on no matter what happens.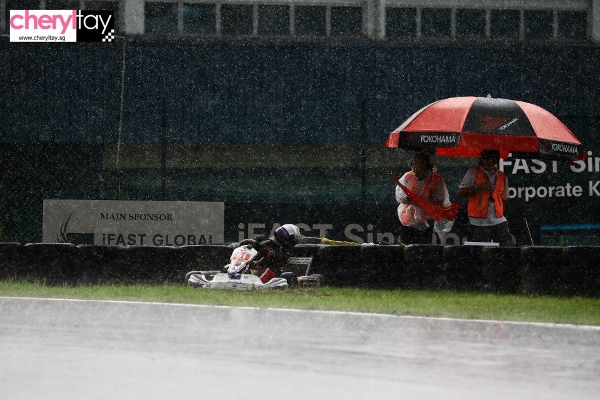 The tenacity of Gabriella Teo was there for all to see, as the 15-year-old dominated the Junior class all the way. She qualified on pole for both rounds, finished first in the heats (Round 4 only; heats for Round 5 cancelled), first in the pre-final and final for both rounds too. With that unbeatable streak, she came up from overall third in the standings to overall champion, becoming the first female AKOC Junior champion.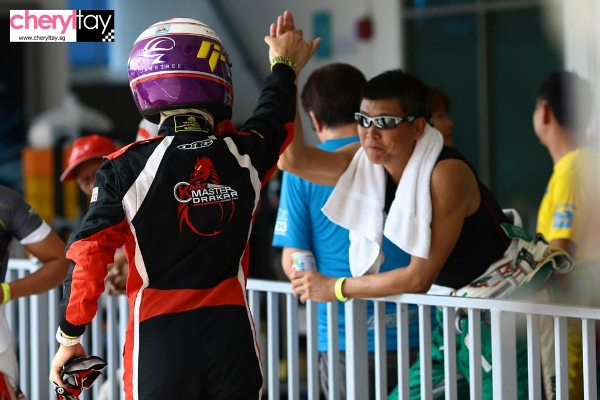 5) Sheer passion
They just love racing. Every driver there, or almost every driver, would say passion is one of the reasons why they are there. Of course, winning makes it even more addictive.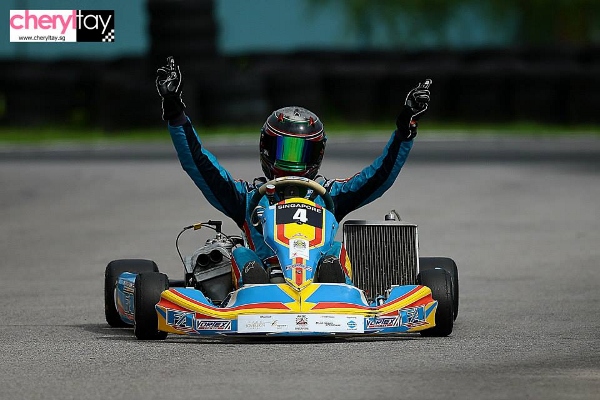 Congratulations to Opai for clinching the overall Senior title too! Yap Kheng Weng and Anthony Seow also won the overall titles in their Masters and Veteran categories respectively.
One of my favourite moments in racing? The chequered flag.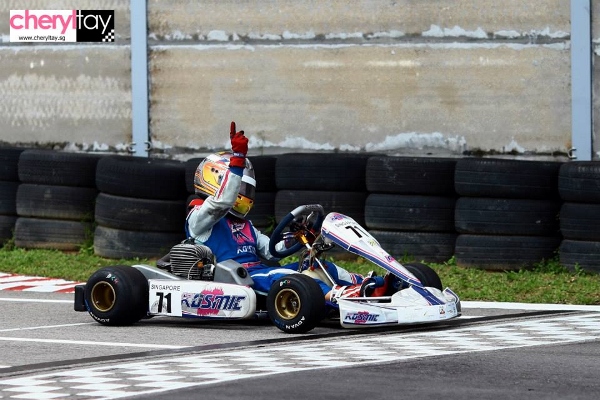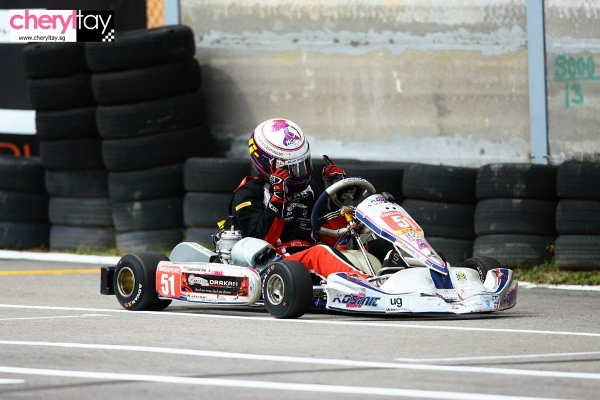 View more photos of the event here and read the race report here.