I knew that trail running is another beast to be tamed altogether, but when I was given the opportunity to take part in the Volvic Volcanic Experience (VVX) – a 25km race with 1,000m elevation in France – I was like, YASSSSS I'M IN.
It was gonna be – and it was – a huge challenge but that's what changes us and pushes us to the next level right? We don't have any mountains or volcanoes in Singapore, so it's hard to get proper trail running training done. As part of my preparation for VVX, I ran at Macritchie Reservoir and Mount Faber, did incline intervals on the treadmill and also stairs training.
Stepping into unfamiliar territory was definitely a redefining of limits, as well as a giant push beyond the comfort zone. Nonetheless, I finished the race and I certainly learnt a lot. I mean, my first trail race in Europe and around a volcano – LUCKY ME!
In trail running, I realised that you need to have the strength for the inclines, the courage for the descents and the heart for loving the landscapes. It is very, very different from road running! You need to be more alert, more gutsy and definitely need a love for nature.
Together with Wang You Sheng (Taiwanese actor) and Leanne Szeto (Hong Kong Ironman pro), the mission was for the three of us to conquer VVX! (You Sheng did it by himself last year.)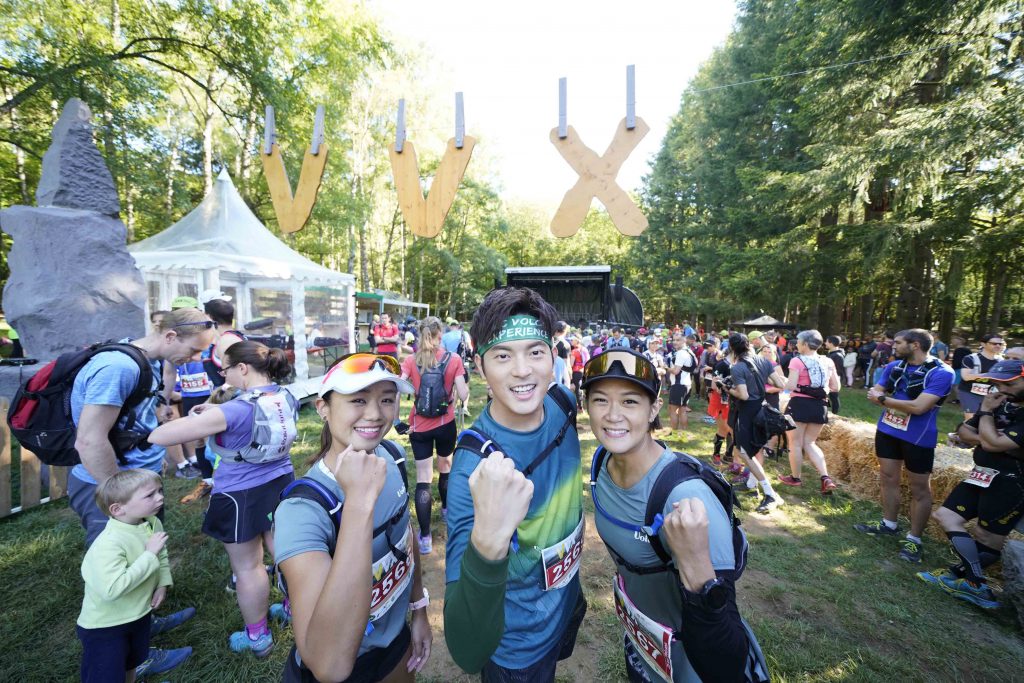 ---
I flew into Clermont-Ferraud on Tuesday and it was colder than expected – around 10-13 degrees Celsius. The skies were greyish and gloomy, with a little drizzle at times. Once you started running, the body warms up and I felt fine. Coming from Singapore, it's actually very refreshing to run in this weather.
We headed out to Volcan de Lemptegy on Wednesday to get some running and filming done. This is a 30,000 year old volcano which is now a disused quarry – so pretty!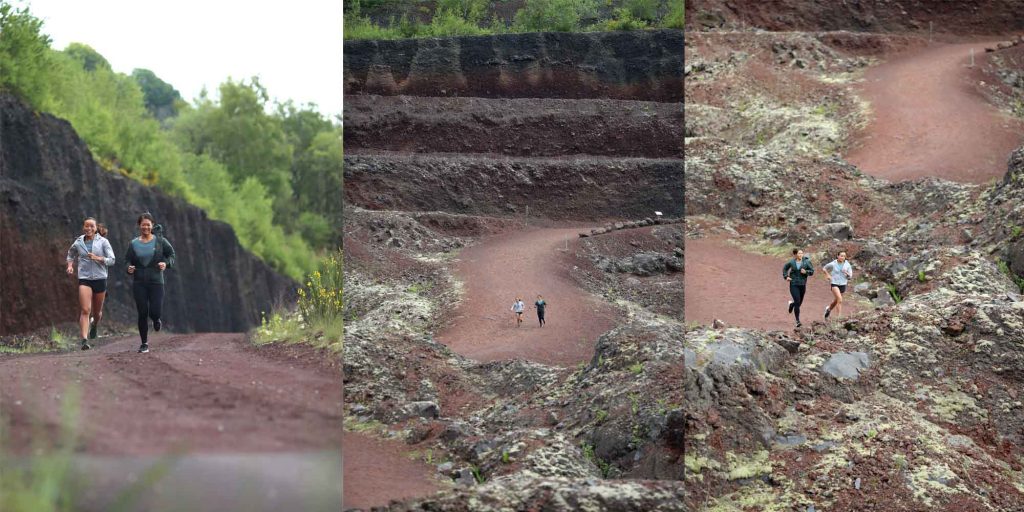 After that we hiked up an hour to Puy De Jumes, which is part of the race route. Man, the 600m path that goes up is insane! I will definitely recognise this when I run it during the race lol. After that we went to the race site (the start/end point for VVX) and I loved the race village setup. Everything is so green and we are surrounded by mountains!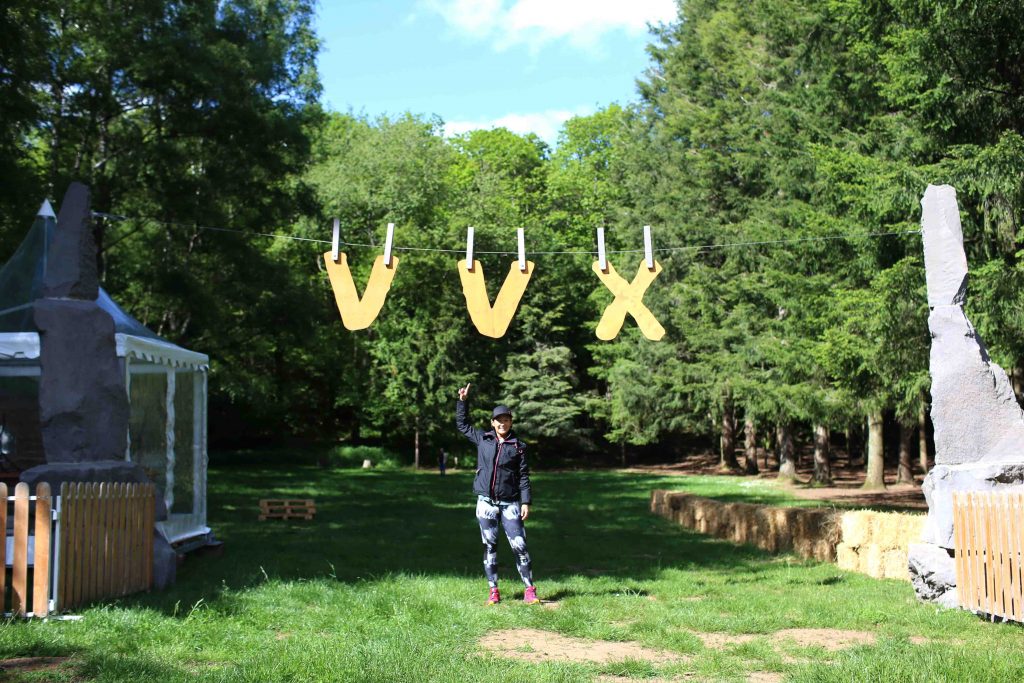 So, VVX is an annual festival that has several sporting, cultural and festive experiences. There are four trail races – 25km, 43km, 110km and 220km (CRAZY!!!) – and they also have a 15km hike. There are also excursions and initiation sessions for kids and the elderly. The objective is to allow immersion in the beautiful volcanic setting of the Chaîne des Puys, which was recently inscribed on the UNESCO World Heritage. And in case you were wondering, yes the source of Volvic water is here, in Clairvic Spring, Auvergne Regional Park, just north of the Puy de Dôme. Hence the name!
On Thursday, the day before the race, we went to different parts of the race route to do more filming and also to check out the route a little so I can mentally prepare myself. I have to say though, in hindsight, no mental preparation is enough to get you ready for this LOL.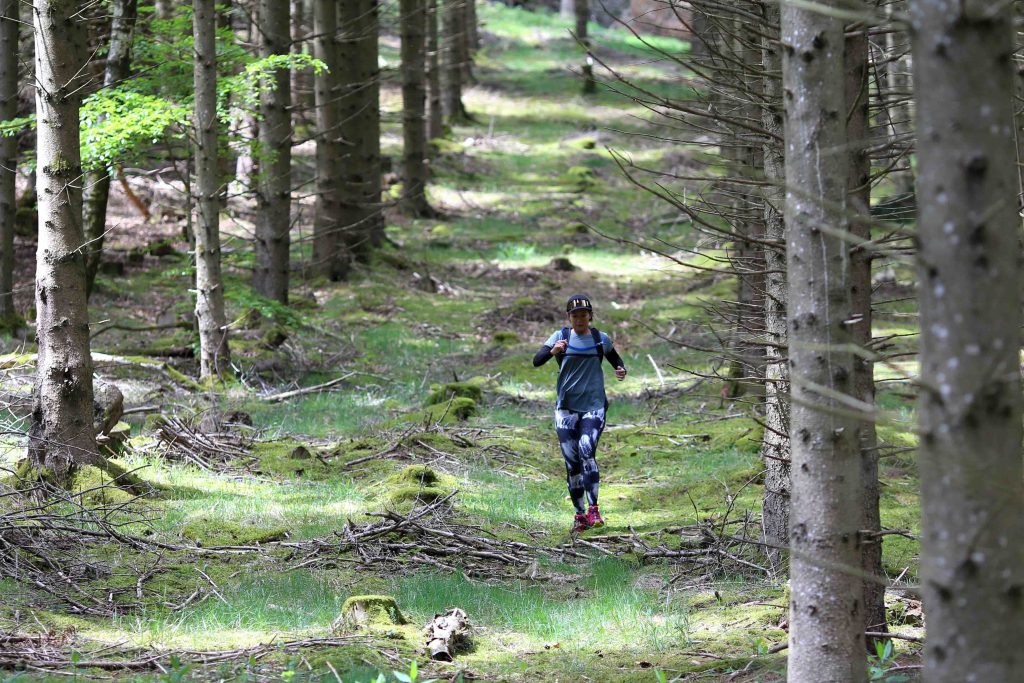 RACE DAY
I couldn't really sleep the night before the race. I've been waking up at 3-4am the past few nights due to jetlag but I think for this night before the race I was feeling a little nervous. I got my hydration pack ready (managed to suck the air out and create a vacuum), got my race essentials ready and we headed to the race site at 8am – race start is at 9.30am.
I loved the atmosphere of the race village – everyone was friendly and the vibe wasn't competitive or intimidating. As we toed the start line, I looked up at the sky briefly and took a moment of gratitude – I'm so blessed to be here and doing this!
And off we go!
Less than 50 metres up and THE CLIMB BEGINS… and it never ends for the next 15km. I could run up the inclines for the first 5km, then the steep slopes came in and everyone started walking and you get caught in the bottlenecks because it's a narrow single-lane path. There were a few descents and flat sections but these were brief and mostly we were just climbing and climbing. Some parts were so steep even walking up was a problem!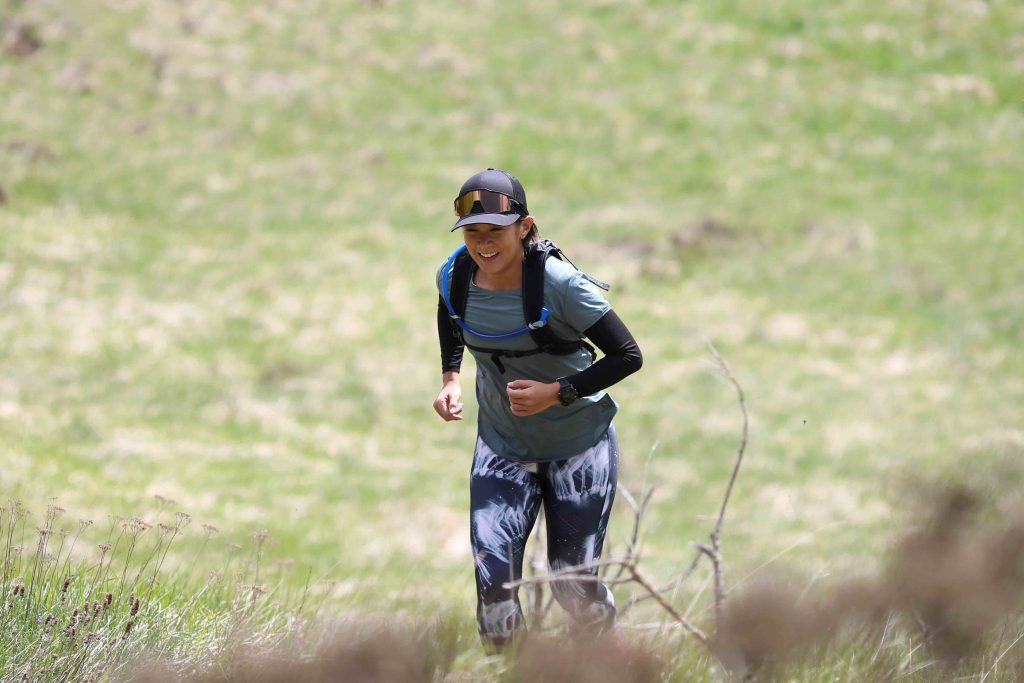 Around the 8km mark, there was a nice, beautiful log lying across the path and the people ahead of me were looking so cool jumping over it in style. Hence, I decided I was gonna do the same. Unfortunately, during my attempt, I missed the footing on the landing so I slipped, fell and rolled my ankle.
I felt pain shoot through my right ankle and I was like "oh shit oh shit oh shit". I just sat there clutching my ankle and waiting for the initial wave of pain to subside. Many runners stopped to check on me and I was very grateful; one lady even said she's a physiotherapist and offered to tape up my ankle for me if I had any tape. Well, I didn't.
Eventually the initial shot of pain went away and I slowly rotated the ankle. Ok good, nothing is broken, seems like just a sprain, so I tightened my shoelaces, picked myself up and continued the race. My Salomon Speedcross 4 covered the ankles and they are pretty stiff so they helped to hold my ankle up for the rest of the race.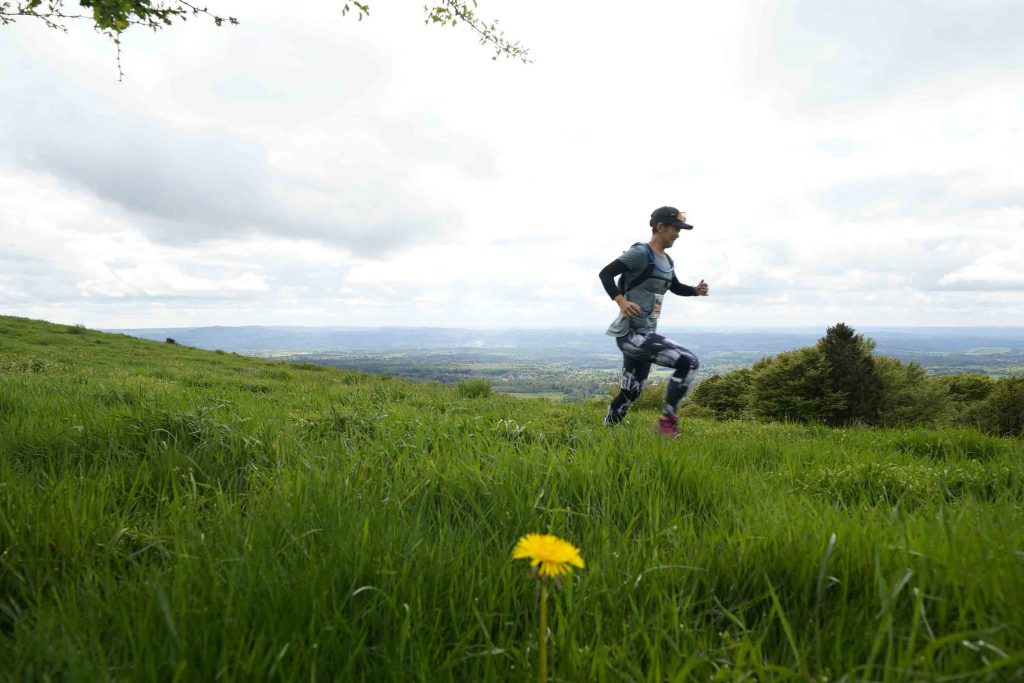 There was an aid station shortly after but I had enough water in my pack so I went on my way. Up and up I continued to climb and I was mostly walking up the upslopes. Finally around the 15km mark I reached the highest point (refer to cover photo above) and I took a moment to soak in the view before I went on my way again.
After the highest point, the remaining 10km was much easier. I had to go through some steep descents first and this is where people were making up for time and FLYING past me. I was being more cautious here because the sprained ankle was hurting as I came down, boo.
I passed another aid station at the 16km mark and the route after was similar to Macritchie Reservoir! For about 5km you have flat ground to run on and it was such a relief to know that my legs are still working. But silly me decided to take big gulps of water (instead of sips as I was doing throughout the race thus far) and I started to get stitches under the left boob. That caused me to stop and walk out the stitches for a bit.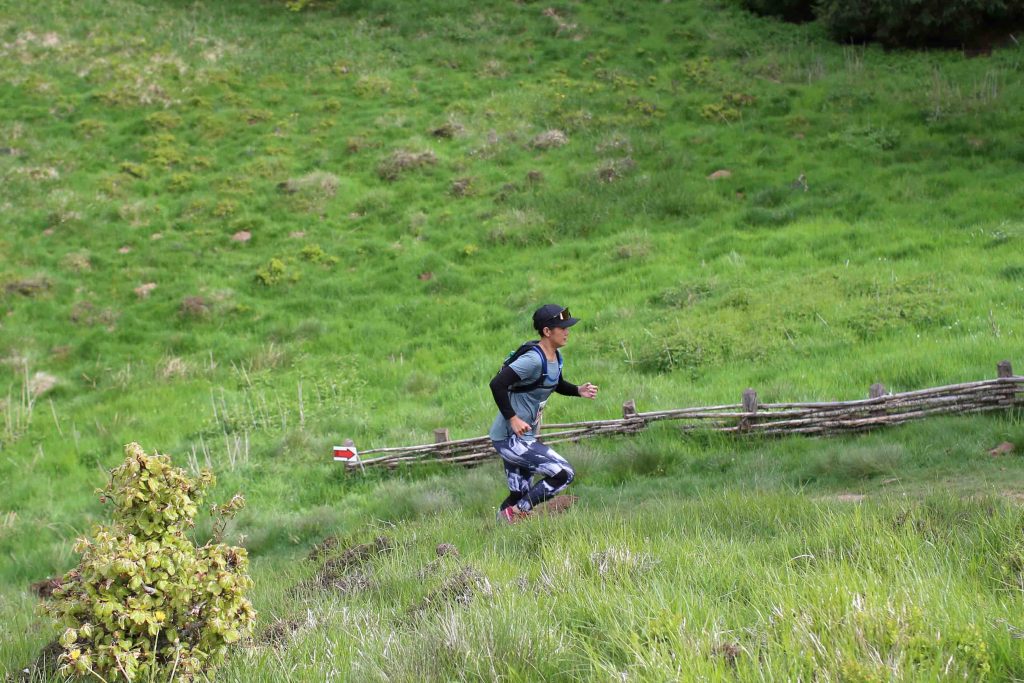 Around the 19km mark I really, really needed to pee. There are no portaloos in the woods so I crawled into some dense forestry and peed in the bushes (I'm so sorry!). Feeling much better after that, I told myself it's just 6km more to go so let's pick up the pace and go.
There were no distance markers throughout the race course, only directional signages, so I could only rely on my watch for the distance. I saw there was only 2km more to go and I was so happy, but after 25km on my watch, it didn't seem like I was near the finish line. During the last few km, I could also feel my eyes having difficulty focusing. The weather was pretty hot (30 degrees Celsius) with bright glaring sunlight but I didn't want to put my shades on because I wouldn't be able to see where I was running.
And then I heard the faint sound of the emcee over the mike. YASSSSS that means the end is near! Ok let's go, let's go!!! After exiting the forest, there was about 50m to the finish line and hooray I finished my first ever trail race. #achievementunlocked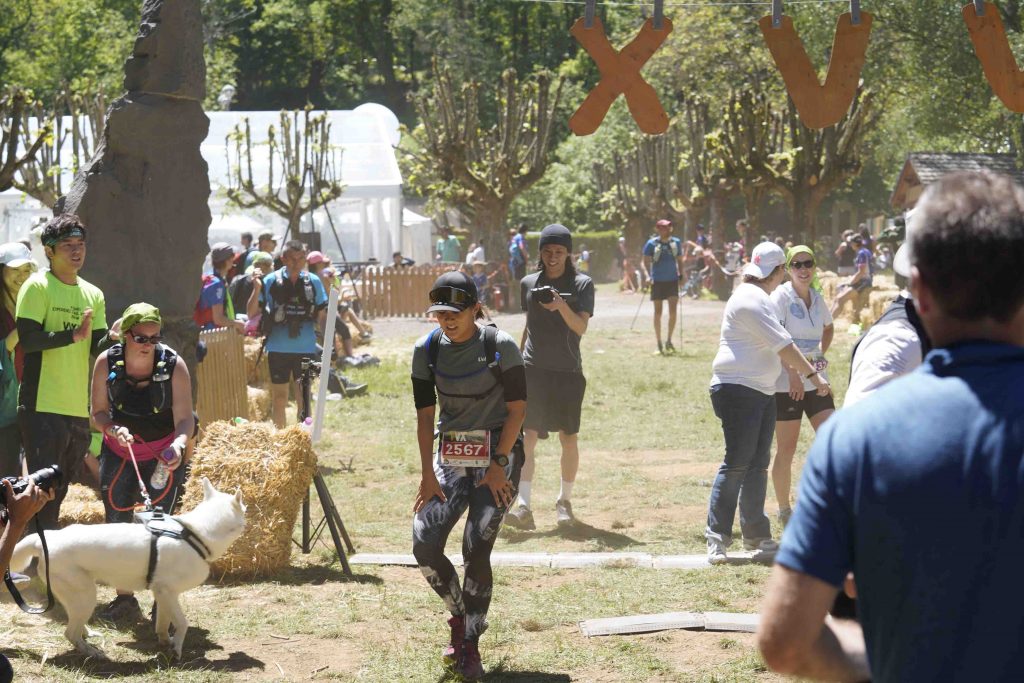 The cutoff time for this race is 3 hours to receive the official certificate. Based on my watch, my time was 3:56:22 for 26.26km. They don't pull you off the course so at least I got the chance to finish it. It was an eventful race and certainly a lot of areas I can improve on!
It was a tough race really, especially for those who have no experience with trails. But nothing is impossible and if you want something you've never had, you need to do something you've never done. Definitely learnt a lot from this experience and I am very grateful to Volvic Asia for this opportunity to try a new challenge and discover new limits to myself!
That's two races in May successfully completed – now it's time for a holiday!!!
Post-race update: My quads are aching so sorely (as expected), but my shoulders and biceps are aching too! I think it's from carrying the 2L hydration pack lol. As for my ankle, it's stiff, swollen and bruised but I can walk so all good. :DDD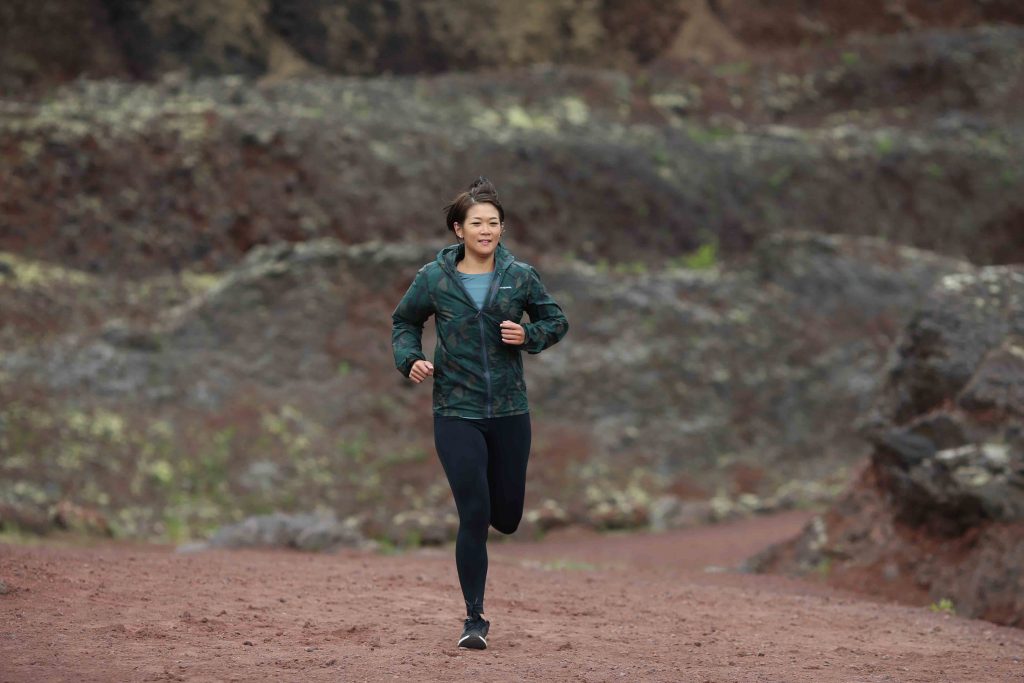 #VolvicSG #FindYourVolcano