By Deborah Rowe
Although they remain unseen in the shadows at cageside, the medical team at ONE Championship (ONE FC) is keeping alert at all times throughout the action-packed fight night. While everyone else in the packed arena is allowing themselves to absorb the action, the medical team has their eyes carefully glued on the fighters, ready to jump in at any moment when the need arise.
"We cannot get carried away with the excitement of fights. We must be neutral at all times and focus on the fighters. Are they defending themselves properly? Are they hurt? Are they too tired to fight?" said Dr Warren Wang, 38, head doctor of ONE FC's medical team.
Consisting of a head doctor, three other doctors and a nurse at the post-fight medical room, the team is constantly checking and evaluating the situation. For instance, if a fighter is suffers a cut or takes a hard hit during the fight, Dr Wang has the authority to halt the fight and check on the fighter. He is also the one who determines if the fighter is able to continue.
"As head doctor, it is my role to protect the fighters. I understand that this is the bread and butter for most fighters, thus they will go all out in the fight and refuse to give up even though they might already be injured," said Dr Wang, who has been practising medicine for over 10 years and owns a private medical practice in Taiwan, shared.
He added, "We are there to protect the fighters, whether they, or the audience, like it or not. The fighters are my patients and I will act on behalf in their best interests of health.
"All fighters will keep fighting if we allow them to continue but sometimes we must be there to let them and their cornermen know that it's time to stop if necessary."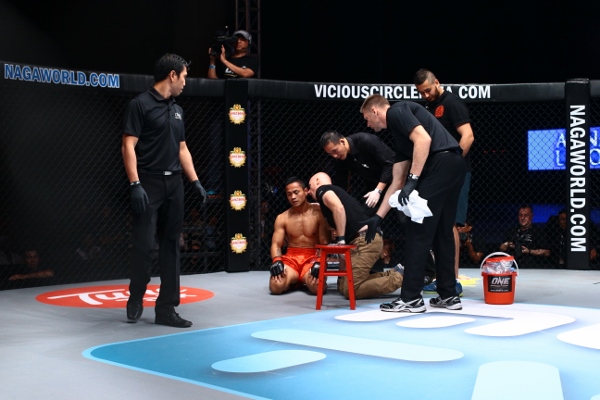 Prepared for anything
The ONE FC medical team's job doesn't just start on the night of the fights.
They have to do rehearsals the day before the event to familiarise themselves with the exit routes, emergency exits, where all the medical equipment are placed, and also how to perform fighter evacuation from the cage.
At all times on fight night, there are at least two ambulances on standby, with two certified emergency medical technicians attached to each one. If one ambulance heads to the hospital, a third ambulance will arrive to take its place.
At cageside, medical equipment on standby includes nasal and oral airway intubation and oxygen masks to provide adequate airway protection and ventilation to the fighters, as well as neck collars and backboards for neck and spine stabilisation.
Back in the post-fight medical room, the team is ready for anything, from scrapes and bruises to deep cuts. They also have the equipment to monitor the fighter's vitals sign, to intubate and splints for fractures if needed.
"We have to prepare for the worst, but fortunately 99 percent of the time what we encounter are cuts, bruises, sprains and mild concussions," Dr Wang revealed.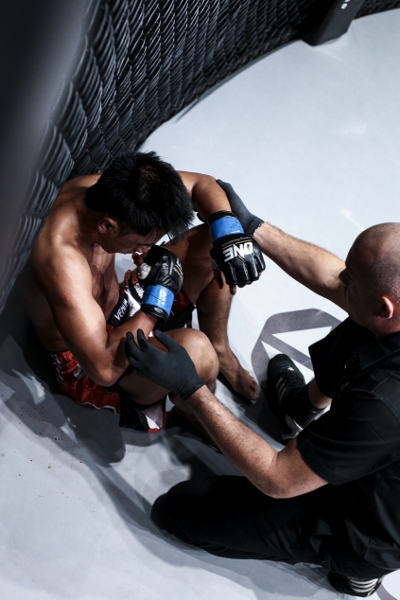 Fighter health
Before their fight, ONE FC fighters have to go through an in-depth check-up from head to toe by a General Practitioner who will assess their overall physical condition. Mandatory eye and blood tests, as well as a brain CT with radiologist report are needed as well, to rule out the possibility of new or old brain injuries. Depending on past injuries, extra tests are run too.
Following an adrenaline-charged fight, it is mandatory for each fighter to take a week of complete rest and not engage in any form of grappling or sparring to ensure they don't exacerbate any further injuries, especially those relating to the head.
Dr Wang explained, "Head injuries are tricky as intracranial bleeds may take some time to reveal itself through symptoms and signs. Aggravating it without knowing that it's there can have dire consequences."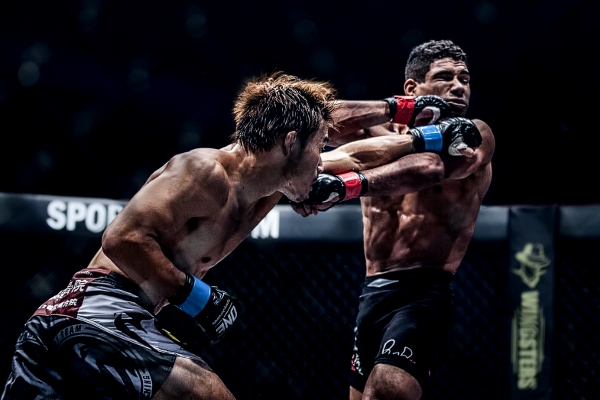 Becoming a fight doctor
Fight doctors need to be medically sound and also have an understanding of fight mechanics. They have to watch the fight very carefully and know what is going on, while looking out and remembering possible injuries that may need to be checked between rounds.
Dr Wang makes a perfect fit. Well-versed in the martial arts scene, he started the first Brazilian Jiu-jitsu (BJJ) academy in Taiwan 11 years ago and currently owns and manages three branches of the Taiwan Brazilian Jiu-Jitsu Academy.
A purple belt in BJJ, he is also involved in organizing international BJJ and grappling championships in Taiwan every year, where he plays multiple roles from doctor to emcee to points keeper and even competitor.
As the sport continues to grow at an astonishing pace, Dr Wang is firmly focused on the future. "I want to consolidate local medical teams from each event city that have worked with ONE FC into one team that can be on call and mobile to travel."
"These medical teams will need ongoing education to stay up to date on fighter evaluation and management. Different scenarios will need to be rehearsed over and over again.
"Most importantly, I want every fighter to know that they will be in good hands when they fight on a ONE FC card."
*This was first published in FHM Upgrade Singapore and is republished with permission.