When I saw the medal that the full marathon runners received at last year's Standard Chartered Singapore Marathon (SCSM), I was like, "Wah! I want the medal, it's so big!" So yeah I went ahead to sign up for this year's SCSM and I got the medal (a bloody hard-earned one)… but not without first completing 42.195 freaking kilometres.
I would say this is my first official marathon – I've done one prior, but it was part of an Ironman (at Langkawi last year) so it's not quite the same. I felt that running a full marathon on its own is a lot tougher! I think it's because we run at a faster pace, so it's a different kind of pain.
My priority is still on triathlons so my training programme was still focused on Ironman 70.3 Langkawi, which was at the end of October, with some long long runs (ie. 25-30km) targeted at helping me for the marathon. I haven't ran such long distances because last year I got injured with plantar fasciitis leading up to the Ironman Malaysia race and couldn't clock as much mileage as I should have.
Running long long distances can get very boring, but thankfully I did this with ROCKrunners, as part of the OutdoYourself programme with 100PLUS Active, so I had company!
To be honest, after the Ironman 70.3 in Langkawi, my mind switched off and I was ready to take a break from training. That was an A-race for me and it was intense, so mentally I wasn't very keen on getting back into training for the marathon. I skipped some training sessions here and there, and I just wanted the SCSM to be over so I can just slack totally.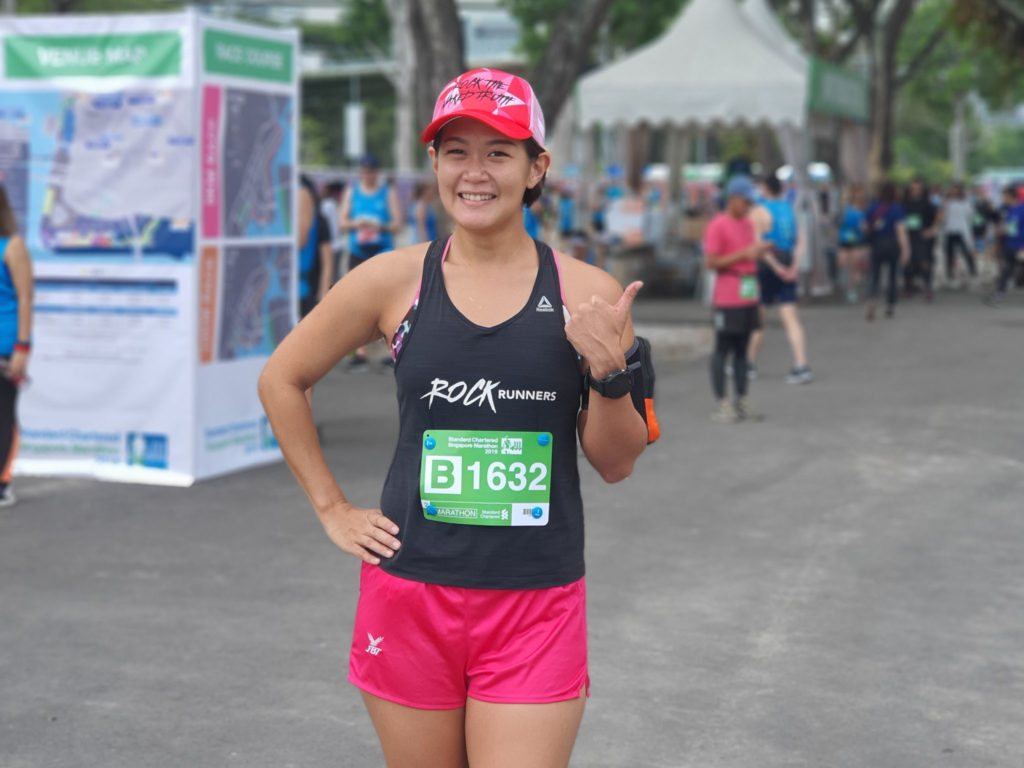 I wasn't too worried about the SCSM – the aim was just to complete it and not suffer too badly, but somehow on race day I started to feel nervous. I wasn't sure what I was feeling nervous about, but I just did.
This year, for the first time, the race is being held in the evening. Start time was 6pm instead of 4.30am like previous years. It made the race seem a little more welcoming, because you don't have to wake up at freaking 1.30am in the morning and find yourself struggling to wake up as you run.
I parked at Millenia Walk and headed over to the F1 Pit Building around 4.30pm to meet my ROCKrunners. We had a pretty big group taking part in the half-marathon, marathon and Ekiden this year (the 5km and 10km was held on Sunday morning) and I was really proud that more and more of them are stepping up the distances!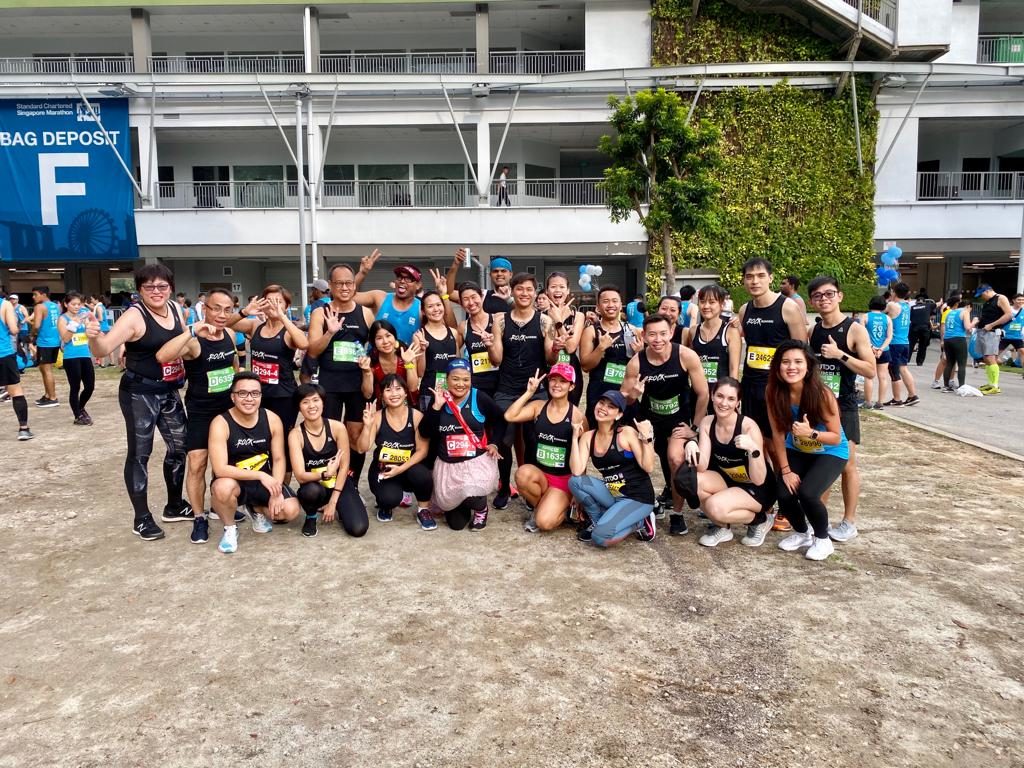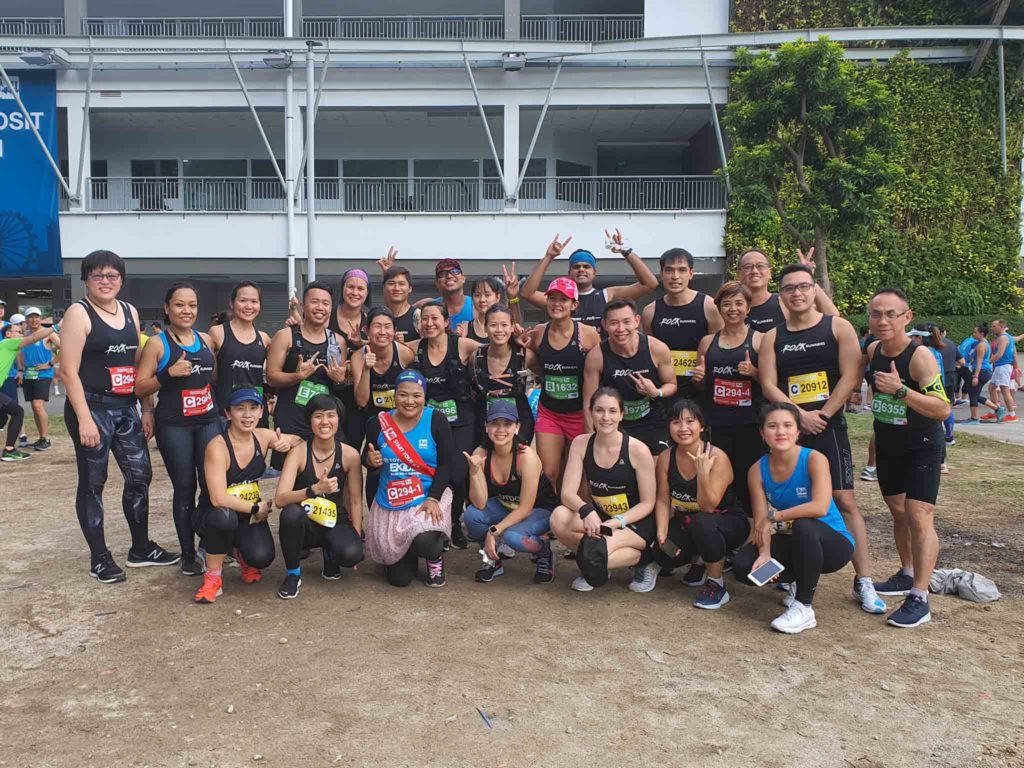 We headed to our respective start pens at 5.30pm and then it was just a waiting game until the start gun went off. Time to go! I told myself to go easy at the start, to hold back, because it was gonna be a long night. Everyone around you is going bam bam bam and it's easy to want to follow their pace, but you really need to control.
I felt I went a bit fast in the first 2km so I dialled back, and I thought I was doing ok, but my times gradually got slower.
From the F1 Pit Building, we ran down Nicoll Highway, past the Padang, down Robinson Road, and then make a right and up to West Coast Highway. I had my Jaybird Vista earbuds in so I couldn't hear anything except my own music; I think some friends called out to me but I didn't hear!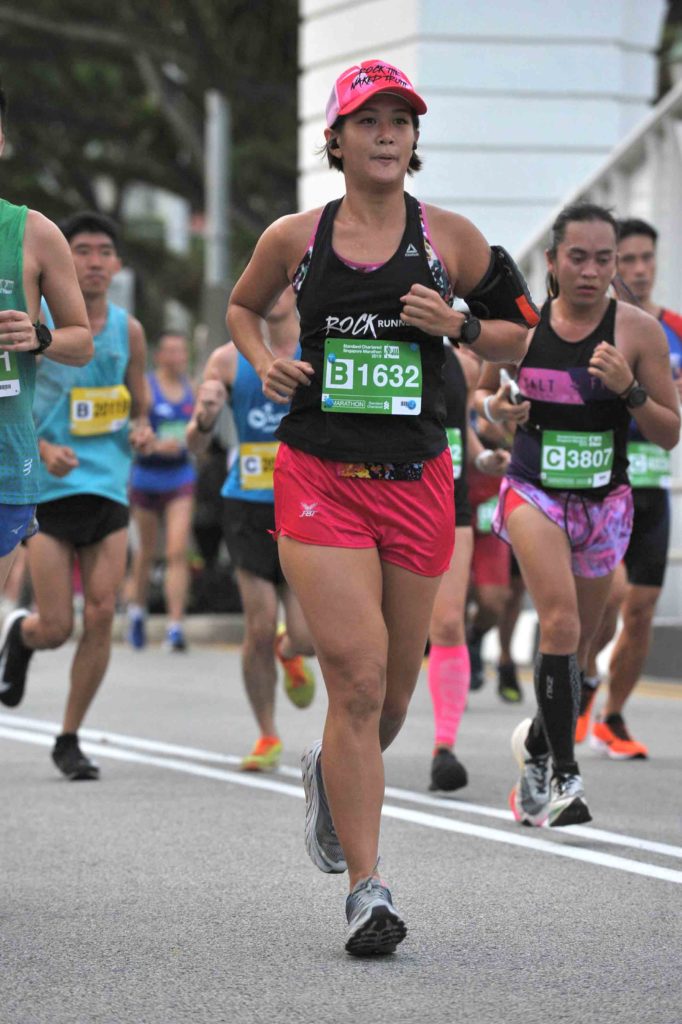 By the time we hit West Coast Highway it was dark and we ran about 3.5km in before we made the U-turn. For some reason, this 7km felt really long! Once we left the West Coast Highway, it was back through Shenton Way before the split came – left for those doing the half-marathon, right for those doing the marathon.
So mental.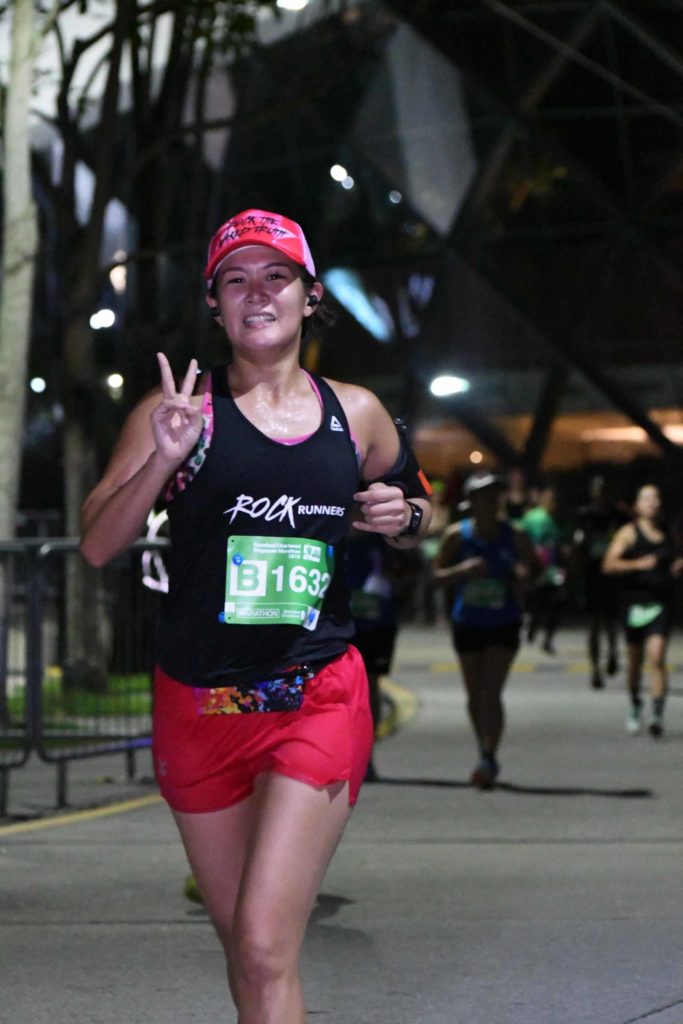 This is the part I believe everyone goes, "Damn, why didn't I sign up for the half instead? I could be heading back here!" That was around the 20km mark I think.
This was where I felt my legs blowing up. They suddenly felt really heavy and I panicked a little inside, thinking to myself, "Omg am I hitting the wall already? What! I still have half the race to go, not now!!" Some friends ran past me at this point and urged me to run with them and I had to wave them goodbye, shaking my head at them; I really was struggling.
So from the 20km mark to the 30km mark, I was dragging myself along, going from aid station to aid station – past the Promontory at Marina Bay, past Gardens by the Bay, into Marina Barrage and then on the back roads that I've never been to before. These back roads lead to the Fort Road end of East Coast Park, and that's where we entered the park.
Many people dread running to ECP, but there were spectators lined up here, hanging out ice lollies and iced milo, so it wasn't that bad. We left ECP at the 29km mark and then onto the back roads again to Marina Barrage, into Gardens by the Bay. Somewhere here, I found my legs somehow and I managed to pick up the pace a bit. Phew!
And then BOOM at 39km the much-dreaded upslope at Benjamin Sheares bridge came. I've been hearing about this for years and this is the first time I'm encountering it. That threw me off my pace and I could feel my legs getting heavier and heavier.
You could see the finish line from the bridge – so near yet so far! After we got down the bridge, it was another 2-3km to the end and this felt like it took forever. My mind wanted to finish the race quickly but the legs wouldn't cooperate!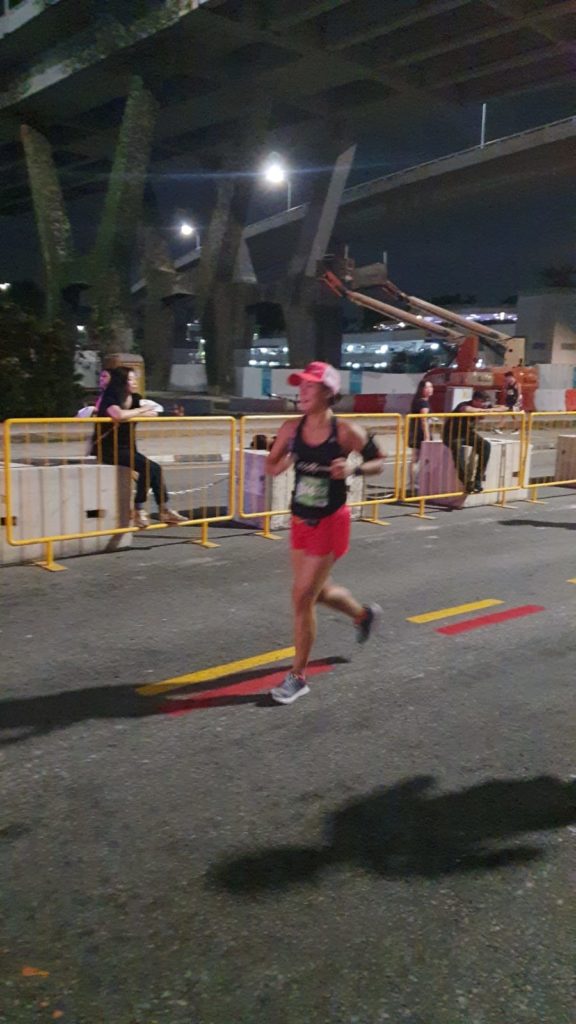 Finally, I ran past the Singapore Flyer, finally past Ritz-Carlton and then the final turn into the finish chute along the Floating Platform. HOME!!!
And this fella stole my thunder! He came up from behind and somehow ended up crossing the finish line with me – noooooooo!!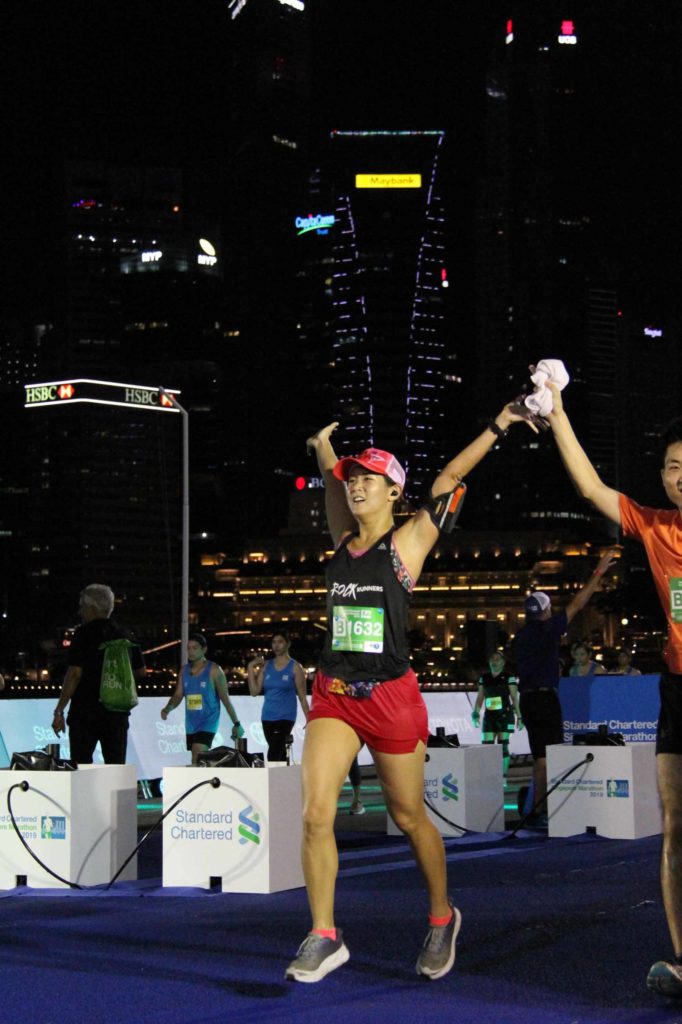 Omg, that was really painful. It's really a different kind of pain from an Ironman. I kept telling myself I don't want to do this anymore, even the next few days after the race I was still saying I don't want to do this anymore. An Ironman? Sure. A full marathon? Er…
My finish time was 4:27:59. I was aiming for 4h 30min and below, since it's my first, and maybe a bit faster if I felt good or if conditions were right. So I'm satisfied with my time! Even in the absence of the sun, it was so humid. My clothes were completely soaked with sweat.
The instant I stopped running, all the lactic acid came rushing into my legs. The soles of my feet were burning and I really wanted to sit down, but we had to walk through the finish area (which was about 1km or longer) and I had to walk so slowly. If you could see me, you would laugh at how weirdly I was walking, with the legs open and all.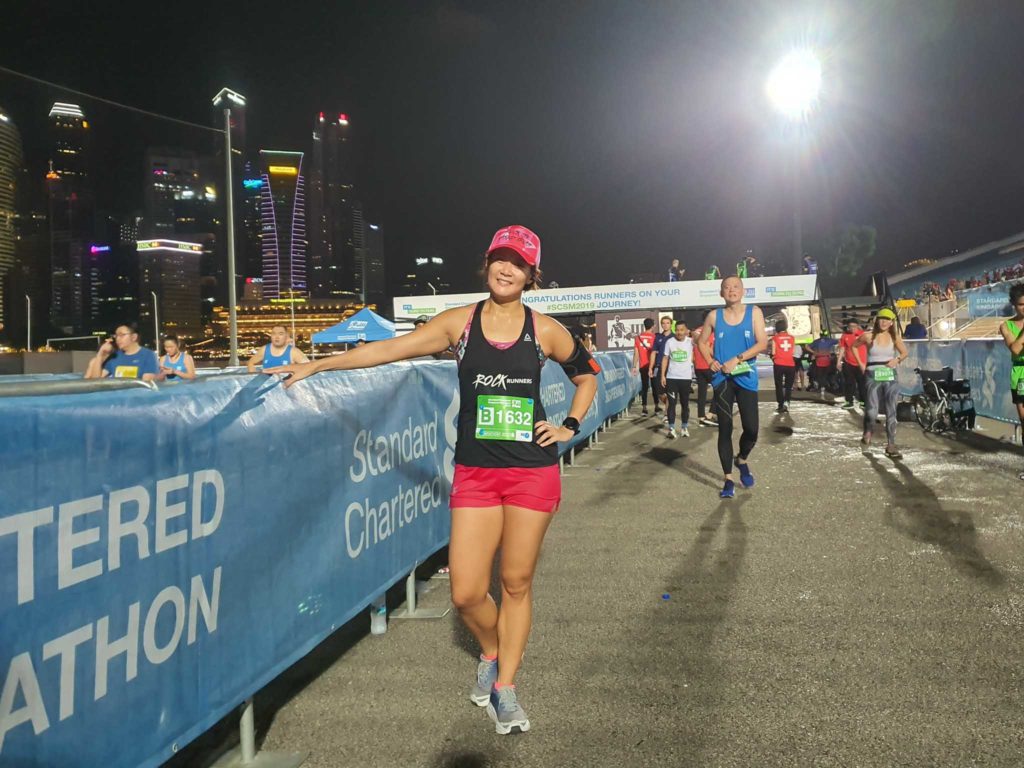 We collected our finisher tee, took water, 100PLUS, chilled towel and then we got to the race village. I went straight to the Tiger Balm tent where they had 60 massage beds to give you a much-needed post-race rubdown. I felt bad that I was so dirty, but my calves were so tight I really needed this.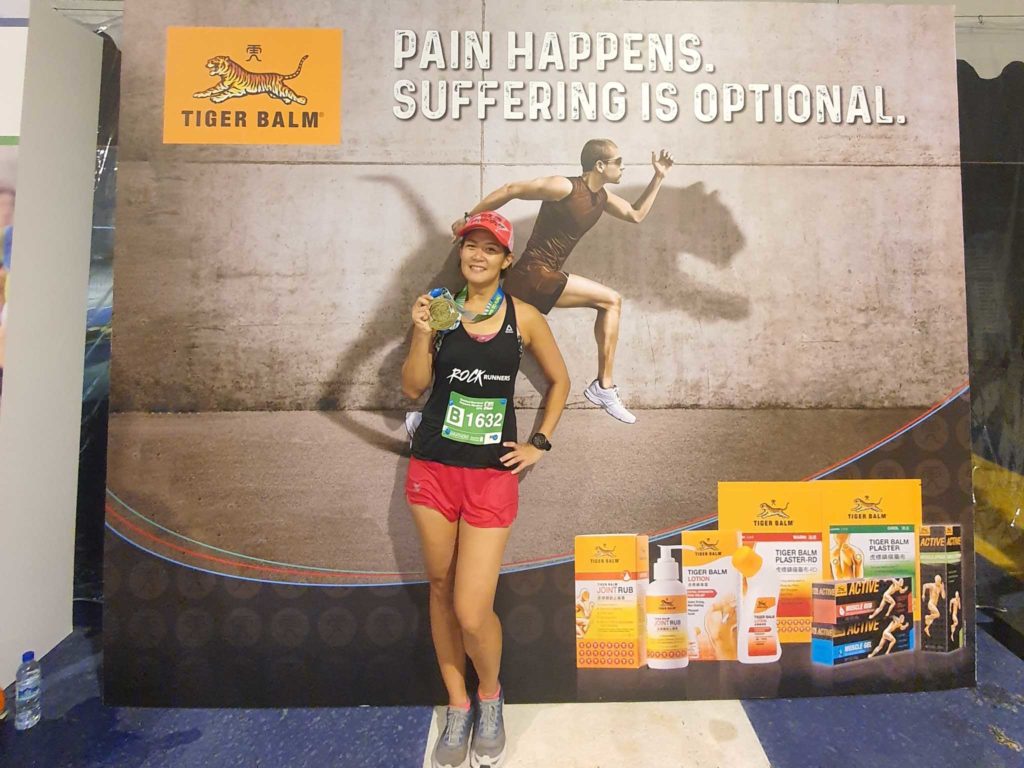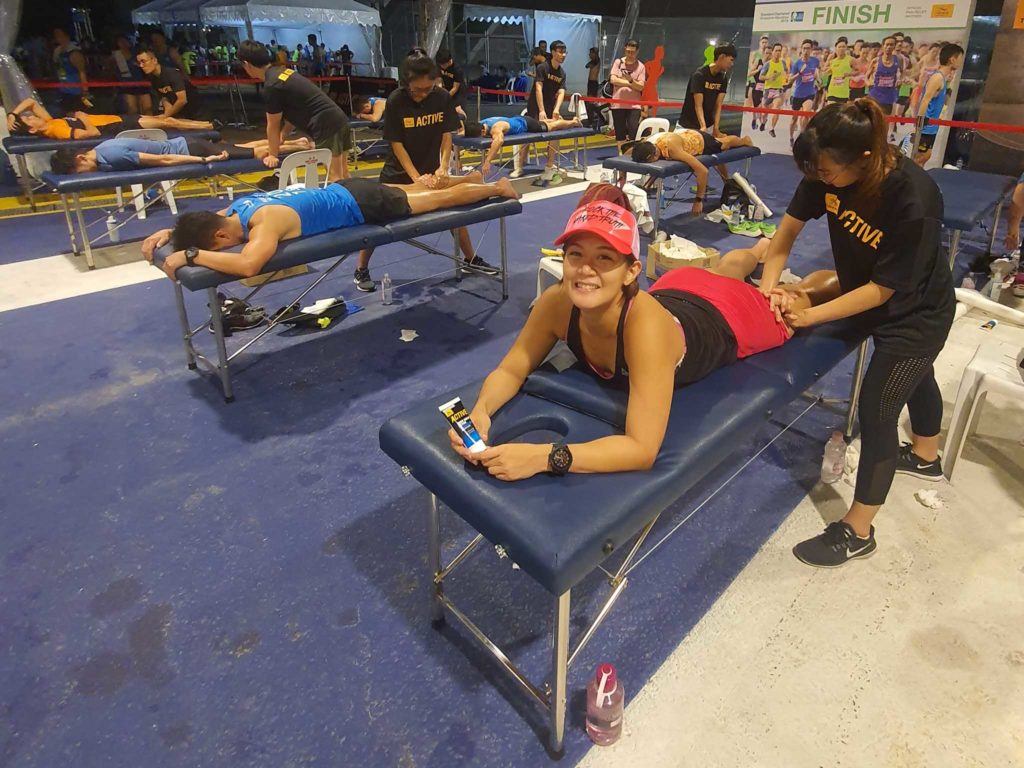 After I was done with the massage, I found a spot in front of the 100PLUS booth and refused to move for a really long time. This then became the meeting point for the rest of the marathon finishers from ROCKrunners.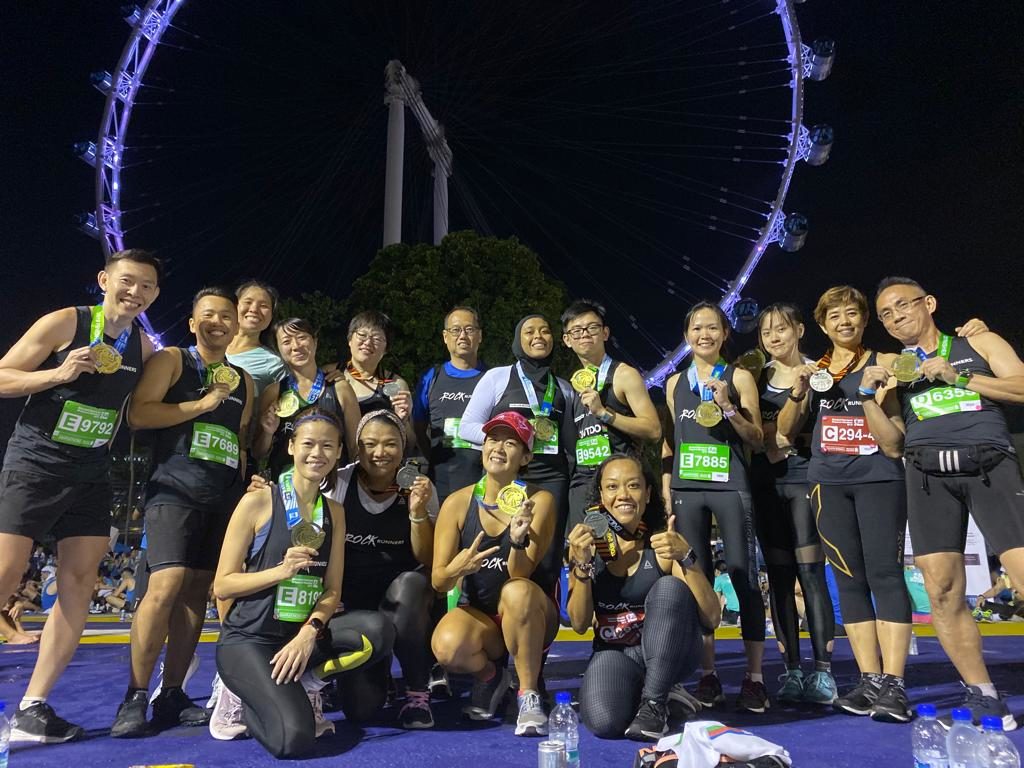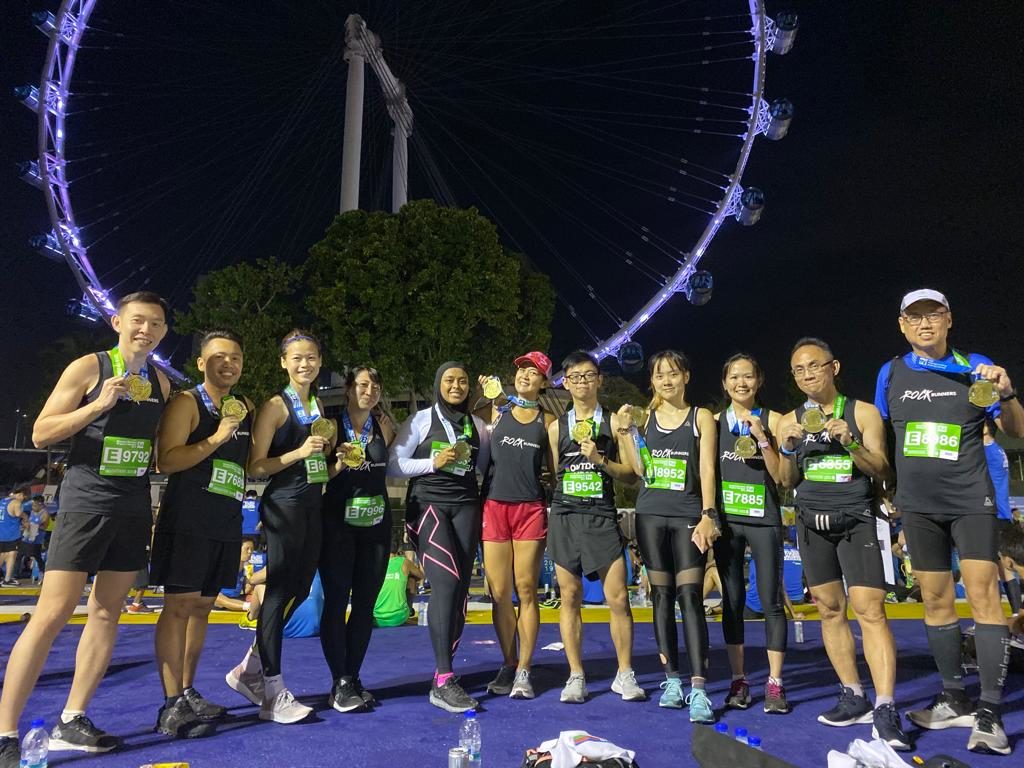 It was 2am by the time we left and I had to do a detour to get back to my car at Millenia Walk. It was 3am by the time I got home and 3.30am by the time I got into bed, but I wasn't sleepy. This is normal for me after races – my body is still on adrenalin and I just cannot sleep.
I slept for about 3 hours and by 6.30am I was wide eyed awake so I just went about my day and as per ROCKrunners tradition, we had our year end gathering on the Sunday of the SCSM weekend.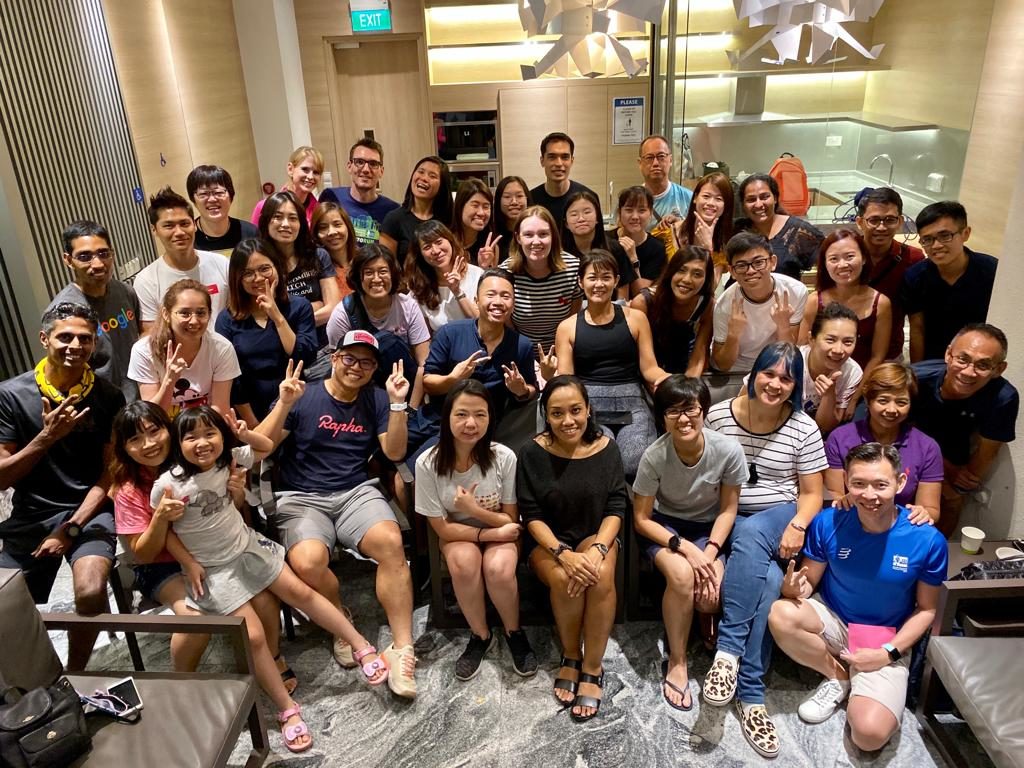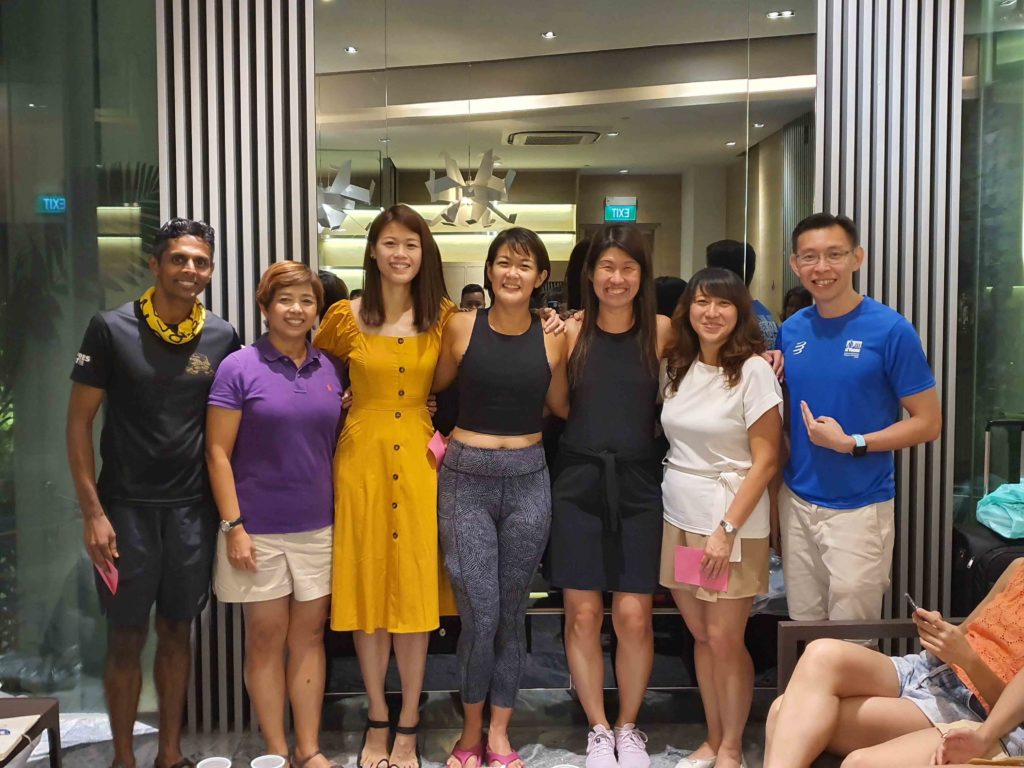 An awesome weekend with my ROCKrunners! Congratulations to everyone who participated in the SCSM 2019!!!