I started ROCKtri in 2017 as an initiative to encourage more people to get into multisport and we held monthly workshops and clinics. Then this year I decided to make it ROCKtri Ladies and focus on women only. I applied for the grant from Women For Tri and ROCKtri Ladies is one of only two tri clubs in Asia to receive it! WHOOOOOO.
With this grant, I was able to bring Ironman pro Imogen Simmonds (also 2nd runner-up at the Ironman 70.3 World Championship 2019) to Singapore for a weekend to conduct workshops for ROCKtri Ladies.
ROCKtri Ladies x Imogen Simmonds: Breakfast Run
We started the weekend off with a breakfast run with Imogen at NeueFit – 4km easy jog, an inspirational talk by Imo where she shared her journey, before a breakfast spread by Fresher. It was very interesting to hear about how she progressed so quickly – in only her third year as a pro and already on the podium at the World Championship! It's really amazing.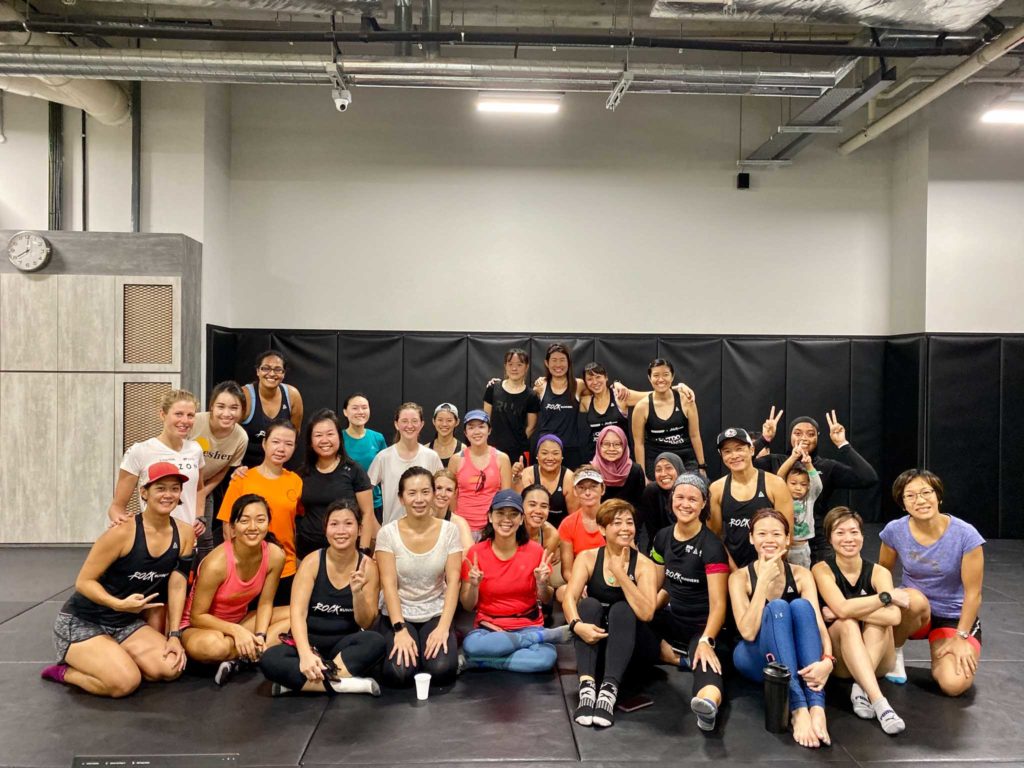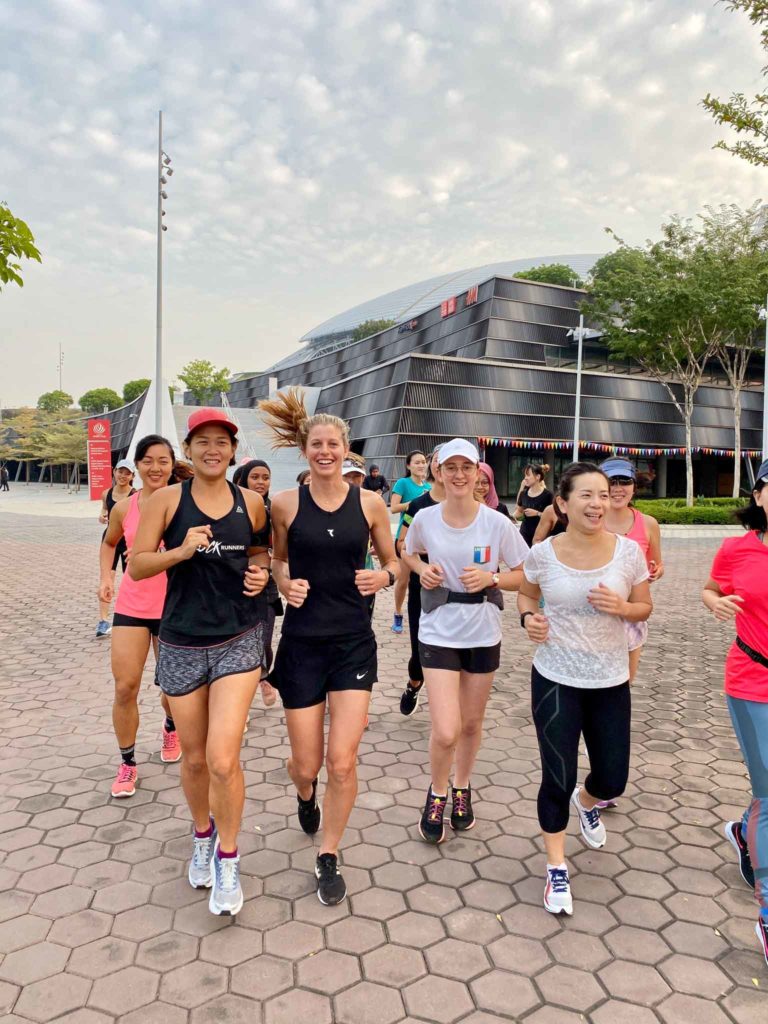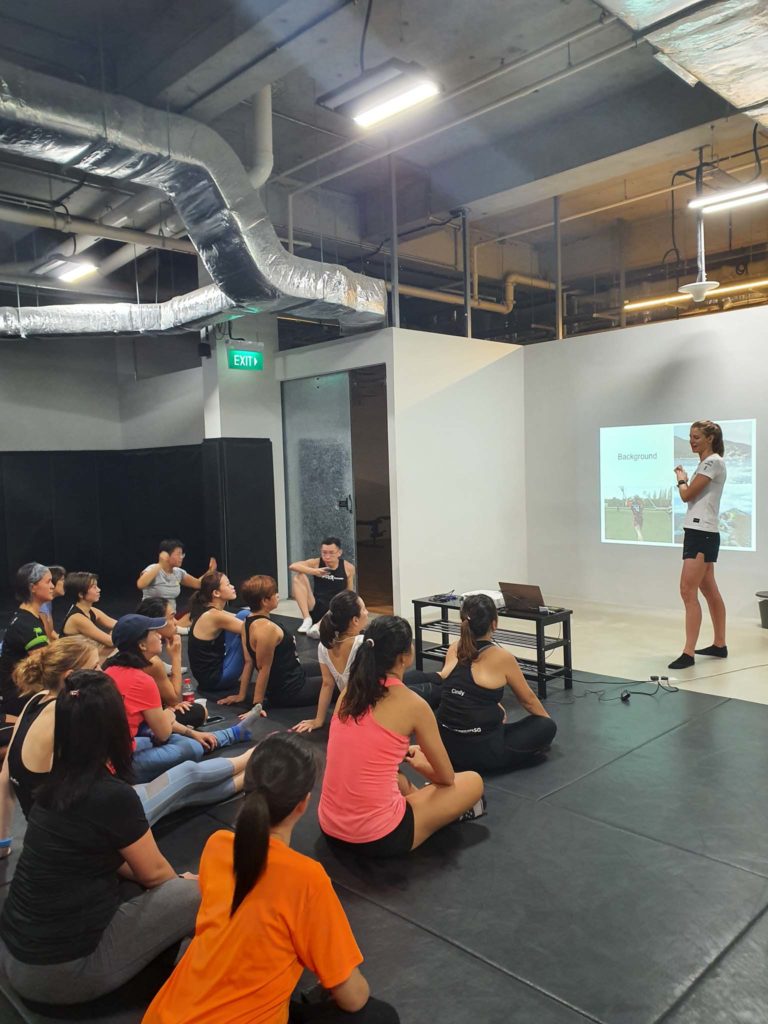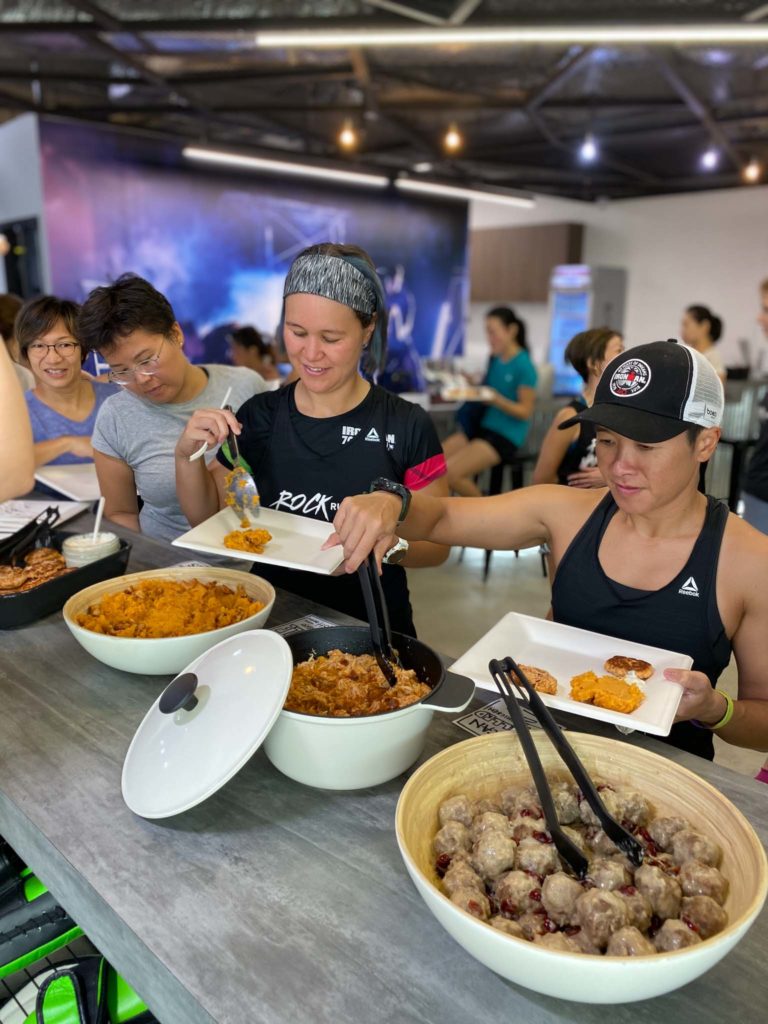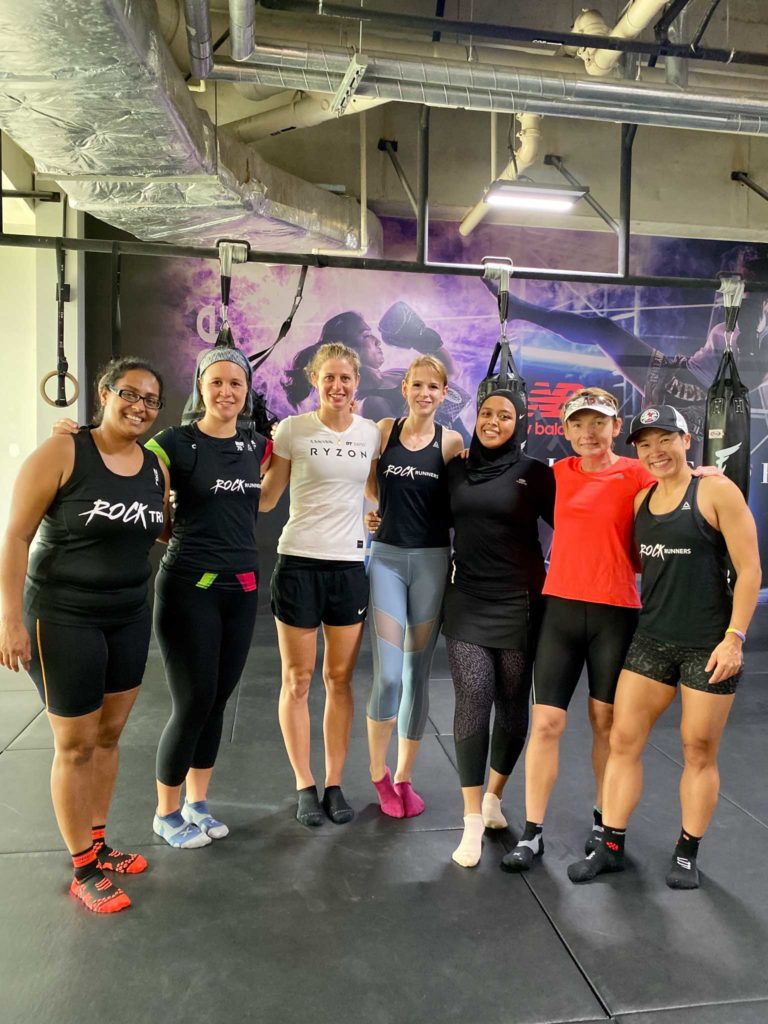 ROCKtri Ladies x Imogen Simmonds: Open Water Confidence Clinic
The next afternoon we had an open water clinic with Imo at Tanjong Beach, Sentosa. A lot of ladies fear swimming in the sea, but hopefully with more clinics like these, more of you will slowly overcome your fear!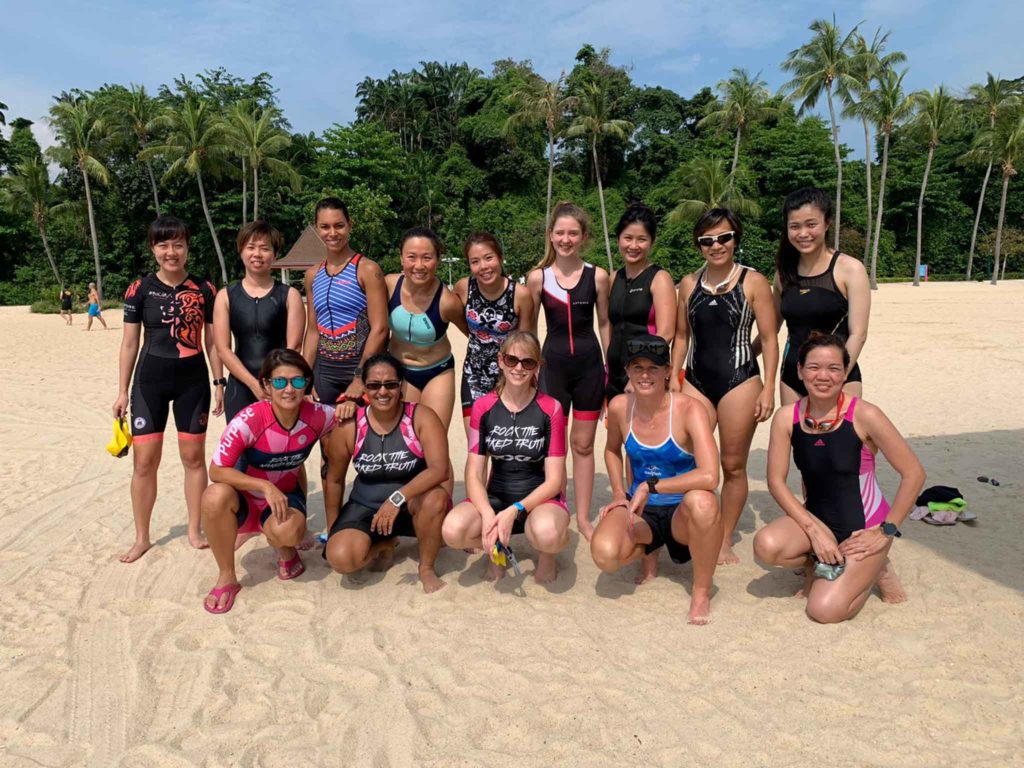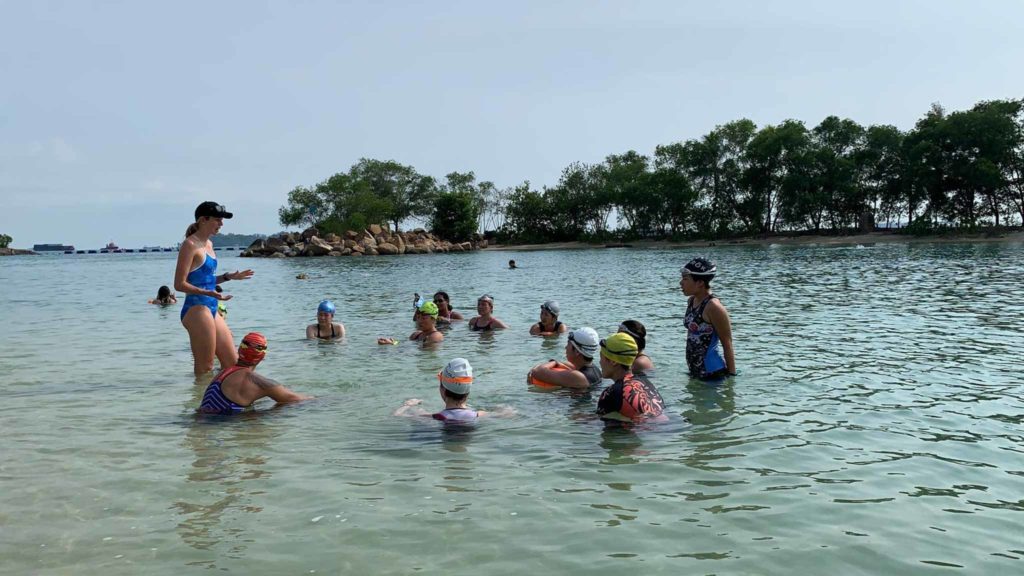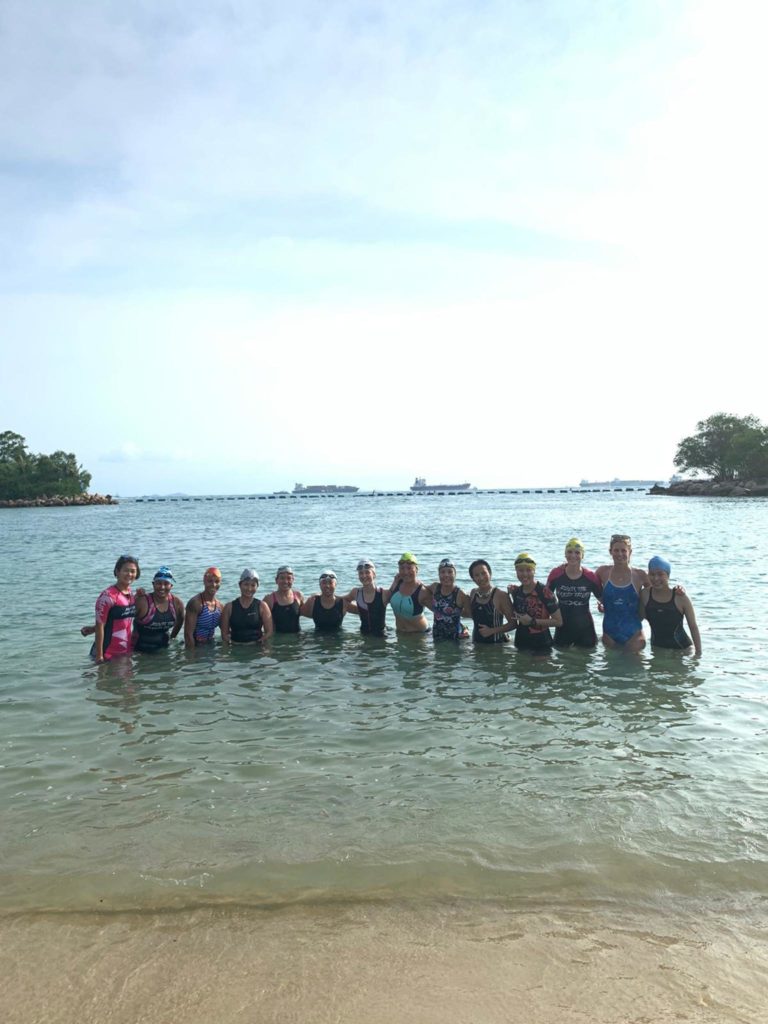 ROCKtri Ladies Aquathlon
The inaugural RTLAQ was a huge SUCCESS. Rain came just as we were starting, but all these beautiful women braved the weather conditions and finished strong!
Format of the race was a 750m swim and then a 5km run after. Some of the participants came in pairs or groups and waited for each other to run together or cross the finish line together.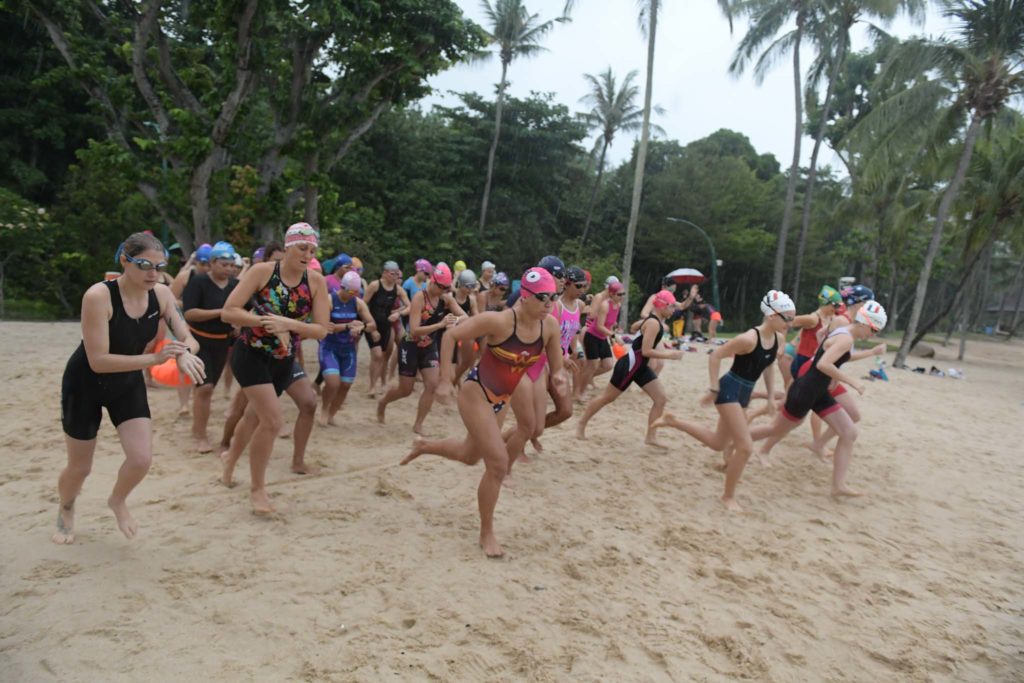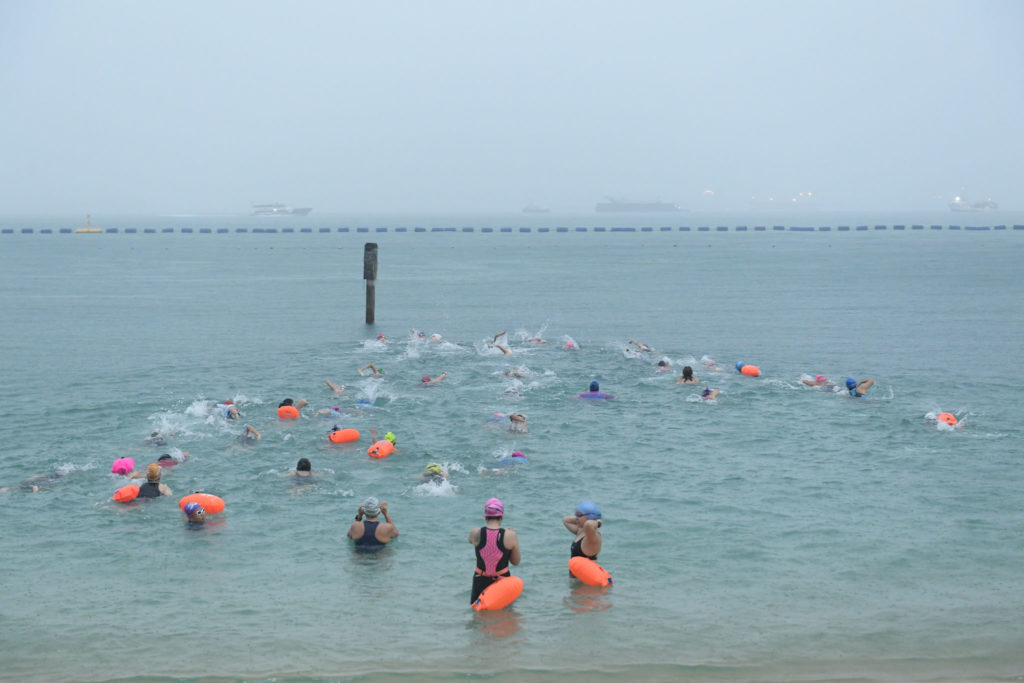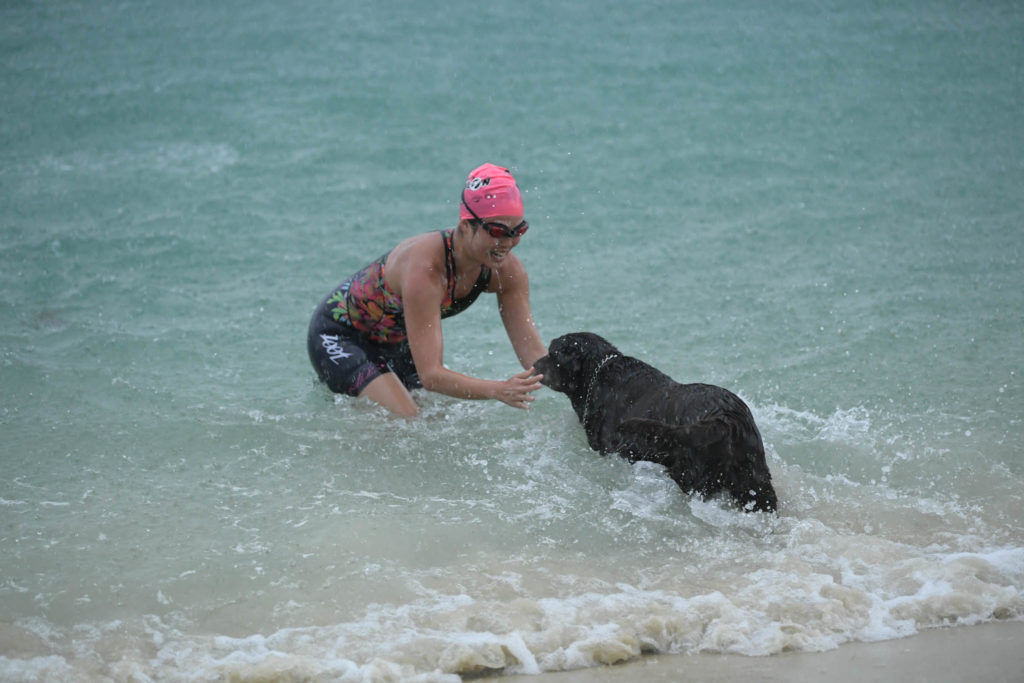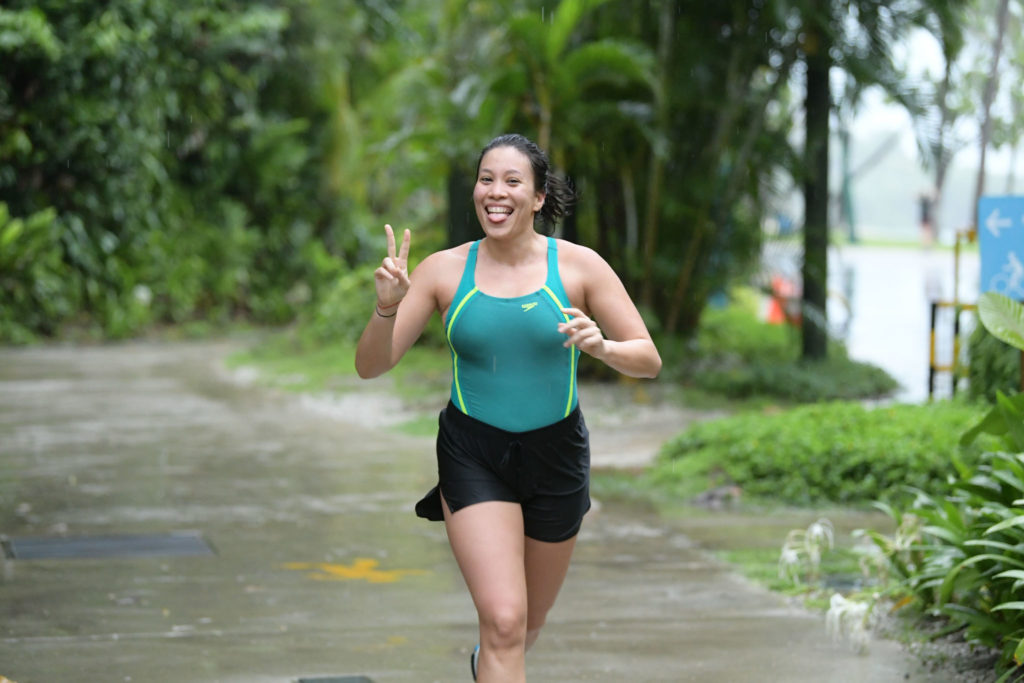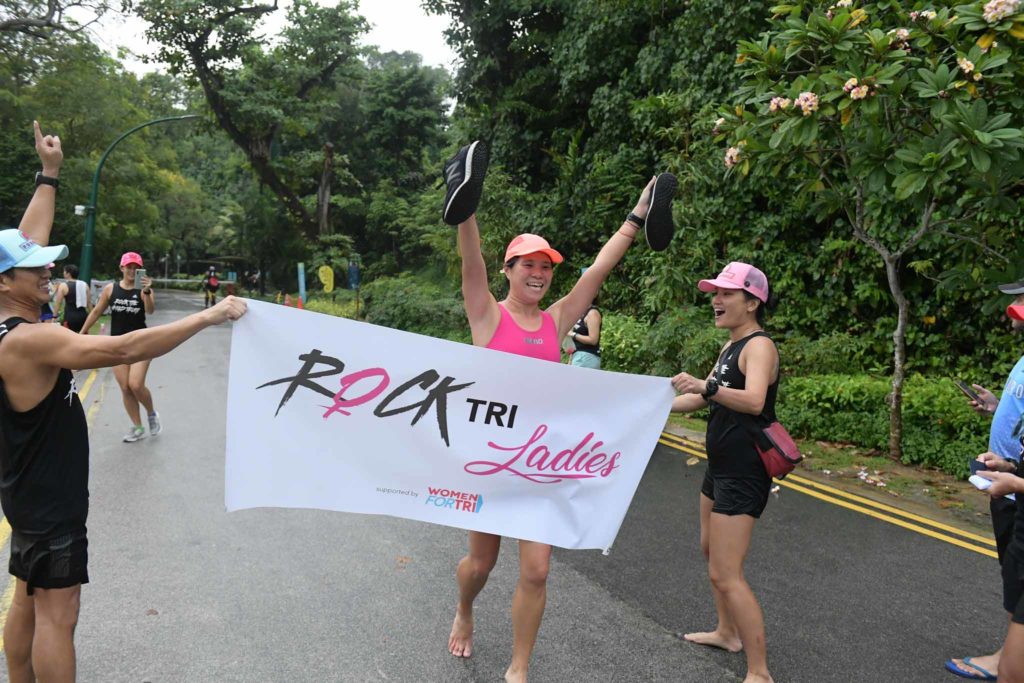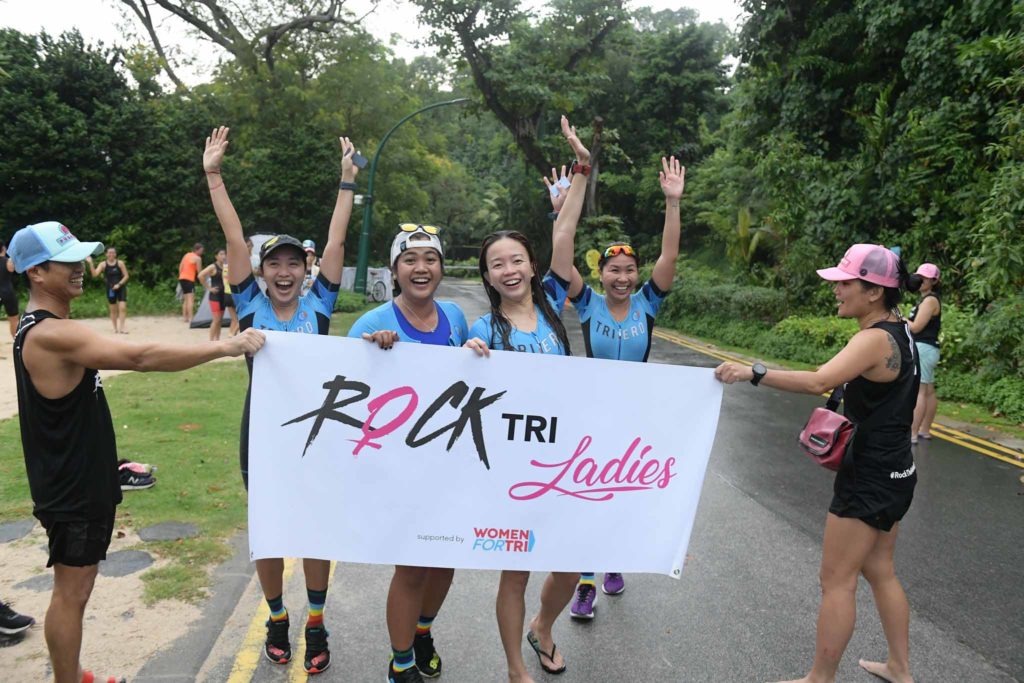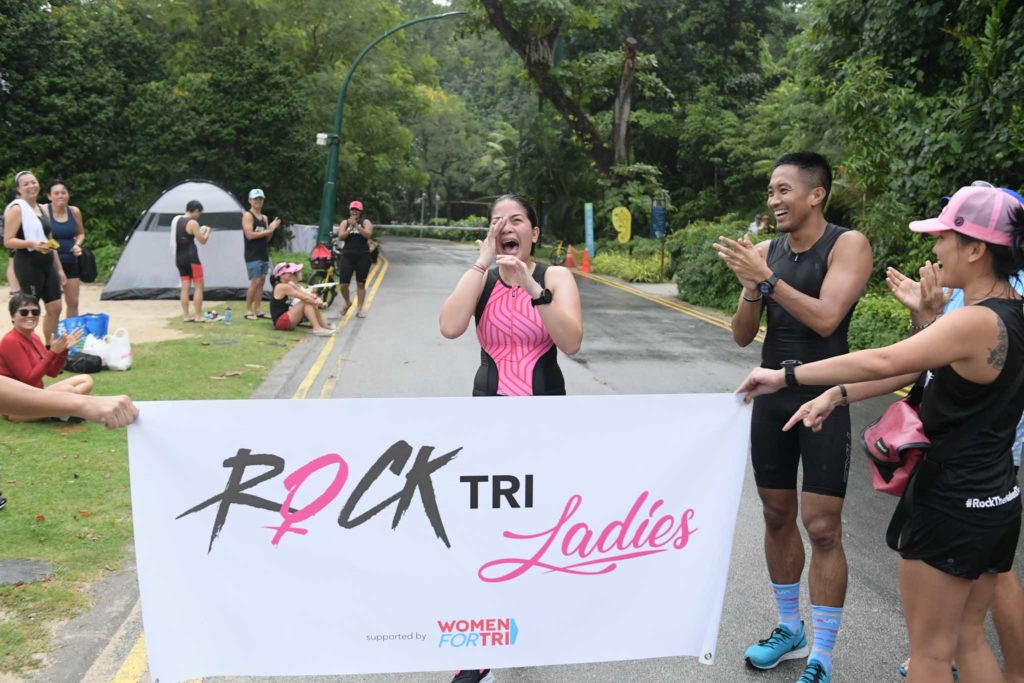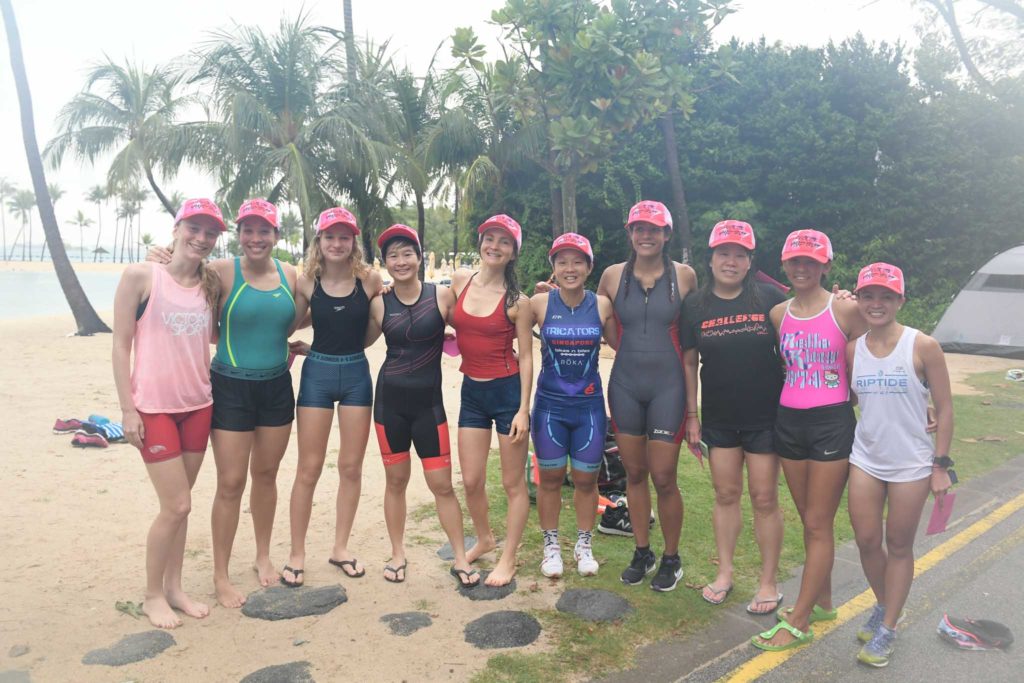 The winner has only been in Singapore for six months, our youngest participant was 14 years old, we had an overseas participant from Brunei, we saw someone cry tears of joy for finishing her first aquathlon, a dog followed one of the ladies and ran with her.. and EVERYONE loved the volunteers so much.
My heart is glowing so brightly, hearing how they enjoyed this a lot despite the weather. "Most supportive race ever", "Best atmosphere I've experienced".. credit is due to the energetic volunteers and efficient crew, I wouldn't have been able to pull this off alone!
The atmosphere was AMAZING – the ladies were cheering each other on, the cheery and lively volunteers and supporters were so encouraging. Seeing this supportive environment happen made me swell with gratitude and happiness, because this is exactly what Rock The Naked Truth is about – inclusivity, positivity and hope.
The first 40 finishers received a limited edition Rock The Naked Truth finisher cap – in my signature HOT PINK design of course.
Thank you to my committee Preeti, Yvonne, Lauren, Hollie, Flora for all the work in putting this together; thank you my volunteers Rozila, Sheila, Stefan, Xinni, Kai Jia, Charan, Rebecca, Ginni, Alan, Yu Xuan, Tiong; thank you sponsors Red Dot Running Co. for the hydration and PURPOSE for the amazing prizes.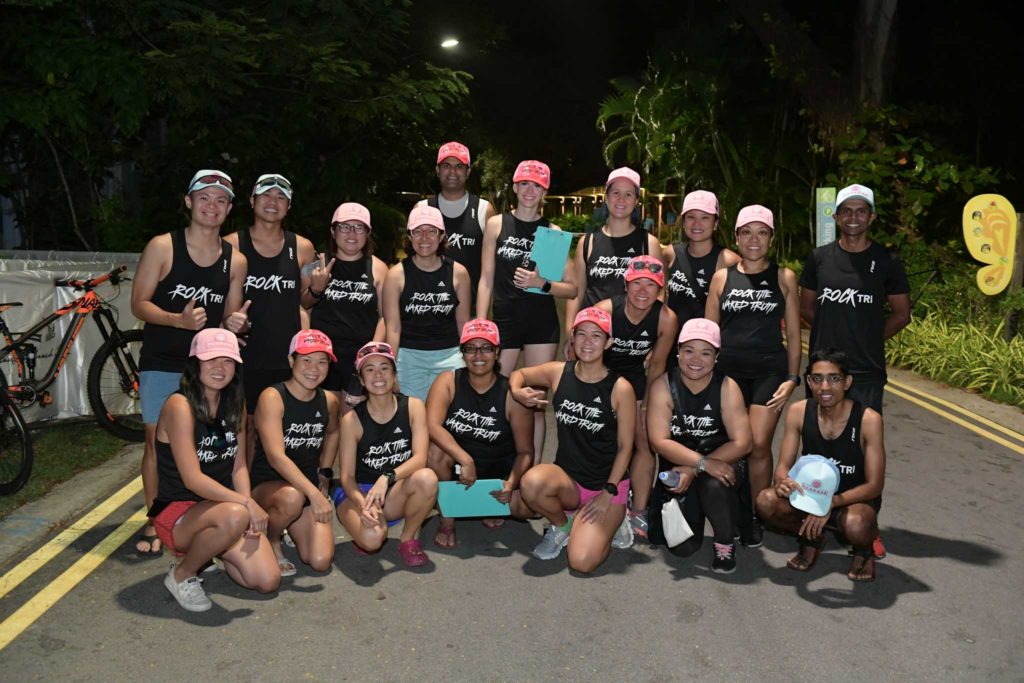 We had Tailwind electrolytes and their yummy chocolate recovery drink as hydration, and a nice Tailwind bandanna for all participants. For prizes, we had vouchers from PURPOSE for the top 10. The lucky draw also had great prizes like a $100 voucher from PURPOSE.
I love you all, THANK YOU.