ONE FC's Bruno Pucci of the Evolve Fight Team intends to fight as hard as he can for the Featherweight World Championship title belt, even if it means scarring his pretty face
His baby-faced exotic looks and cover-worthy sculpted physique could easily pass him off as a model, but Bruno Pucci is a professional mixed martial artist who fights out of the prestigious Evolve Fight Team in Singapore. The 24-year-old Brazilian is also a two-time Brazilian Jiu-Jitsu (BJJ) No Gi Grappling World Champion before he made the transition into mixed martial arts (MMA) and relocated to Singapore.
With a professional record of three wins by submission and just one unfortunate loss, he made his ONE Fighting Championship (ONE FC) debut last September in Jakarta and took Bashir Ahmad out in the first round via rear naked choke. Displaying promise as one of Asia's largest MMA organisation's rising stars, Pucci is now aiming to win the ONE FC Featherweight World Championship after accomplishing the highest levels of BJJ.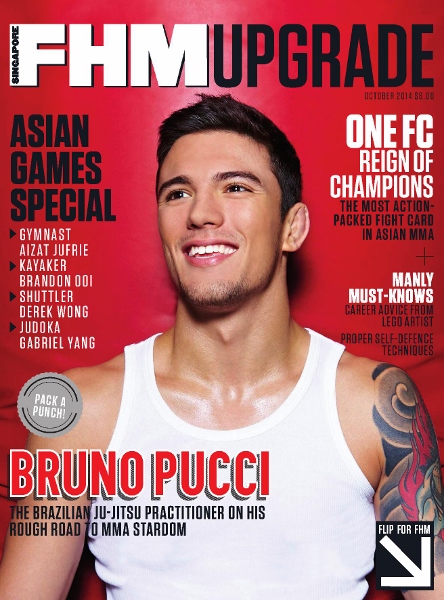 Q: How did you find your way into martial arts?
A: My health wasn't too good as a kid and I needed to take growth hormone pills to help me grow. That made me fat so the doctor advised me to exercise. I tried a lot of sports like skateboarding, cycling and I even swam for my school, but I couldn't find a sport that sustained my interest.
However, I watched a lot of action movies and played World Wrestling Entertainment (WWE) video games, so I always wanted to fight. One day I was out with my dad and we came across a martial arts gym. Out of curiosity we walked in to have a look and I went for a class. Other than punching bags, I also tried Brazilian Jiu-Jitsu (BJJ) and when I saw the armbar, I got really excited because I remember seeing it in the video games.
Q: How did you progress with BJJ from there?
A: I was only 13 years old then and I really liked BJJ a lot. That was a Saturday when I walked in to try the class and I came back every day from Monday onwards. (They are closed on Sundays.) After three months, my coach asked if I wanted to compete so I went for my first state championship and I came in second.
I became more serious in BJJ at the age of 16, competing in other states and travelling during school holidays. In 2009, I travelled out to Long Beach, California and I won gold at the 2009 No Gi Grappling World Championship (70kg). All I wanted was to win a medal so that felt good. I won gold again in the 2010 No Gi Grappling World Championship (70kg).
Q: What did you intend to do next?
A: It was tough in Brazil where there are a lot of world champions and BJJ black belts. Sponsorships were mostly product-based and not monetary. I received some funding from my city Curitiba, but I saved it up so I could travel to the United States to compete instead of going around to the smaller state competitions. In return for the funding I had to do social work too.
When I graduated from Universidade Federal do Paraná (with a Bachelor degree in physical education), I knew I wanted a career in martial arts. I wanted to see how far I can go as an athlete, but I still needed money to eat so I had to coach and train. Even so, there wasn't a lot of money in coaching, but I couldn't take on too many classes because I needed to train too.
Q: How soon did you get the offer for the Evolve Fight Team?
A: Since I had already graduated from university, the plan was to move out of Brazil and find a job in martial arts where I could coach and train. Then I got a call from Evolve MMA one day when I was teaching a morning BJJ class (I train in the afternoon and night).
It only took two weeks from the time I got that first call to taking the flight out to Singapore. I was ready to move although I have never been to Asia. I talked to my dad and he was very supportive, so there was nothing holding me back.
I was already doing MMA since 2004 and I had my first professional MMA fight in 2011, so I was really excited for this opportunity.
Q: Was it difficult to adjust to Singapore?
A: When I first arrived at Evolve, I was a little apprehensive because in the world of martial arts, when you visit another gym, they typically try to kill you in training. However, everyone in Evolve welcomed me and treated me like family. I arrived in November 2012, close to Christmas and I was far away from my family, but the other Brazilian guys of the Evolve Fight Team invited me to dinner!
I also like how I don't have to wear pants every day because the weather here is so hot.
Q: What about the food?
A: The food, culture and people in Singapore are very different, but it's not a problem and not hard to adapt. I will try different kinds of food but if I don't like it I just won't eat it anymore. At the start I couldn't get used to the food, especially when I can't take chilli or spicy food. But now I'm a fan of Singaporean fare!
Q: Having lived here for almost two years now, what are some of the Singlish words you can say?
A: Ok lah, really meh, siao (which means crazy)!
Q: What do you miss about home?
A: I miss my family, especially my dad whom I'm very close to. I also miss pastel, a fast food Brazilian pie fried in oil filled with meat or cheese. The funny thing is, in Brazil the best pastels are cooked by Asians like Japanese or Chinese. But when I came here, nobody knows what it is!
Q: What do you look for in a girl? (Sorry ladies, he's attached to a Singaporean!)
A: To me, my girlfriend cannot just be a girlfriend, but she also has to be a good friend whom I can share everything with. My lifestyle is not normal, so she has to understand that I have to train and teach on weekends or holidays. I don't have a lot of free time, but I just need a lot of support for my fighting career. I don't need my girlfriend to train in martial arts; it's more important that she is a good friend I can talk to.
Q: What is the physical attribute of a girl that stands out most?
A: Her butt!
Q: What do you do to relax?
A: I spend a lot of time at home, just resting and chilling. I don't party at night and I really like to watch movies. I can watch any kind of movies and I especially like the collection of Rocky Balboa and the Pursuit of Happyness.
Q: You're often praised for your good looks. Ever considered doing some modelling?
A: Nah I don't really think about it. I'm more concerned about my fights and I'm just focused on my fight career.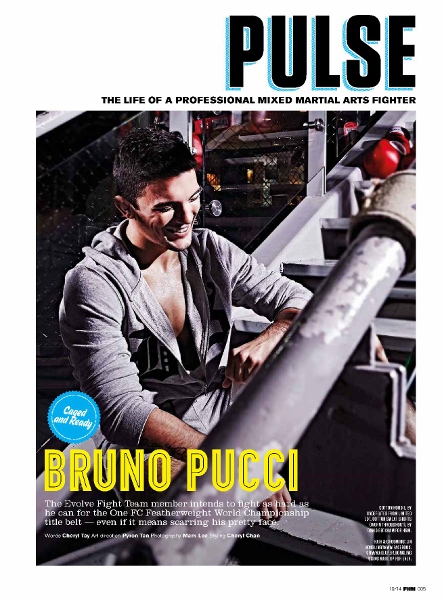 What's in Bruno's bag?
ONE FC gloves
This exclusive pair of gloves is only for ONE FC fighters and what they are required to use in the cage.
Evolve Fight Team shorts
Pucci's personalised fight shorts as part of the Evolve Fight Team, which even has his autograph on it.
Mouth guard
Fighters use a mouth guard to protect themselves from mouth, jaw and tooth injuries.
Notebook
After each training, Pucci takes down notes in this notebook of his, to remember what he has to work on or what he learnt.
Glucosamine
Pucci takes glucosamine every day, along with other nutritional supplements to maintain healthy joints.
Beats by Dr Dre headphones
With these headphones, Pucci listens to music on the commute or to relax between trainings.
Golf ball
This golf ball comes in handy when he needs to roll out any tight muscles.
iPhone
Pucci's main source of communication and entertainment is his iPhone, which has a picture of one of his tattoos as the wallpaper.
Bruno's top 5 favourite Singaporean foods
Fried rice
Seafood Hor Fun
Roti Prata
Hong Kong noodles
Custard Pau
*This was first published in FHM Singapore and is reproduced with their permission.