Absolute power – The new Audi RS 6 Avant, SQ5 and S3 Sportback storm into Singapore
Pioneering and strong, the new high-performance RS 6 Avant combines 412 kW of power and 700 Nm of torque with unrestricted practicality for everyday use 
Sportiness meets functionality, the SQ5 3.0 TFSI is the fastest in its class – going from zero to 100 km/h (0-62 mph) in 5.4 seconds
Ample power and minimal consumption, the third-generation Audi S3 Sportback 2.0 TFSI combines dynamic performance with groundbreaking efficiency
Sporty, sleek and boasting top-class performance, Audi has added three new sports models to its dynamic range of cars. On 5 December 2013, 300 customers, VIPs and invited guests were given an exclusive preview of the new Audi RS 6 Avant, Audi SQ5 and Audi S3 Sportback before they were introduced to the public. With blazing performance, maximum efficiency and an eye for detail, these new additions to the Audi family are now available at the Audi Centre Singapore and are perfect for drivers with a passion for cars.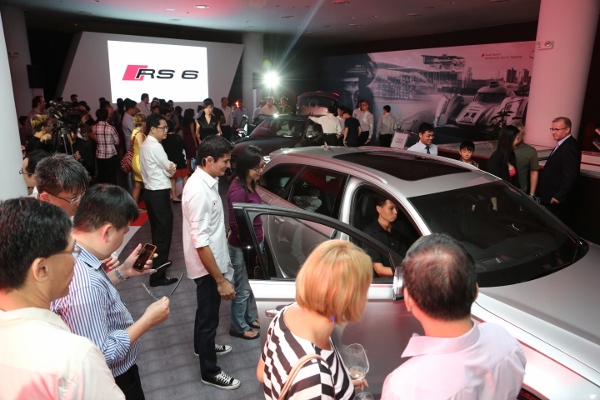 Audi RS 6 Avant
The new Audi RS 6 Avant offers superior performance and groundbreaking efficiency, providing practicality for everyday use and leisure. Made out of high-tech steel and approximately 20 percent aluminium, the new and improved model weighs nearly 100 kilograms lesser than its predecessor. The new Audi RS 6 Avant boasts a twin-turbo V8 engine that delivers 560 hp and a constant 700 Nm of torque, accelerating from zero to 100 km/h in a staggering 3.9 seconds. Lighter and more efficient than the previous models, Audi has created a sporty, top-of-the-line vehicle that supersedes its predecessors in performance in every parameter possible.
Audi SQ5
Sprinting from zero to 100km/h in 5.4 seconds, the new Audi SQ5 is the first SUV in the "S" family. Best in its category, the Audi SQ5 is powered by a revved-up, three-liter V6 engine with a displacement of 2,955 cc. The 3.0 TFSI engine produces 260 kW (354 hp) between 6,000 and 6,500 rpm, and delivers 470 Nm of torque to the crankshaft between 4,000 and 4,500 rpm. The Audi SQ5's electromechanical steering also provides a seamless drive, adding to its impressive handling capabilities. Styled to perfection, the Audi SQ5 features the classic "S" car touches in design and materials that distinguishes it as the high performance sports car.
Audi S3 Sportback
Continuing the success of its predecessors, the sporty, yet sleek, Audi S3 Sportback offers powerful performance with exemplary efficiency. Its 2.0 TFSI engine averages just 6.9 liters per 100 kilometer. The Audi S3 Sportback's high-performance four-cylinder engine responds immediately to the driver's wishes and boasts a sonorous sound. At 1,445 kilograms, 70 kilograms less than the previous model, the Audi S3 Sportback's lightweight construction is a key factor for its dynamic performance.