This race was postponed from April 2020 when the pandemic hit and it's the first time that Desaru is hosting an Ironman 70.3 event. There is the 113 Desaru (same distance as 70.3) and I've heard that it's a tough course, but I didn't know what to expect and I guess you can say that this was a course I wasn't prepared for. I knew there were gonna be some hills on the bike and run, but not this many! LOL.
It's the easiest race I've been to in terms of logistics (just load up the bike in my car and drive up; don't need for packing of bike; don't need to take a flight) but also probably the toughest 70.3 course I've done in Asia. I've done 13 x Ironman 70.3 races and 1 x full Ironman, just for perspective.
The course came as a shock, but I've done what I could that day. In hindsight it's always easy to say you could/should have gone faster, but in the race you're fighting so hard just to stay in the game. Thoughts of quitting did cross my mind but I said, not today.
Here's my race report –
Swim:
This is my weakest and I've only done one OWS leading up to this. The swim course had no lane ropes to follow so sighting was trickier, from buoy to buoy. We swam in a triangle route and the current was pushing us from left to right (think crosswinds in bike form).
The first two stretches of the triangle was not too bad, but the last stretch back was horrible. I felt like I was on a treadmill, forever stuck in the same spot. Also, further out, we were swimming in A LOT of sea creatures (prawn fry I was told) and I was trying not to freak out. I just told myself it's all grass! I didn't want to accidentally swallow any of them.
As usual, the OWS is a washing machine and I got whacked in the head, scratched on the legs, people were swimming into me. Someone also slapped me in the face and I had to push him away.
Bike:
When I came out of the water and jogged the long transition, I was beginning to feel nauseous so I started the bike at an easier pace. I just felt weird and I was trying to find the rhythm but the hills were not helping me! I felt like we were going up and down a lot. There were some straight stretches in the middle for a brief respite and it got a bit lonely because it's just a long long road ahead.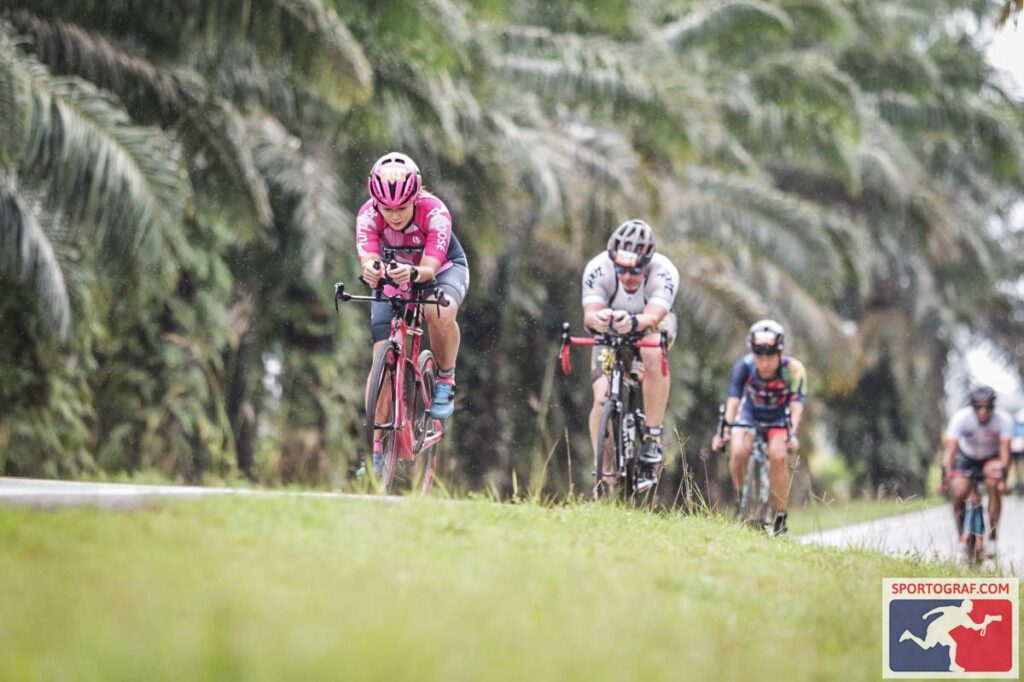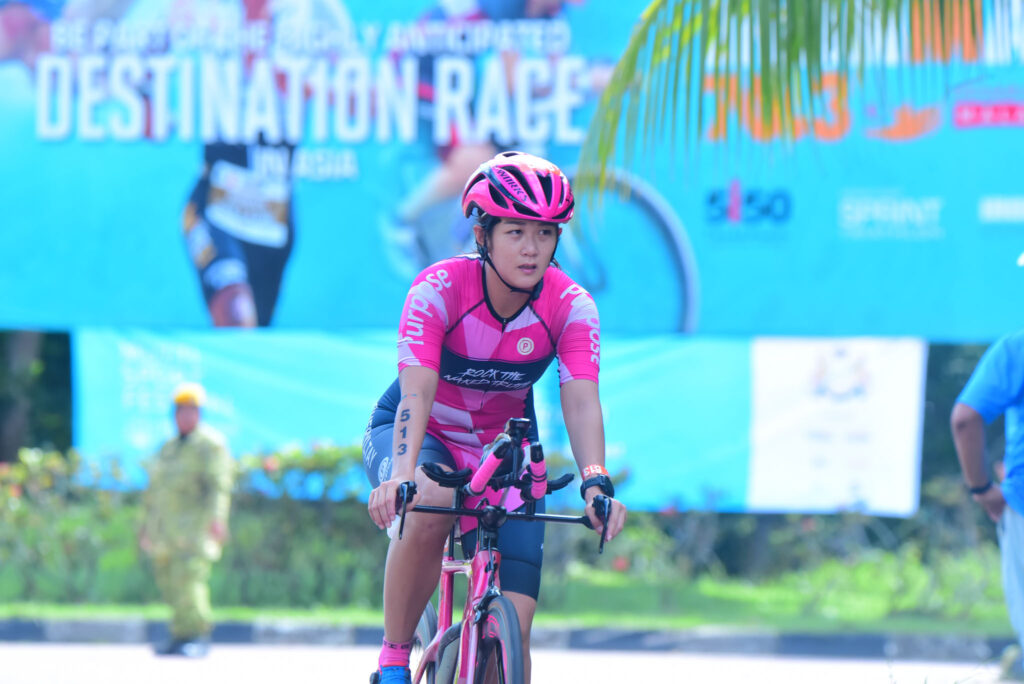 We were to do 2 laps of 45km and after the first lap, I was ready to push the pace more when my lower back seized and shot sharp pains down my legs. I tried to ignore them but they got more painful. This might be because I haven't been riding my tri bike much and I haven't been doing hills.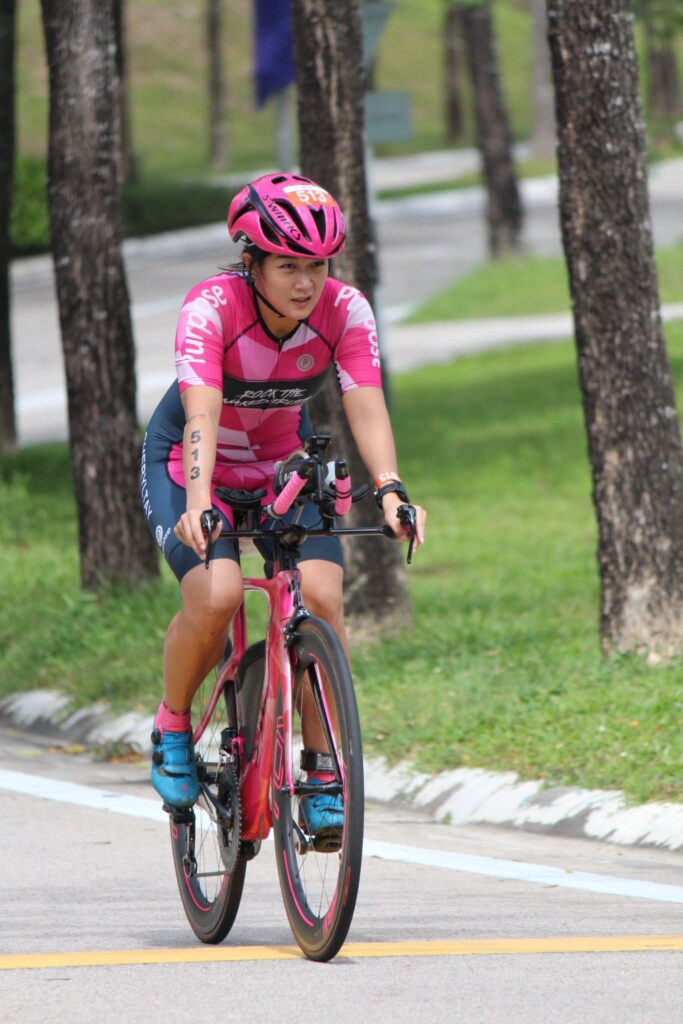 As a result, I couldn't stay in aero and had to sit really upright to stretch the back, so I could manage the pain and finish. There were a bunch of hills when you come back to transition and I really wanted to get off the bike so bad!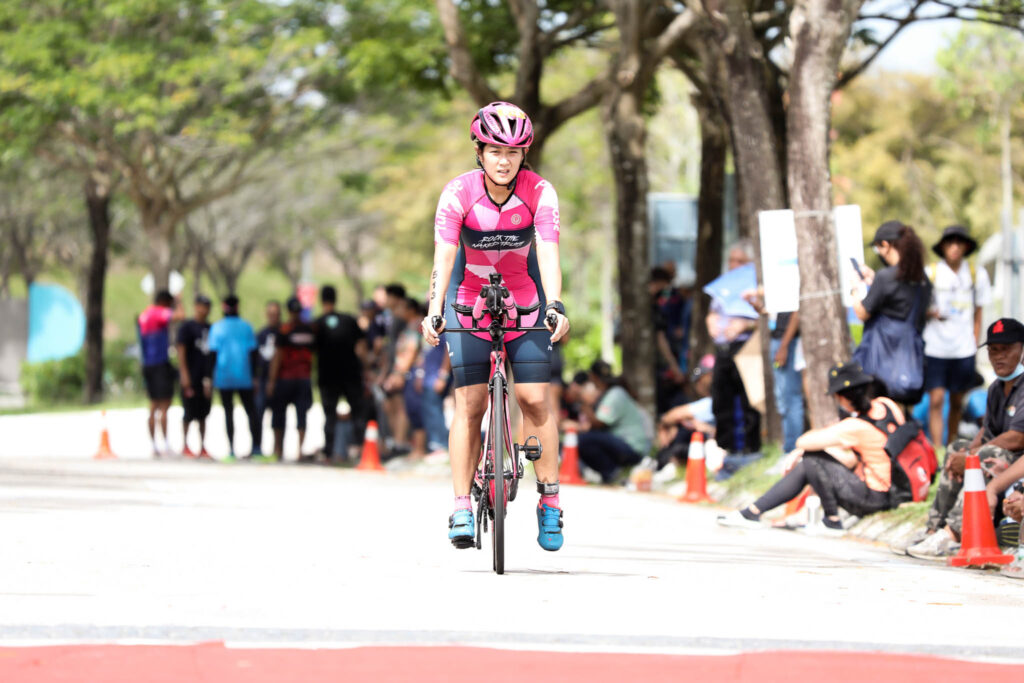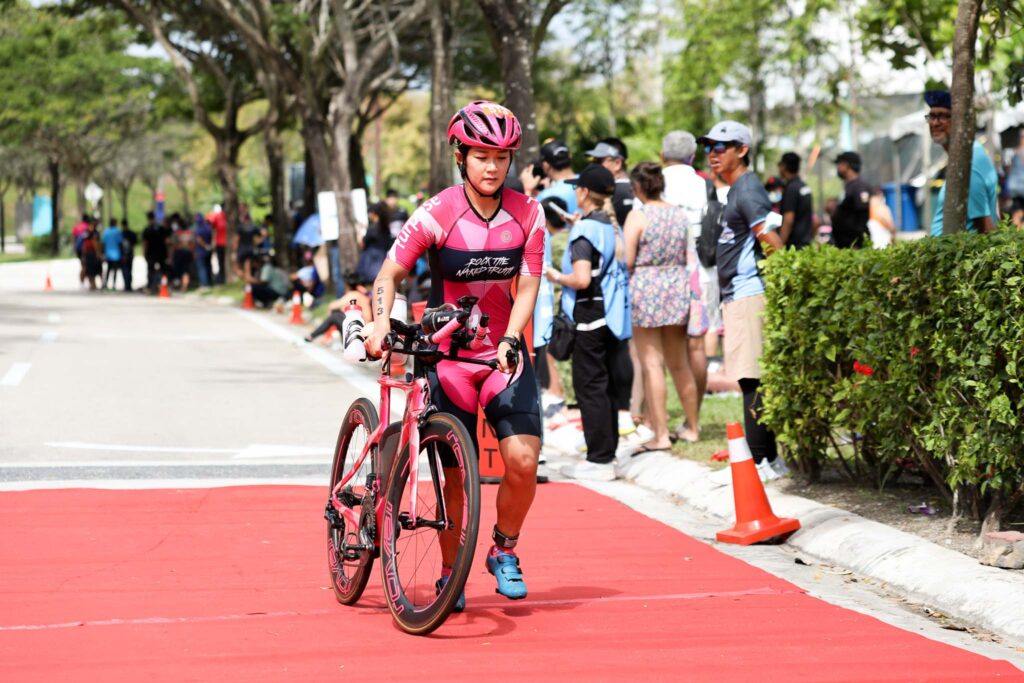 Run:
Back to the long transition that involved a little slope up, I told myself just one leg left. The first km was flat and there were a lot of people cheering for you and I thought okok I got this, let's do this. And then you quickly realise, boy, the route is brutal. 9 slopes in 7km for 1 round and we had to do 3. I ran an average pace of 5:30/km for the first round, 5:46/km for the second and then I faded to 6:22/km for the third.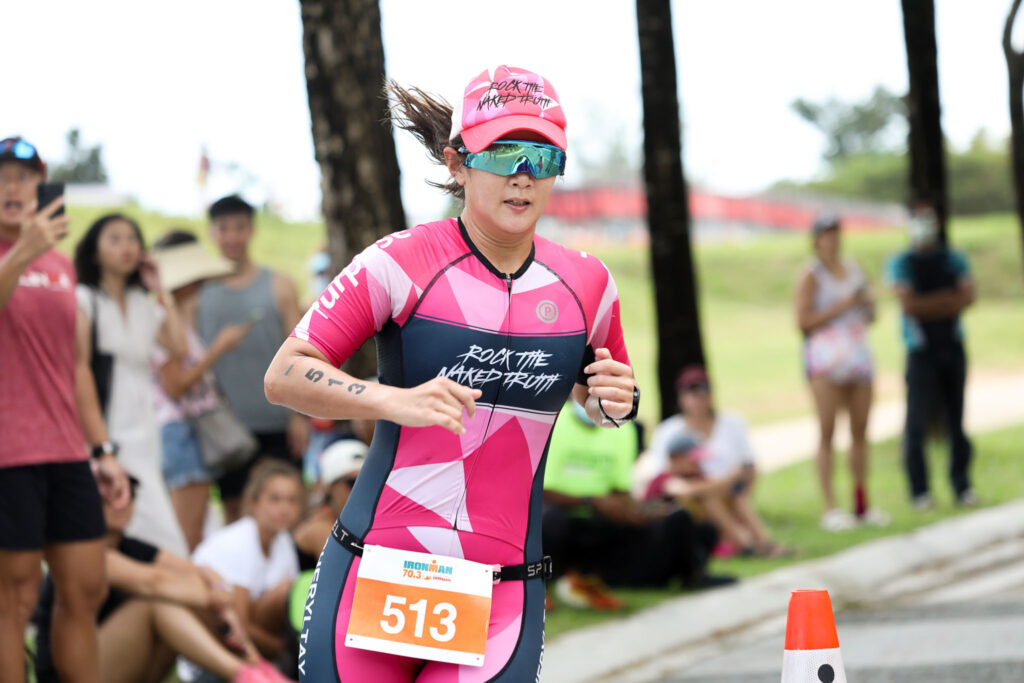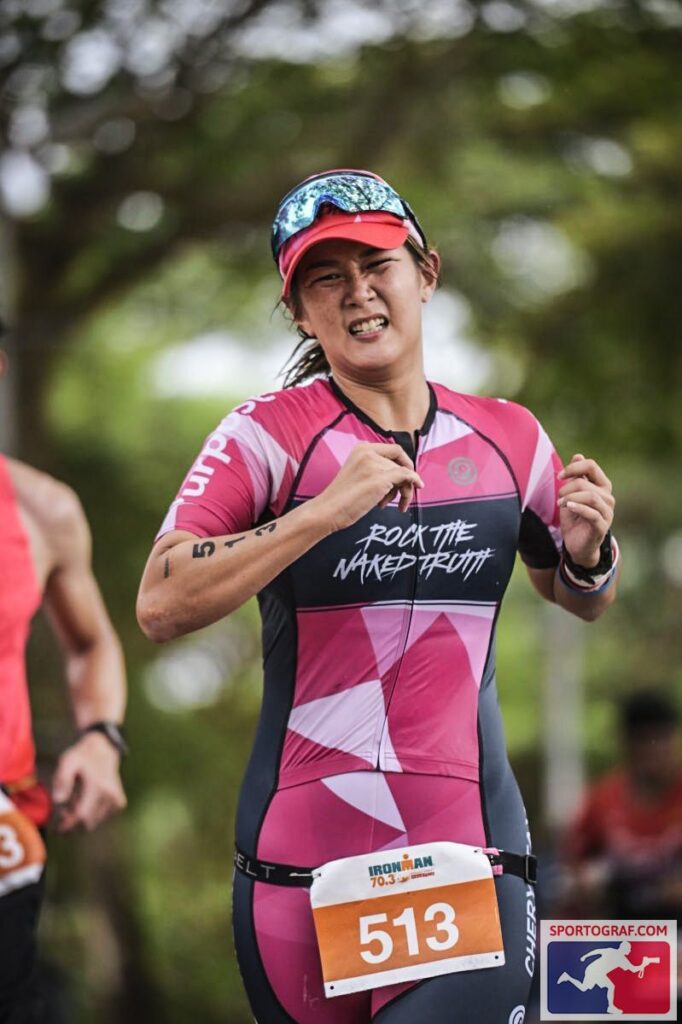 There were a lot of dark thoughts shrouding my mind and I really had to fight the demons away. I guess the one benefit of doing three rounds is that I got to see Grace three times and that helped. I had to switch to survival mode, throw all timing goals out the window and really just focus on one step at a time. I was SO glad to see the finish line!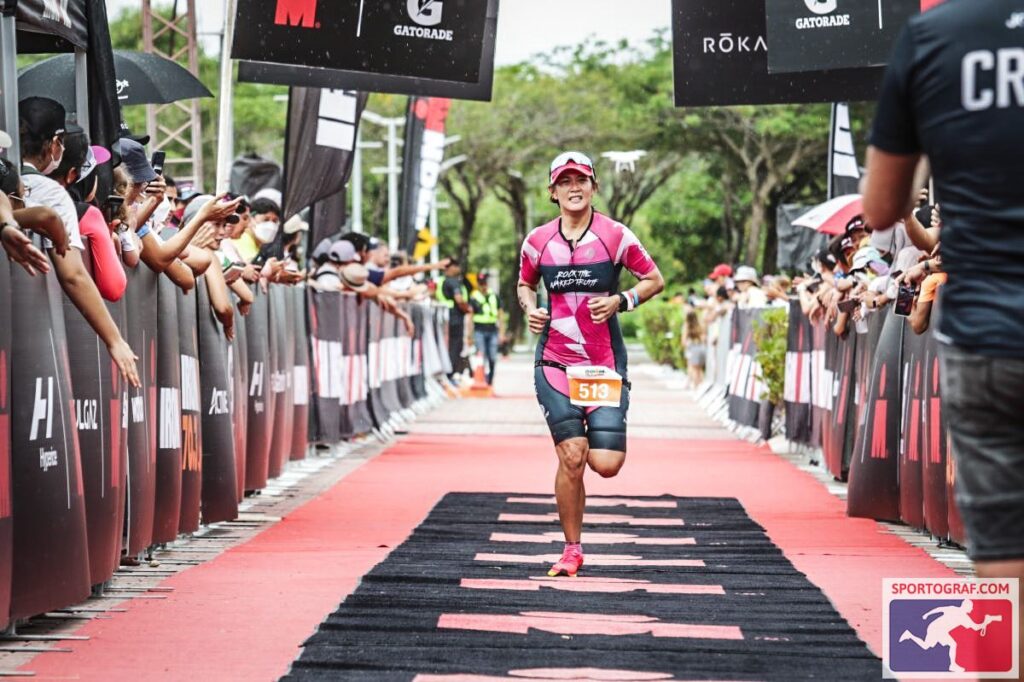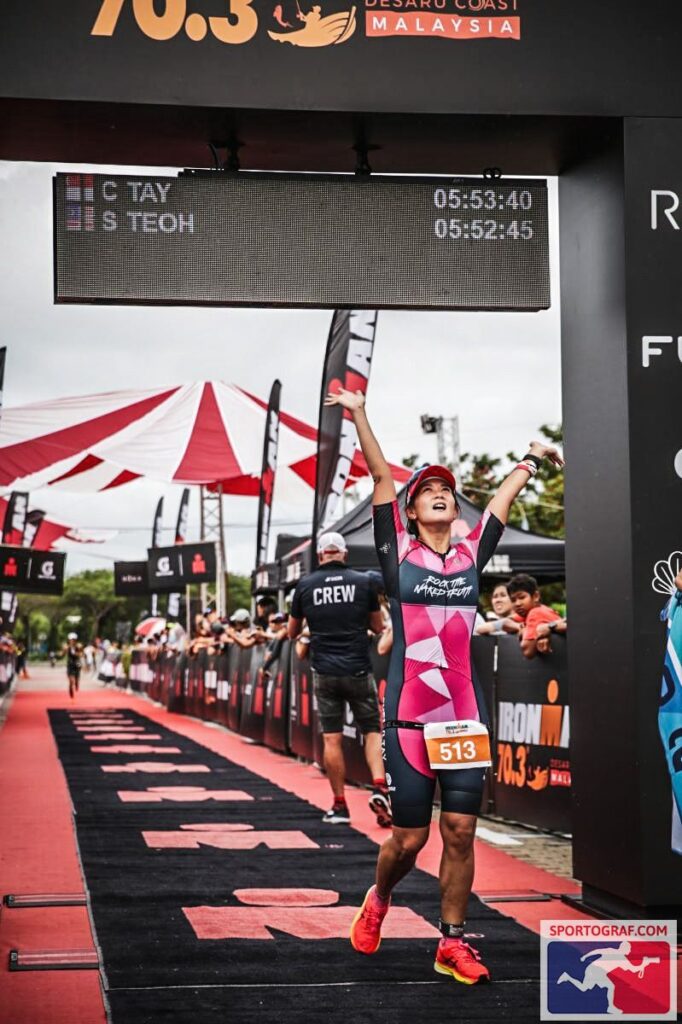 Result: 5:53:40 and 4th in AG
It's nice to be back racing yes, but I don't miss the pain LOL. I mean, I knew it was going to be hurt but it was definitely a shock to the system. Thank you all for the love and support, I really appreciate it. I will try harder next race!
Next up is my A-race, the Berlin Marathon!