We spend so much time training our physical limits, that we forget to train the mental. And honestly, in endurance races, the mental strength is very important. It can get hot and tiring out there, you feel like giving up, you question your purpose… so it really comes down to your mental resolve.
At the same Danang race last year, my race plan went haywire when I didn't hydrate myself properly on the bike and my legs went kaput on the run. I recalled struggling to run and eventually at the 15-16km mark, I stopped to walk. I walked-jogged-walked-jogged back to the finish line and was so upset with myself that I didn't want to talk to anyone for a while after that. The truth is, I gave up the fight.
This race experience haunted me for a little bit and I was afraid of Danang. I said I wouldn't come back because I was traumatised by the heat (35°C but feels like 41°C). But guess what? When I had to give Ironman 70.3 Colombo a miss because I was so sick, I had a serious case of FOMO and decided to sign up for Danang. LOL. #fanjian
So yes, I went back to Danang to race last weekend!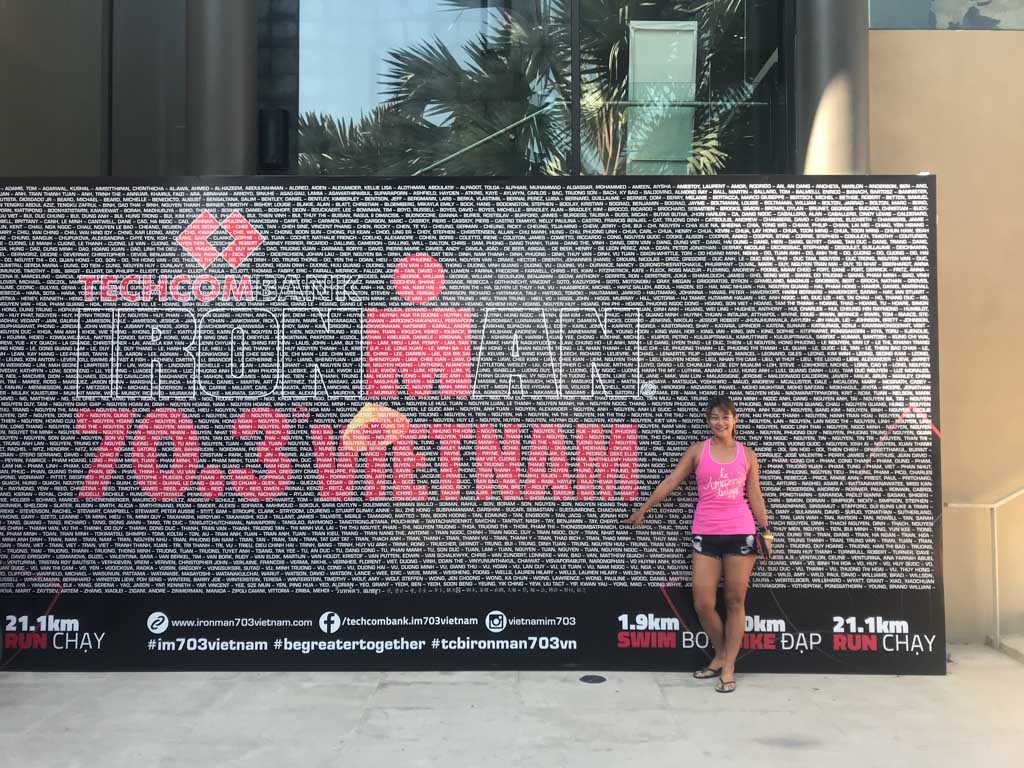 I had about eight weeks from the Ironman 70.3 Taiwan race, so it was mostly just carrying the race fitness over. I flew out on Silkair and I was staying at the official race hotel, the Hyatt Regency. It is more expensive to stay at the race hotel, but the rooms are very comfortable and it is right where the race expo, finish line and transition area are – so I think it's worth the convenience.
The boyfriend (E) arrived from Switzerland on Friday afternoon, YAY! It's been more than a month since we last saw each other. That's the thing about LDRs – time with each other is so precious. He flew in from Europe to Danang just to support my race and I am really, really grateful. Having him around made me happier and I was excited to show him what an Ironman race is about – I showed him the athlete check-in area, the race expo, the transition area, the race start, the finish line. Ironman is such a significant part of my life and showing him this part of my world makes me very happy.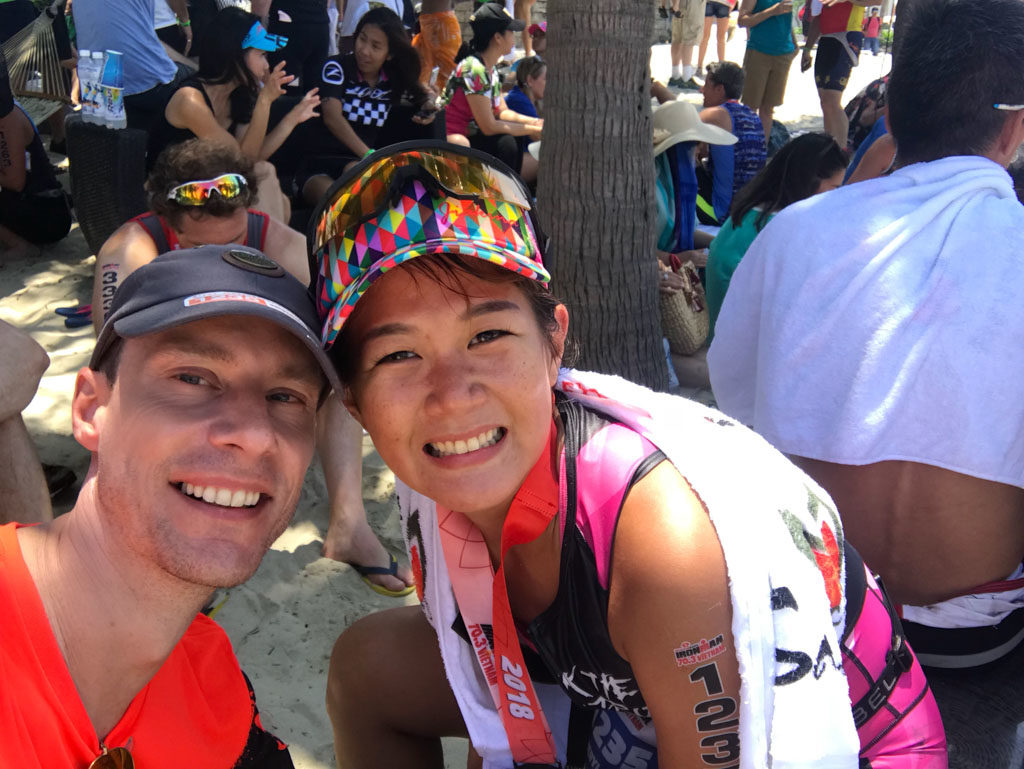 When I did the test swim, omg the waves were pretty rough. I was like, how the heck do you swim in this?! Ian taught me to dive into the wave when it comes and I tried. It worked, except for a few bigger swells which might get you. Those are freaky – the wave gets so big it crashes on you and then you take longer to surface for air so you panic. But I tried a few more times, told myself NOT to panic and just pray that the swells won't be so big on race morning.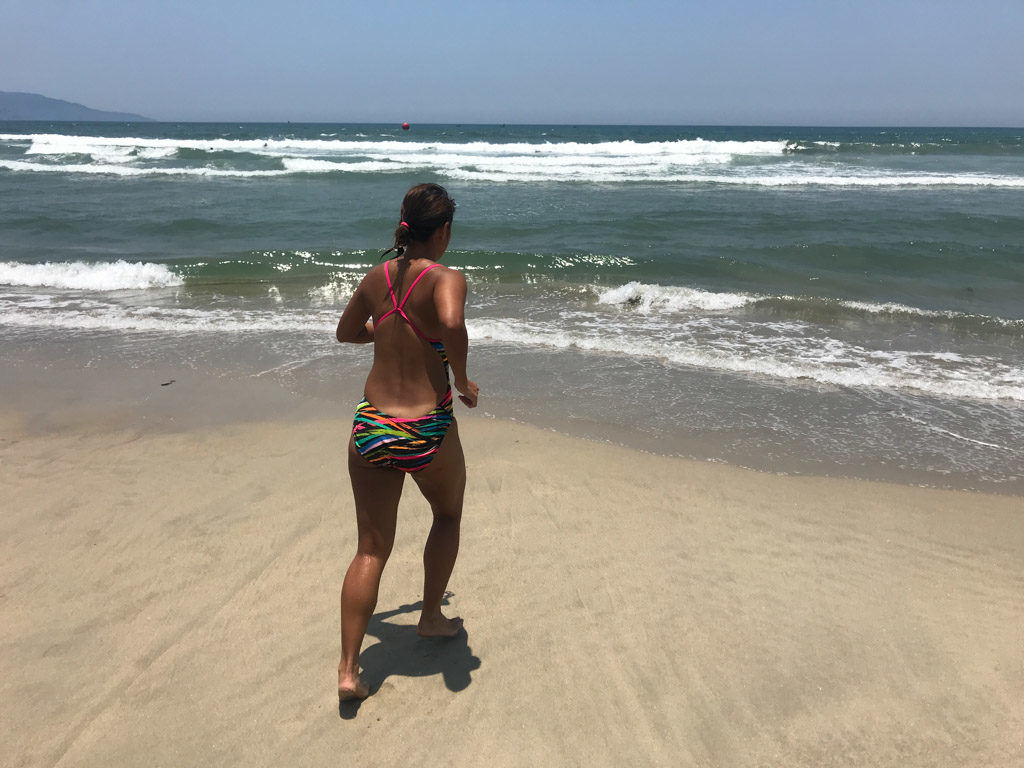 These waves were definitely a concern. At the race briefing on Saturday evening, the organisers told us that they are monitoring the open water conditions and in the event that it gets too dangerous, they had an alternative. The open water swim would be cancelled and replaced with a 3km run instead, making it a duathlon (3km run – 90km bike – 21.1km run). They showed us how the route for the 3km run will be like and everything was planned out properly. It would l be a bummer if the swim gets cancelled, but safety is more important and the organisers did a very good job in putting alternatives into place.
On the morning of the race, I was up at 330am and there was a tiny part of me that didn't feel like racing. It was the part of me that was scared – scared it was gonna get hot, scared I will bonk. I never get such feelings; usually I am ready to rumble. But I pushed away those negative feelings anyway and just got about getting ready for the race.
E walked with me to the transition area, along with Ian, Jaime and Oliver (my favourite baby). Seeing Oliver helped me to relax. He's this 13mo cutiepie who is super adorbs (if you watch my instastories you will understand why).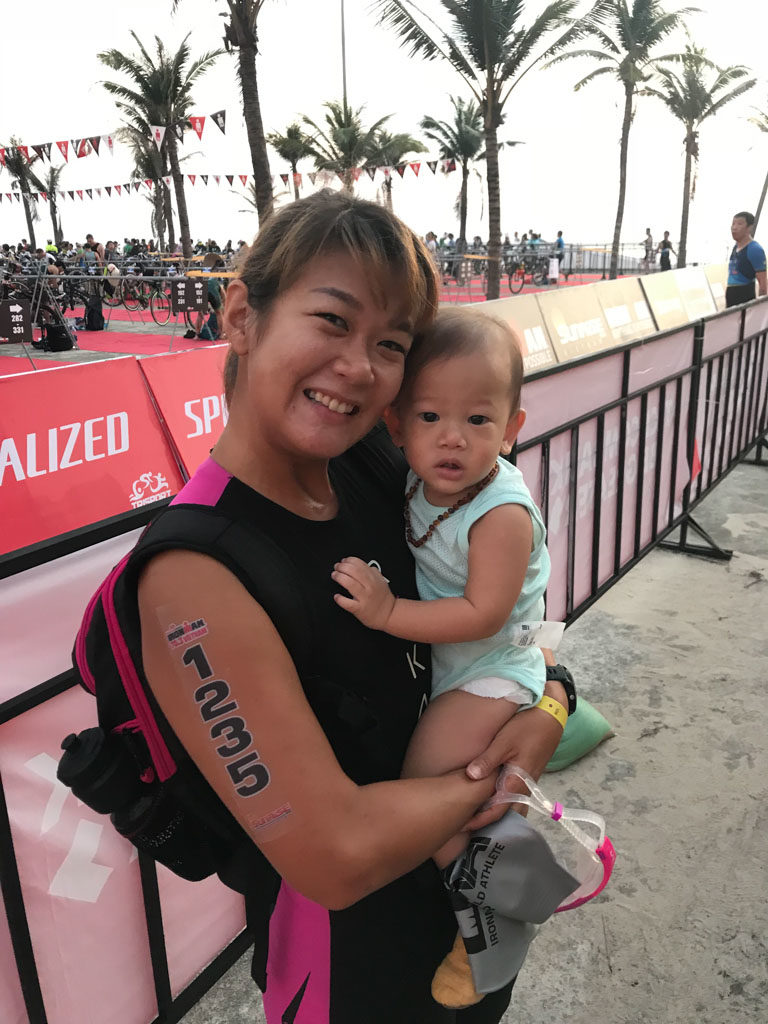 After I got my stuff arranged at my bike, I hung around at the transition area to wait for the official announcement. Will it be a duathlon or triathlon? The waves still looked a bit scary. And then we heard it – a triathlon is on!! YAY. I proceeded to put on my swim skin and then headed into the water just for a quick warmup. The choppy part is only for the first 100-200 metres so we just had to get past that and it will be fine.
SWIM
The race start got delayed for about 10 minutes and we watched the pros go in first. Before the rest of us age groupers get released in a rolling start according to our swim times. I was in Pen C (36-40 min) with Anthony and Ernest, so we had to wait for the other pens to be released first. We were released every five seconds in twos/threes; that way it helps to prevent clusterf*ck.
I got into the water and I remained calm as I dived into each wave. I just wanted to survive the swim! It was actually quite fun, going up and down, but thankfully it was only for the first part. After that we swam in a T-shape. I just kept looking out for the buoys to aim for and then swam towards each one. In the process, I got hit in the face, swam into, kicked in the hip… the usual.
The last part of the swim was still choppy, but this time the waves are pushing you put to shore. It's good because it helps you get back faster, but because you cannot see when the waves are coming, it can get quite scary when something suddenly pushes you so hard from the back. There were safety marshals right there in the sea to watch out for us so I felt safe.
T1
Got out of the water and looked at my watch; I took about 40 minutes and I was pleased with that considering the sea was rough. We had to run up a ramp to the transition area, where I nearly slipped lol. I got to my bike and worked on getting the bike gear on, then rushed to get out.
BIKE
The path from the transition area out to the road is sandy and I didn't want to fall, so I carefully rode out. Once I hit the road, I changed gears and let's go! The bike route is mostly flat, with just two bridges (one small and another bigger one).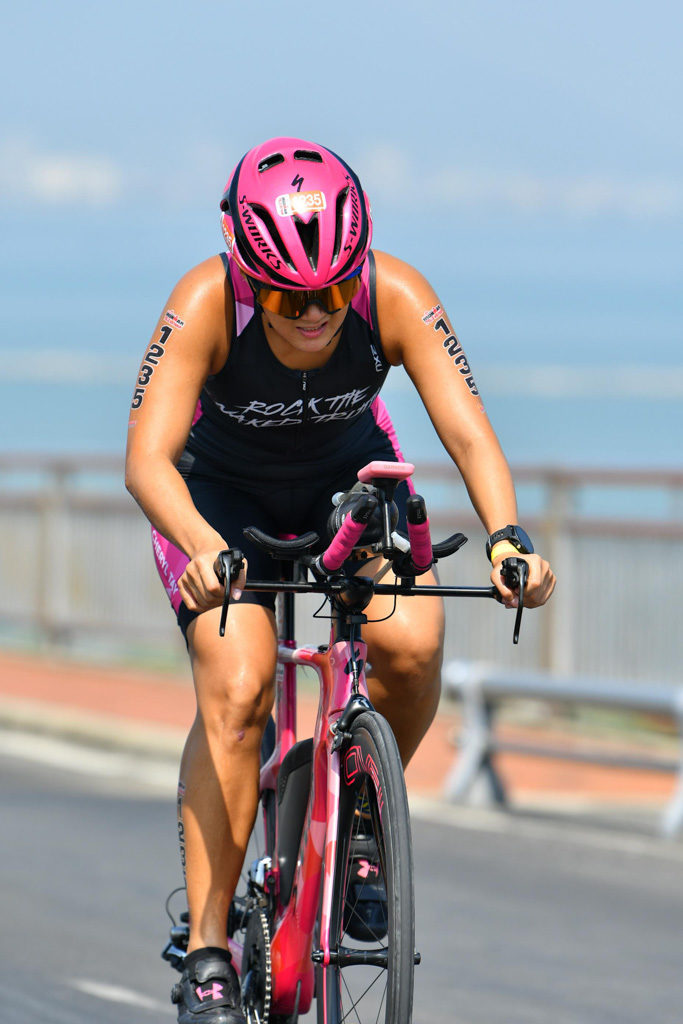 At the 40km mark, we had to make one more loop of 20km before we head back. The headwind on the way back made me quite tired and it didn't help that I missed two hydration points – one, there were no volunteers handing out bottles; two, it was too crowded. We had to pass the transition area and go on for another 6km before turning back, and this was tough because when you see the transition area you just want to go back in.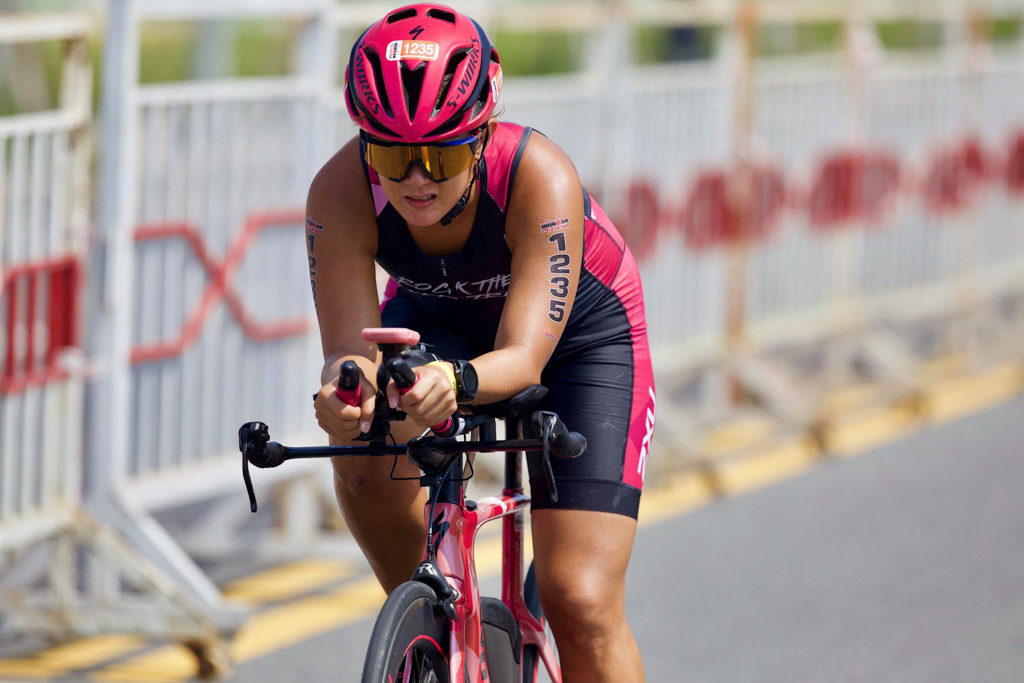 Then at the last hairpin, with the last 6km to go, I fell. It was a tight hairpin and I turned too wide so I went into the sand by the side and fell. I eventually managed to carry on, losing about 10 minutes. To be honest I was feeling kinda bummed and demoralised at this point, but the race is not over.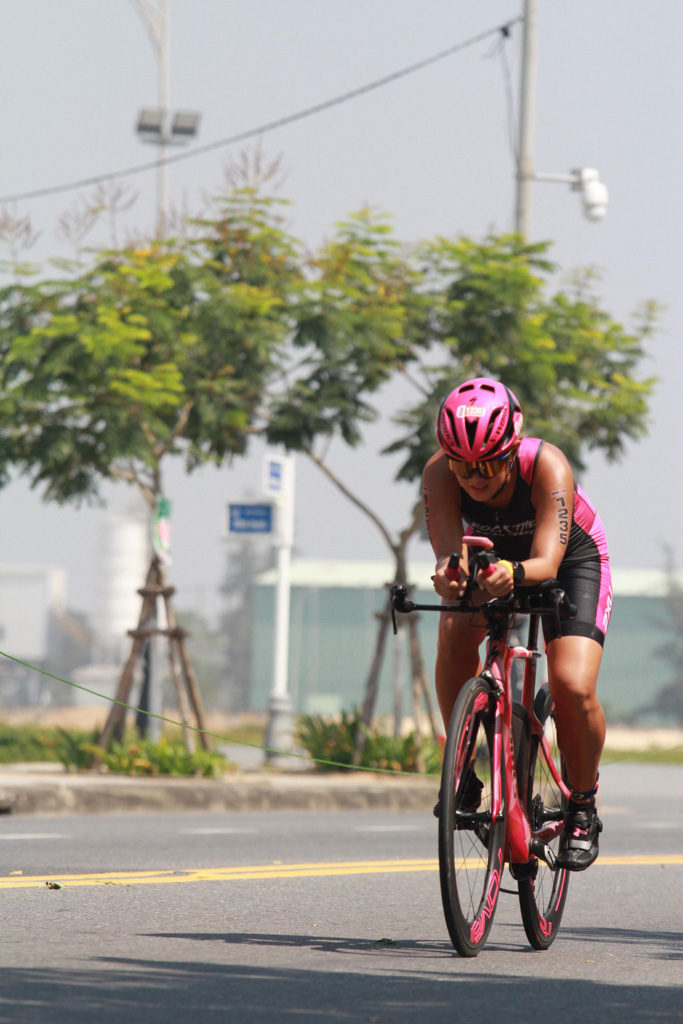 T2
I was fighting back the URGH feeling, but there was still a half-marathon to go so I kept telling myself to let it go. I put on my shoes and told myself to just carry on with the race plan, and not try to run faster/harder to make up for lost time.
RUN
By this time it was already hot, as expected. The run was a single loop – 10km out and back. I kept thinking of the time I lost, but each time I thought about it, I told myself it's ok, it's ok, just concentrate on the run. I stopped at every hydration station and made sure I don't bonk this time. I cheered for friends and it was also nice when people cheer you on too. At the U-turn point, I felt okay so I picked up the pace a bit. When I crossed the 15km mark, I was like, ok this was where I gave up last year but now I'm gonna RUN ON. And run on I did!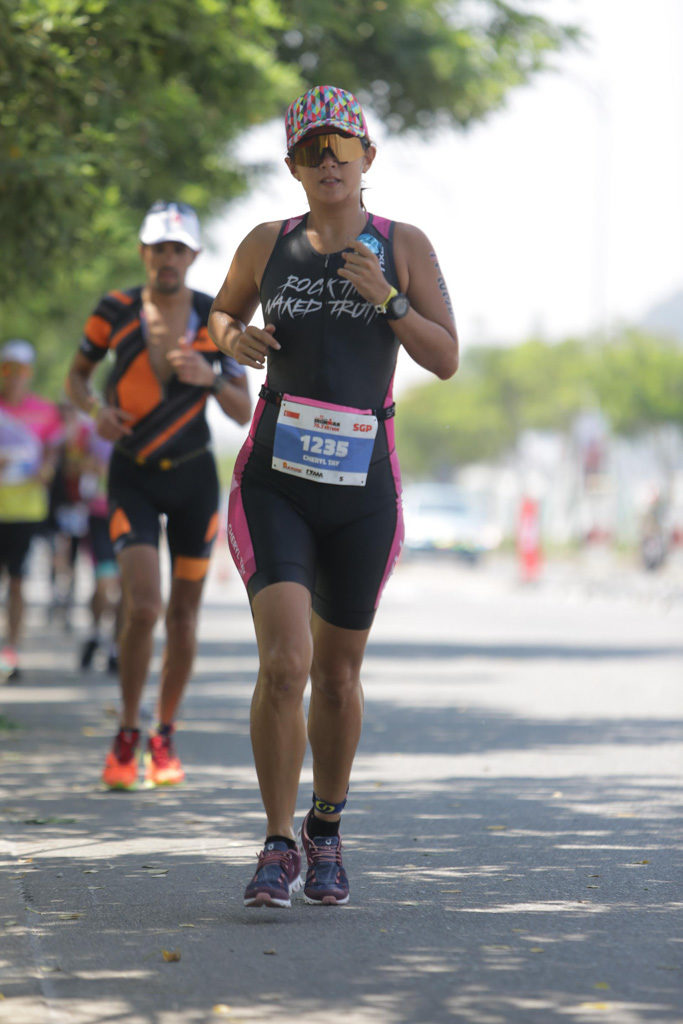 I told myself that E is waiting for me at the finish line and he will burn in the sun so I better hurry. OH that feeling of crossing the finish line! Finished the race in 5:45:19 and 5th in AG; and would have still been 5th even if I didn't lose the 10 minutes, so I'll take it. It could have gone worse.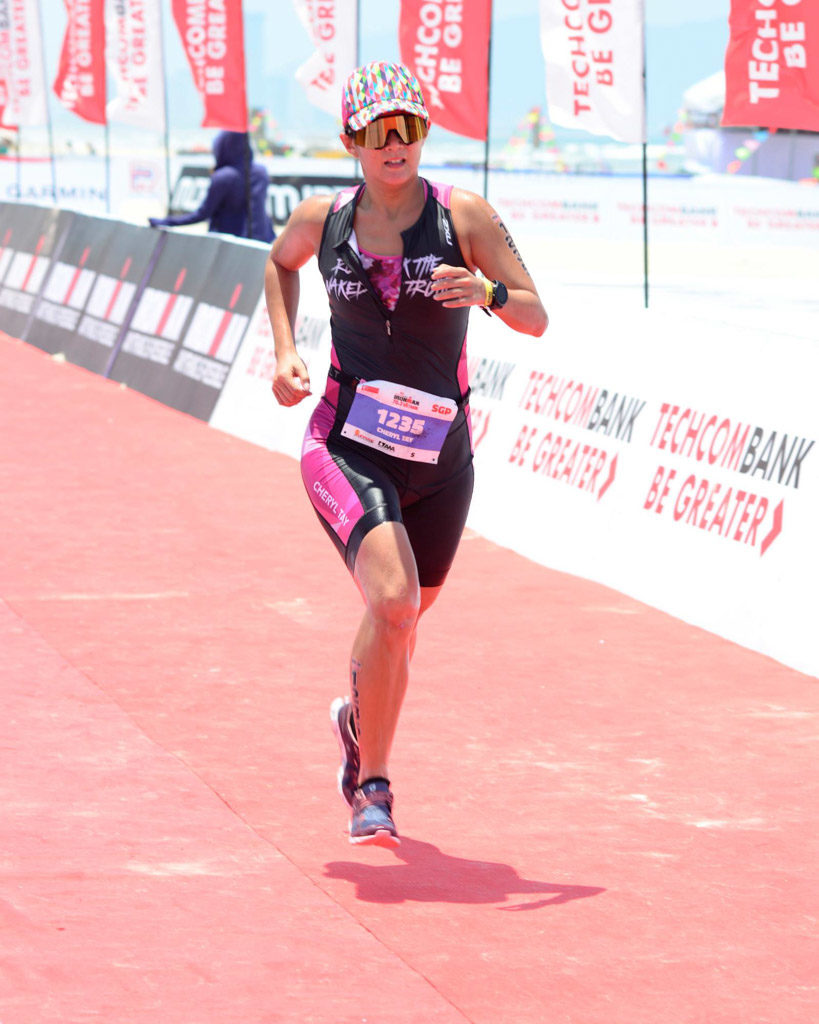 Every race teaches us something and I certainly have a lot more to learn. It was yet another mental test for me and I'm glad this time I didn't give up! Though the race didn't go as smoothly as I hoped, I've replaced the memory. Danang you're still as hot but I'm not afraid of you anymore.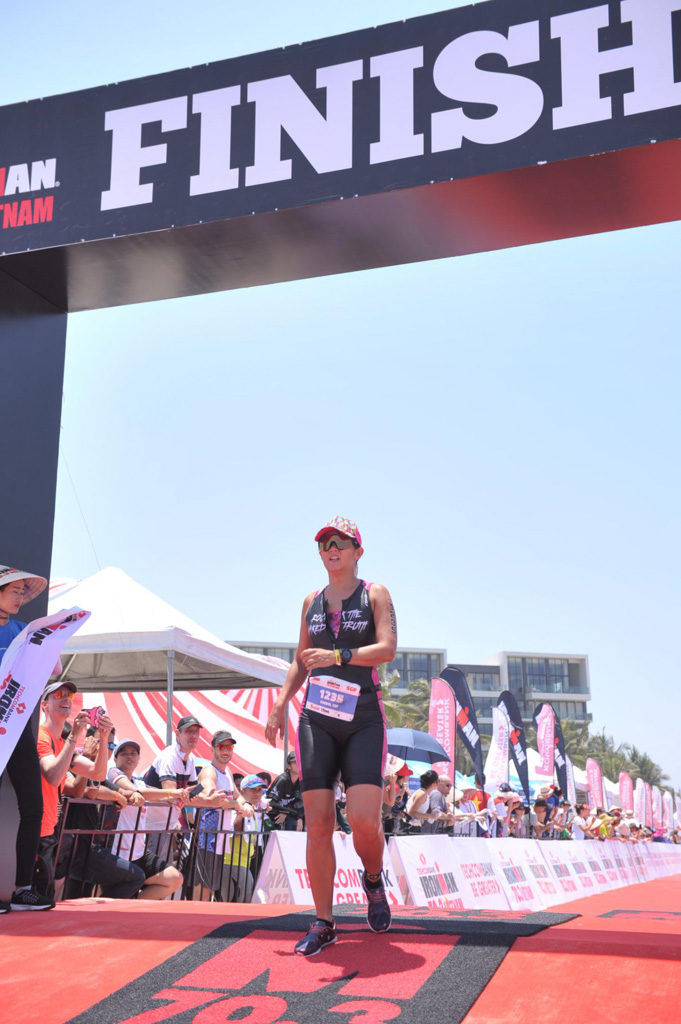 Thank you to the volunteers for an amazing job, to those who cheered me on along the course, to my coach Colin for the training, to my friends like Grace, Charmaine, Gilbert, Wendy and the ROCKrunners back home for the support, and of course to E for coming all the way here and braving the heat.
2018 is gonna get even more exciting!!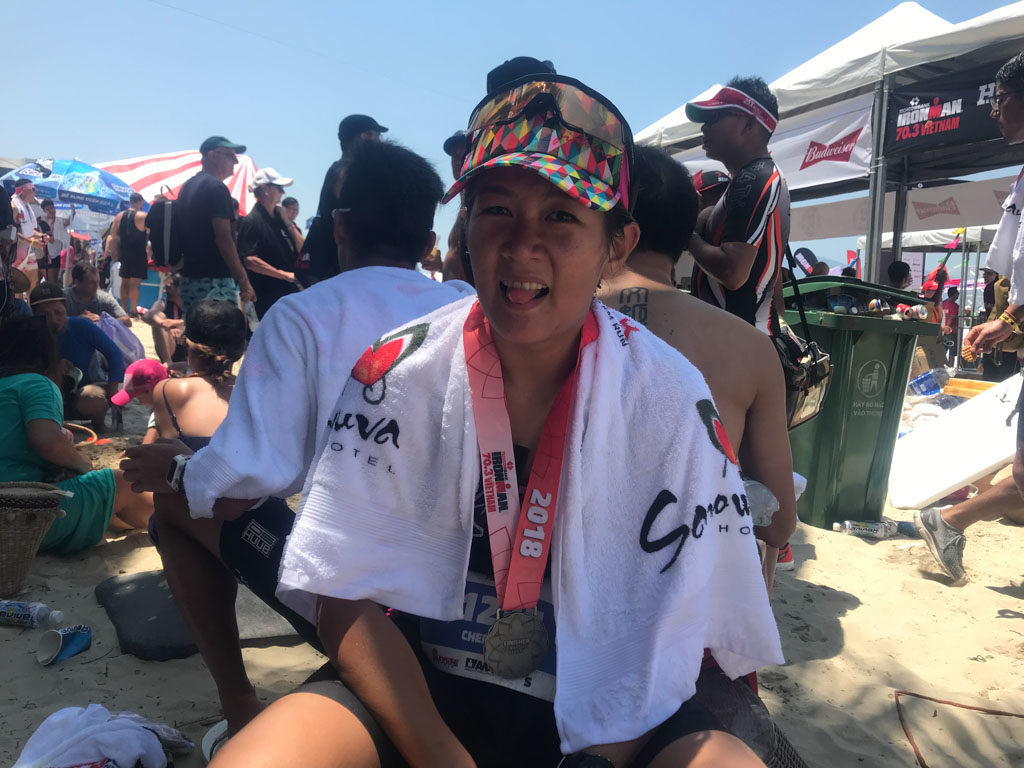 Swim – 40:45
T1 – 3:30
Bike – 2:52:20
T2 – 2:46
Run – 2:05:59
Total time – 5:45:19
Position – 5th in AG
Next up – Ironman 70.3 Cebu.