A journey without challenges and obstacles will not show you how much more there is to yourself. Each time you run into a setback, get up, dust yourself off and get going. While we want a smooth and easy life, we wouldn't know how to appreciate the sweet times without going through the tough times.
It was a pretty eventful race I had at the Ironman 70.3 Cebu race over the weekend, but all's well that ends well and I am filled with gratitude.
This is a race I've heard so much about, especially for the amazing atmosphere and awesome crowd support, so I wanted to experience it for myself. I was definitely not disappointed – much of the bike and run routes were lined with supporters cheering you on!
The weeks leading up to this race have not been the easiest, having had to cope with some matters of the heart amid other stuff, but we learn how to deal. As always, I just aim to do what I can with what I have on race day.
I chose to stay at Movenpick, which is like 1km+ down the road from the official race hotel Shangri-La because the latter is more expensive (like S$450+ a night!). The road leading into these resorts is a single-lane two-way street, so traffic congestion is common. Homes line the same street as well and everyone is very friendly!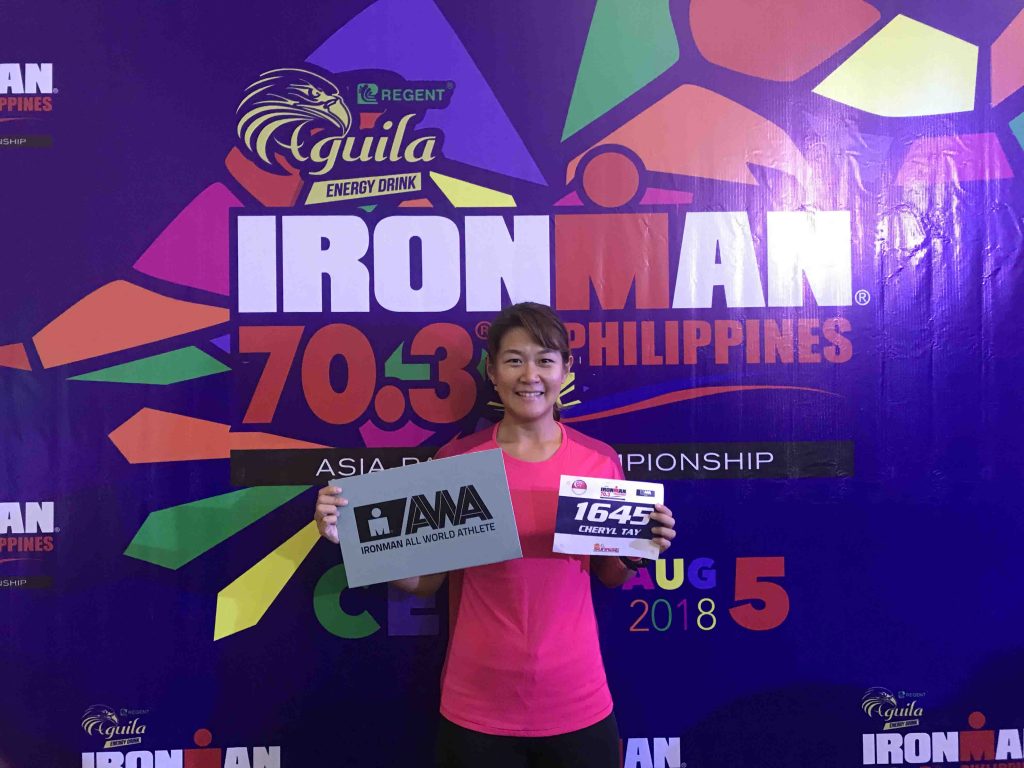 Pre-Race
We got a pretty backpack as part of the race pack, yay! The race expo had a lot of vendors, selling cycling and running stuff at good deals so you can slowly walk around and have a look after collecting your race pack. Cebu always has a lot of participants, like nearly 3,000, so it can get quite crowded inside. I managed to buy two pairs of On Cloud shoes for S$120 each – so I was feeling mighty pleased with that.
The sun rises early, around 6am, and sets early too, around 6pm, so I did a test ride with Ling Er and Jessica at 7am, but there was only so much road we could ride on as the traffic is really quite bad. Test run was done on the same road, so be careful when you run there. Test swim was done in the little lagoon at Movenpick and it was quite choppy and I was hoping it won't be as bad on race morning. #fingerscrossed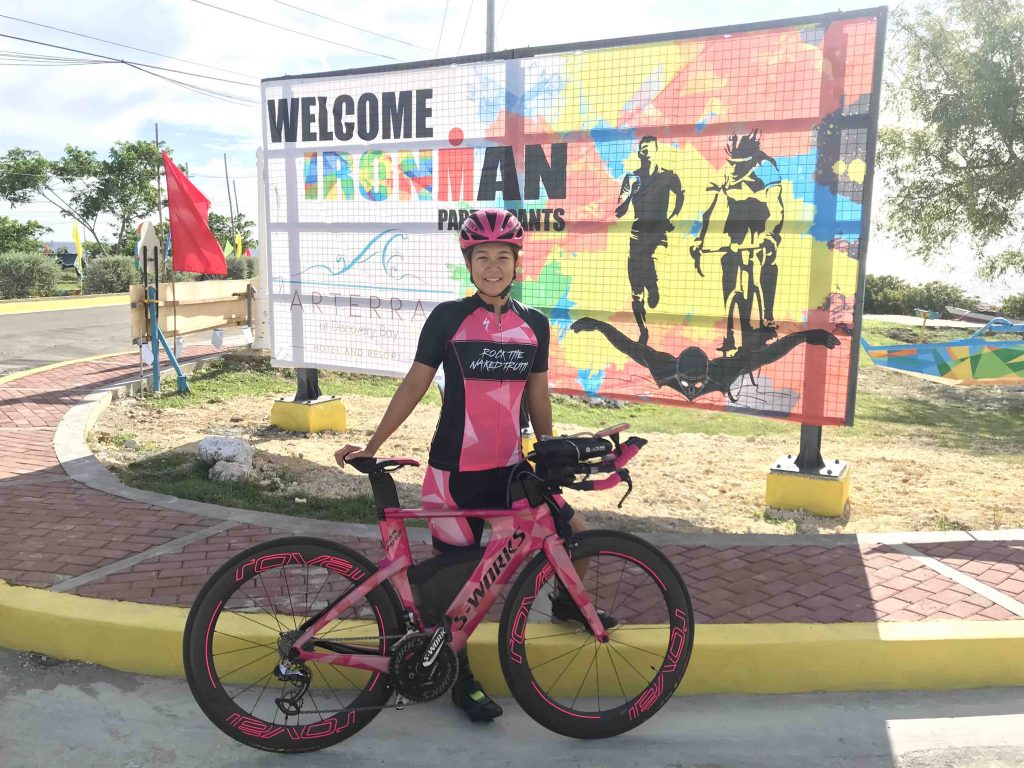 On Saturday morning, the day before the race, my throat started hurting and my nose started running. OH NO. I kept drinking water, drank Vitamin C, ate Strepsils and bought flu meds from the pharmacy. Thankfully I didn't get any worse, but on race morning my nose was dripping. It's ok, still good to race!
I got up early, checked that I had my things packed, had my breakfast and then walked down to Shangri-La. My mum couldn't come in with me yet (security only allowed participants in) so I went to transition area to get my things ready. When I came out, my phone's reception was crappy and I couldn't connect to WhatsApp (too many people in a concentrated area) so I couldn't find my mum. I saw my cousin luckily, so I passed her my stuff.
Swim
This year, they gave out designated coloured swim caps according to the zone you're supposed to start in, which is based on your swim time in a recent race. This makes things a lot better so you don't get everyone rushing to the front.
Previous years, I heard that the currents can be quite bad but it looked alright for us this time. The pros were flagged off at 5:55am and age groupers were only released by rolling start at 6.30am, so we had some time to chill at the start line.
Boom! It was time for the age groupers to start and we were released 6 at a time, every 5 seconds. We swam a T-shape clockwise and it was quite choppy in one direction; all I wanted was to just complete the swim! When my watch showed 1.9km, I couldn't see the swim exit and I was like, oh oh how long more to go? Then I saw people in front of me turning left and YES there was the swim exit! My watch eventually showed about 2050m.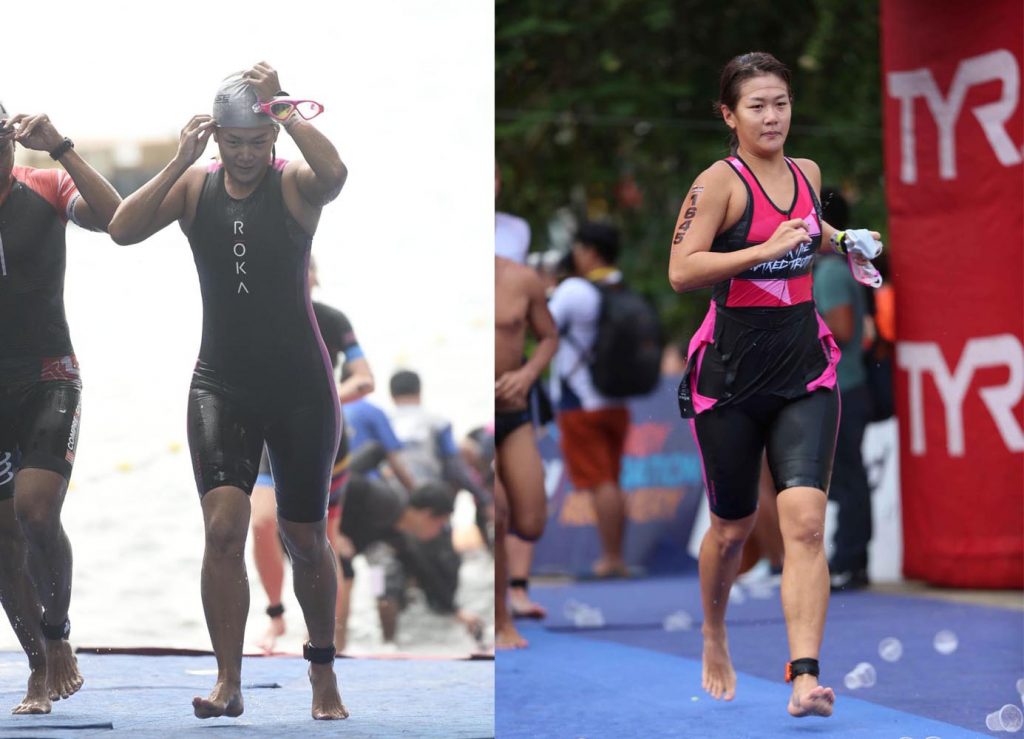 T1
As I was running to transition, I unzipped my swim skin and brought it down to my waist. And then I completely forgot about it! When I reached my bike, I got my helmet on, got my shoes on, ran out to the bike exit, mounted my bike and went off… still with no clue that my swim skin was on.
Bike
It was a new bike route of 3 loops of 30km with a bridge. I was so impressed with the crowd support when I rode out, because there were supporters lining up along the road cheering. There were also groups of school children performing, some in dance costumes, some in cheerleading outfits… it was like a party! Oh, I finally realised I had my swim skin on when Anna Eberhardt passed me and told me. OMG I wanted to facepalm myself LOL. I was already out on the bike course and I didn't see anyone I knew that I could pass it to, so I continued riding with it.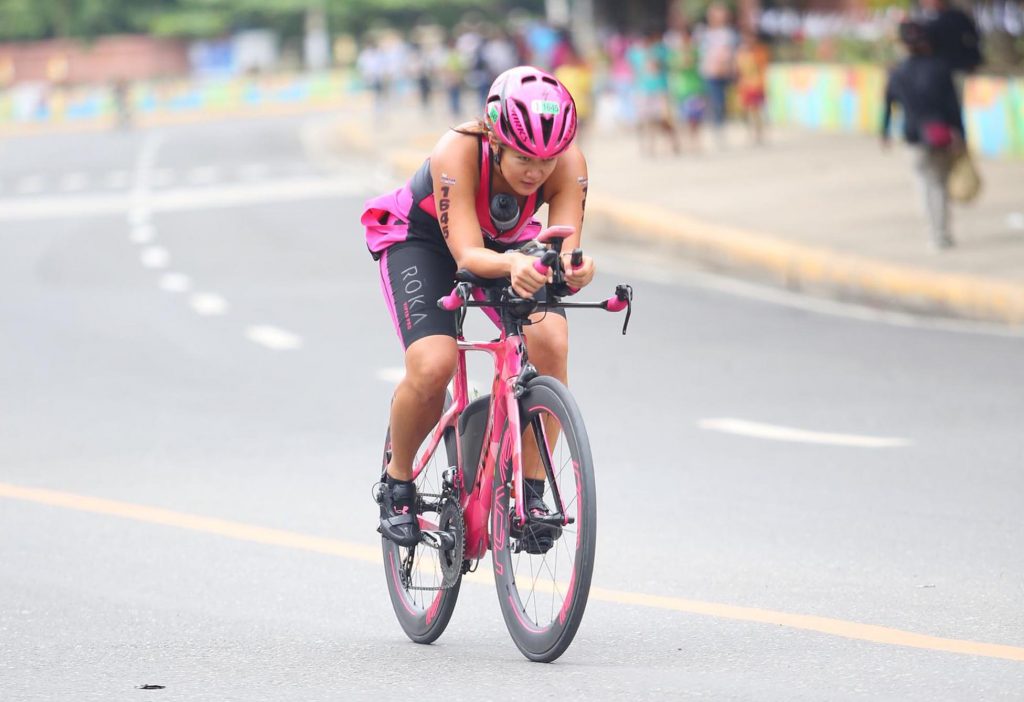 The bike route was flat but with a lot of turns, and that bridge we had to cross 6 times. The winds were quite strong at some parts too. Then I saw Delvin, from COS Coaching too, on the course and he said "I forgot to take off my swim skin!" "Me too!!" I shouted back. HAHAHAHAHA both of us are so blur!
T2
After I racked back my bike, I made sure the first thing I did was to take off my swim skin. I wasn't gonna run with it LOL.
Run
Once we ran out of Shangri-La, the run route is to the right (bike route was to the left out to the main road) and it goes all the way down, past Movenpick. Once again there were lots of supporters lining up and kids reaching out with their hands to give high-fives.
And then suddenly everyone was screaming SO LOUDLY and I was like, whoa what's happening. Ahhhhh, they were screaming for local celebrity Matteo Guidicelli. He made the U-turn and he was coming up from behind me and everyone had their phones out to get his photo, whilst screaming his name. When he passed me, he said hello and I replied, "Everyone wants a photo of you man!"
Ok back to my run – the run route is shaded for some parts, but we were also lucky that the sun was not too bright. It was bloody humid of course. There's one part of the route at the end of the road where we U-turn back, which has absolutely no shade. When I entered that area, at around the 6km mark, I started running closer to the pavement (I don't know why) and then I tripped and I tried to stop myself from falling, but I felt my ankle twist under me so I buckled and fell forward.
In that instant I was like, omg omg please please I hope nothing is broken. I stood up and let the initial wave of pain (from the impact of falling) wash over me, felt that nothing was broken (phew) and continued running. It was so good to see my mum and cousin cheering me on; my mum even brought these little Singapore flags aawww. On the second loop, after I passed Movenpick I knew I just had a bit more to go to get to the Shangri-La and oh I just wanted to finish.
Crossing that finish line, as always, is a wonderful, wonderful feeling. YASSSSSSSSS!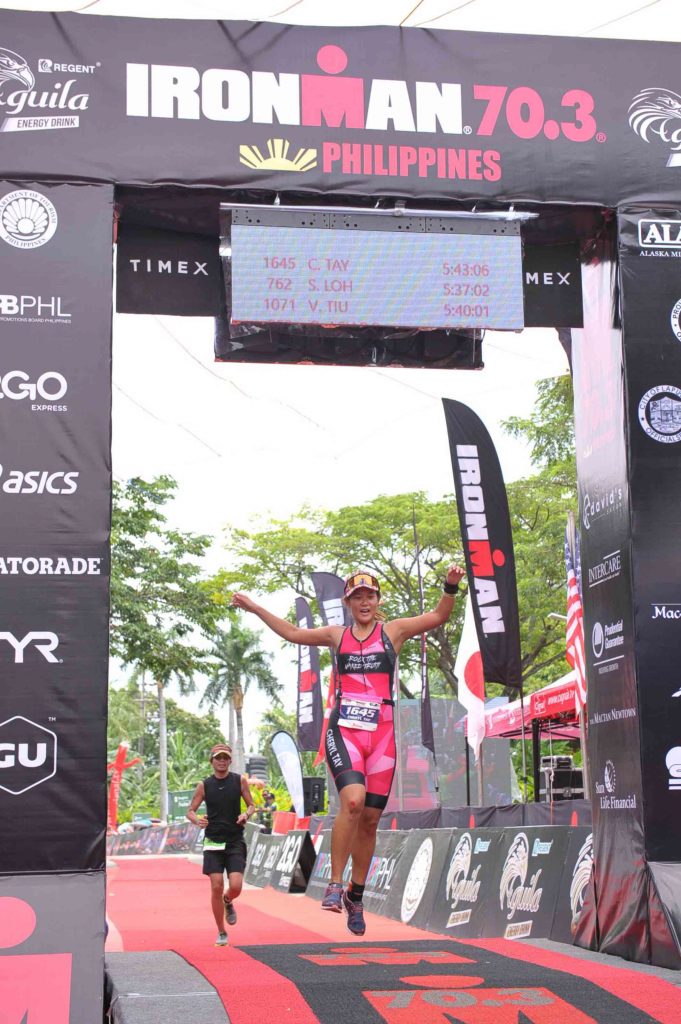 Official timings:
Swim – 43:46
T1 – 4:19
Bike – 2:49:21
T2 – 3:36
Run – 2:02:07
Total Time: 5:43:06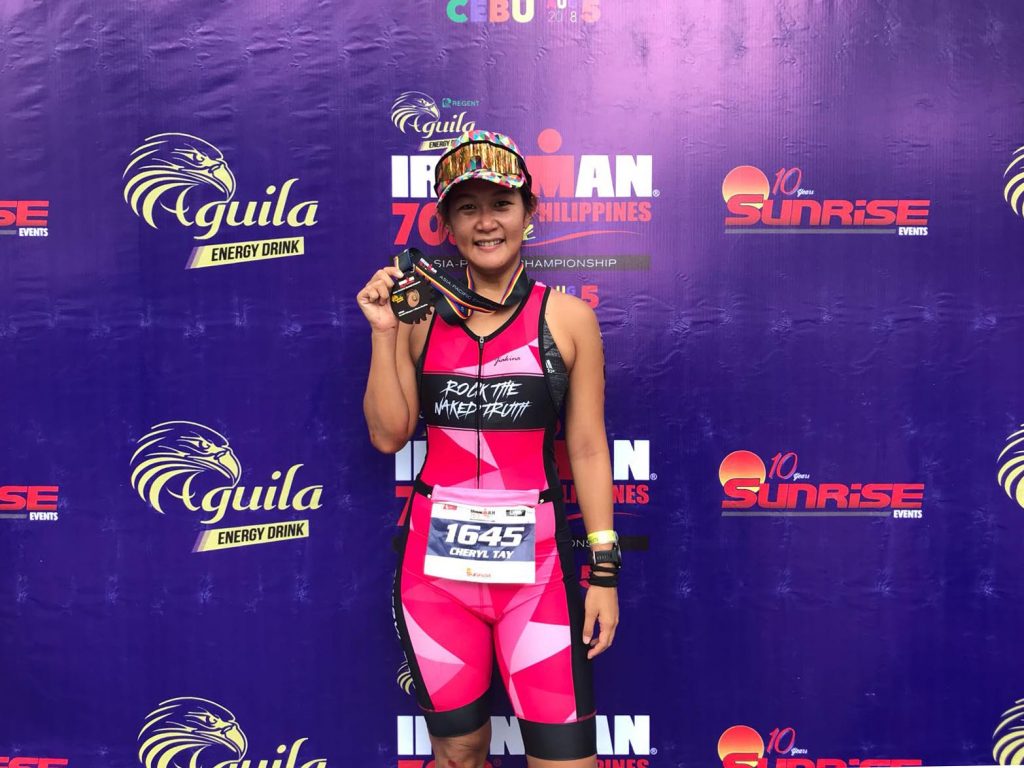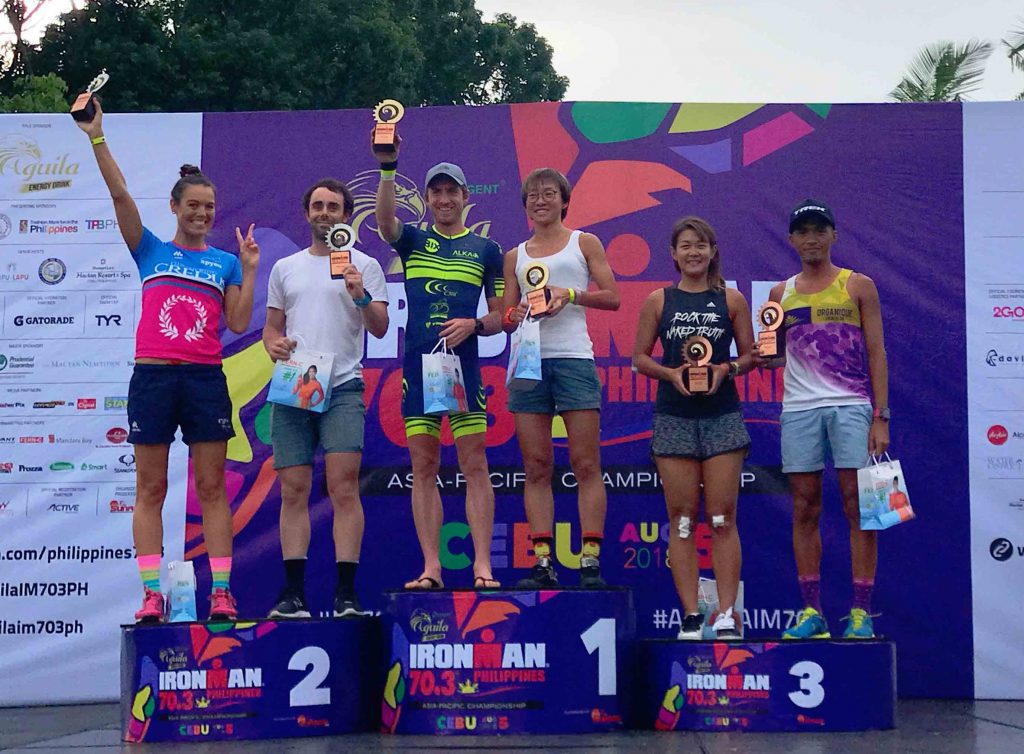 What a race man. Thank you to the organiser Sunrise Events for putting together such a good event (the carbo-load dinner had this crazy cool stage and it was like a concert), thank you to the volunteers and supporters, thank you to everyone for your love and blessings… This is for you. And also, a super special shoutout goes to my mum!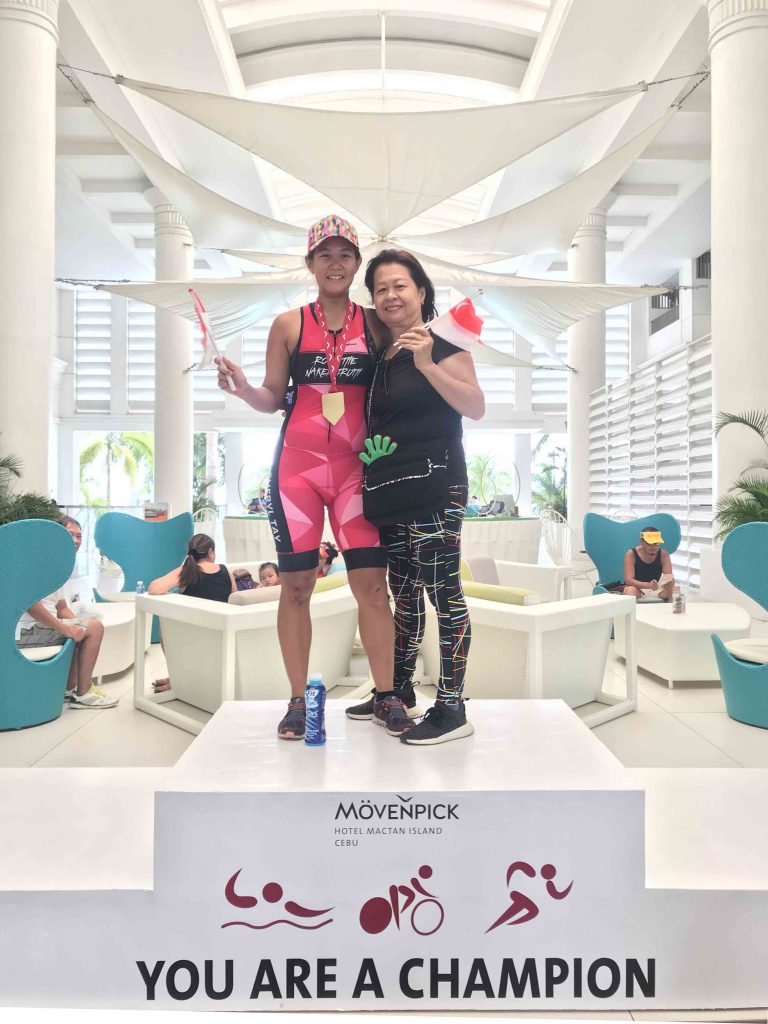 When we returned to Movenpick after the race, they had a mini celebration for us and I even got a medal from them. So cool right!
Now just 3.5 more weeks to my next race – the Ironman 70.3 World Championships in South Africa! I'm super excited for this – first time I'm racing out of Asia woohoo!