You know, I think this is the most chill I've been for a race, because I was struggling to find the motivation after coming off a high at Ironman Langkawi. I think it was good because I wasn't as gan chiong as I usually am, but man, the race certainly challenged me greatly.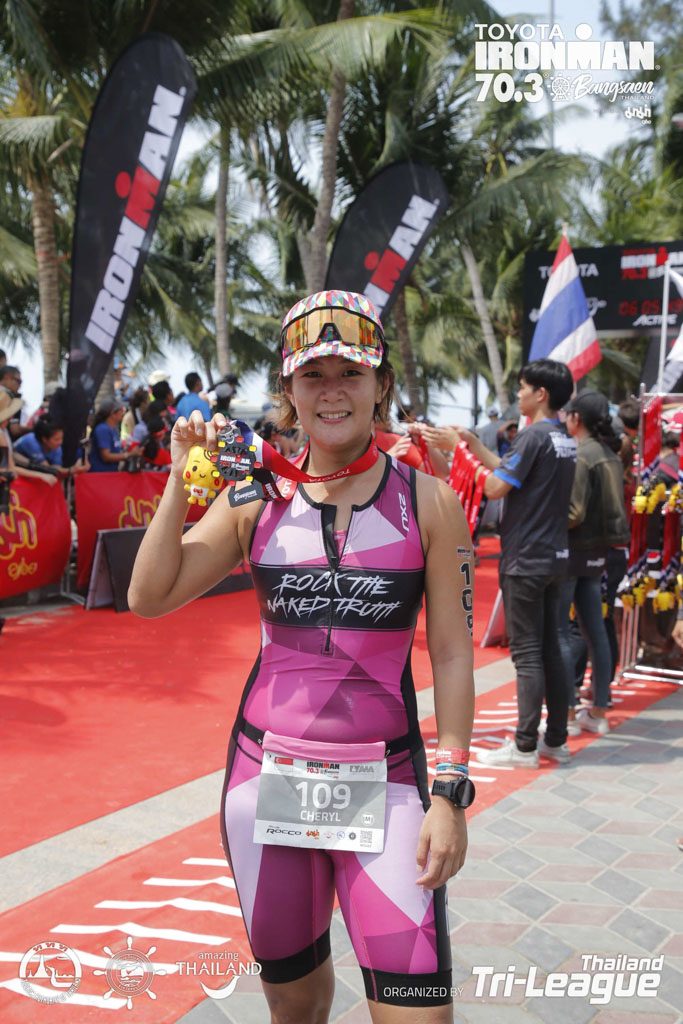 Tri-League has been organising triathlon races in Bangsaen the past few years, but this is the first time it's an Ironman race. I went to read up and it was advertised that the swim was of "flat water", the bike course is "easy to achieve a personal best" and the run course is "enjoyable".
Guess what? ALL OF THE ABOVE IS FALSE. No the water wasn't flat, no the bike course is not a PB course and no the run was definitely NOT enjoyable. LOL!!
I went up to Bangaen with Ian, Jaime, baby Oliver, Anthony and Ernest. We flew in to Bangkok, rented cars and drove in to Bangsaen, which was just an hour away via the highway.
All was fine… until I was building my bike up and my rear derailleur (RD) fell apart AGAIN. At Langkawi, my RD unsprung itself while I was trying to screw it back. All these little rubber and metal rings came out and I was like, omg what did I do?! The mechanic in Malaysia fixed it back for me and all was good after, so when the same thing happened to me again, I was like, aiyoh what did I do again?!
There was nothing I could do, till the next morning when the bike service at the race expo opened. The mechanic fixed it for me and said it will hold for this race, but I should get a new one when I get back home. Alright, that's good news; so long as I am able to race on Sunday.
Ian and I got our usual pre-race stuff done – race pack collection, test bike, test swim, quick warmup run and bike check-in. The waters were pretty choppy and I was praying that the sea will be calm on race morning! The waters were also very dirty (it's a bright kind of yellow), similar to our East Coast Park type of waters. Eeks!!
Race Morning
I was staying alone in an apartment, so on race morning I woke up and just got about doing the usual. I got my breakfast in, checked that I had all my stuff, changed, and then sat on the sofa for a while just to scroll through Instagram and kill time.
My apartment was about 1.5km from transition, so Ian, Jaime, Oliver and I walked down. Just as we reached transition, I realised I forgot to wear my heart rate monitor strap. Oops! I've never forgotten to wear my HR strap before, so I tried not to let it bother me. (I hate it when I forget something!!) This also means I need to race by feel.
I went to do my usual prep stuff in transition and then sat on the roadside with Ian, Jaime and Oliver while waiting for the rest to arrive. They came just in as we had to enter the pens, so some good luck's went around and ready for showtime!
Swim
I was in Pen C, so I started quite late and I was getting sleepy! The sea looked fine from the shore, but once people started going in, I saw them getting rocked by the waves. Still, I thought maybe it's only the part nearer to shore (like in Danang last year), but once I got in, whoa the sea was rough. I felt like for every two strokes I swam forward, I was pushed back one. I also drank a lot of water because the waves crash over you and enter your mouth just as you breathe, yucks! I didn't look at my watch until the 1km mark and my first thought was "Oh no", but I tried not to think about the timing because the conditions were tough so timing shouldn't be a factor. I started to tire in the second half of the swim and I was just aiming to swim from one buoy to the other, which increasingly seemed further and further away.
Finally I saw the shore – hooray! Came out and glanced at the watch, 44 minutes plus, not ideal but hey there's still a long race ahead. Keep positive!!
T1
The transition area is quite long and my spot is nearer to the Bike Out, so I had to run a bit more after coming out of the water. I remembered to pull off my swim skin (not making the same mistake as Cebu) and it was time to bike! Saw my parents at the Mount area and was so happy to see them, with their phones and trying to take photos of me LOL.
Bike
The bike route is one loop of 90km and the first part was along the highway (the inner road next to the highway) so it was long, un-scenic and had lots of bridges. What annoyed me were the speed strips – it makes the entire bike (and my fats) vibrate, grrrr. Once we turned inland, there were less speed strips but it also meant many turns and some little hills. I spotted Ernest with his camera as I was climbing one of the steeper slopes, but I got blocked by someone so we didn't get a nice photo there damn. Coming back it was again lots of speed strips and the several bridges – annoying!
I heard the run was gonna be hilly, so in the last 20km I held back some, so that I don't kill my legs on the run. (I have killed my legs on the bike before, in South Africa, and running on bonked legs is shit.) There was some nice tailwind on the way back too, so that helped loads.
T2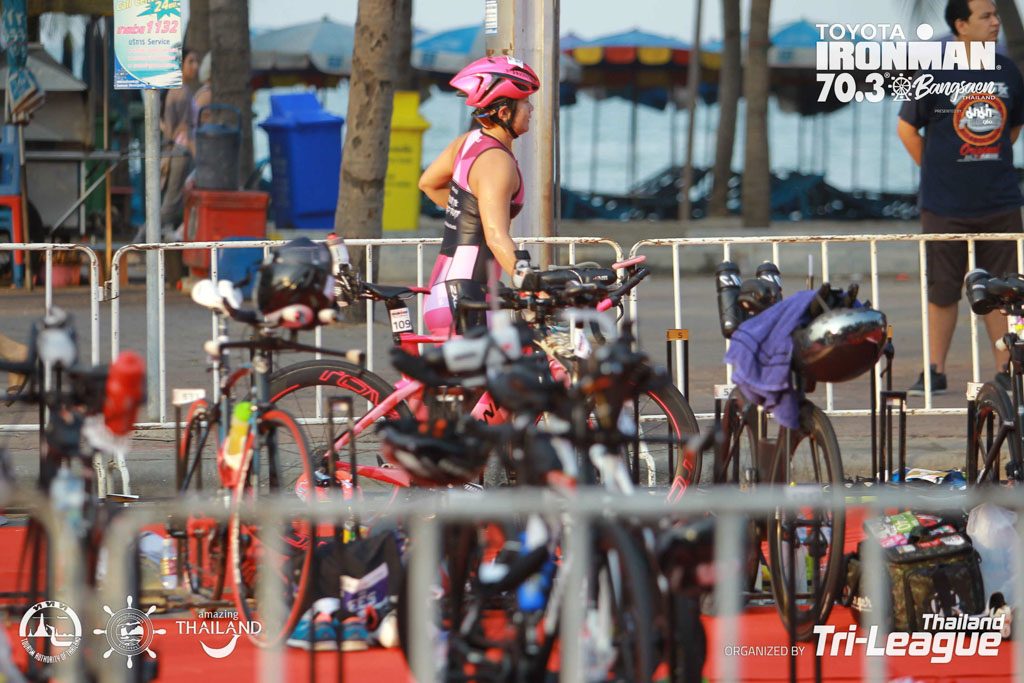 Ran the longer part of the transition area back to my spot, got my shoes on, and then dusted an army of ants off my bottle before I ran off! Baby Oliver was waiting at the Run Out area and I was so happy to see him, with Jaime, Anthony and my parents. I wanted to give Oliver a high five but I was blocked by someone so I ran off after waving at him. You should see my video on Instagram, Oliver was SO adorable!!
Run
The run was 3 loops of 7km. I started the run alright and I was keeping to my target pace, and then I turned into the Monkey Park and that was the start of the hilly terrain. The route runs along the perimeter of the Monkey Park (nearly 4km) so you get monkeys staring at you as you suffer. They are tame though and won't come near you or attack you.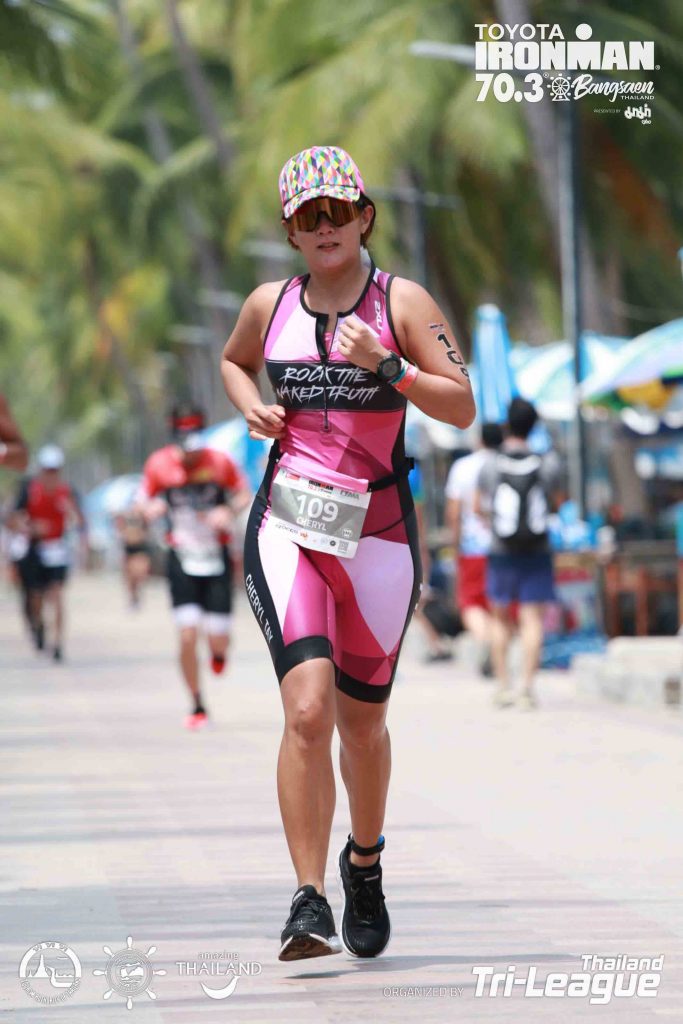 The Monkey Park terrain goes up and down in varying degrees, with 3 notable big climbs. I threw my target times out and just focused on tackling each climb at a time. The sun was out in full force and I could feel the heat burning up my neck. It didn't help that the aid station ran out of chilled water, so in the later loops, there were only warm bottles of water.
I ran quite conservatively in the first round because I wanted to see how the route is like and not risk killing my legs. In the second round I tried to pick up a bit more speed and then in the last loop I wanted to give it more but at this point my legs felt so heavy. Seeing familiar faces on the route helps, but I didn't see a lot of friends – only Ming, Ian, Winson and Gary.
The last 1km was down the beach, on the path lined with street food stalls. It was the longest 1km of my life man. I knew the finish line was at the end but it felt like the path went on forever. I tried to pick up my legs to run but they felt so sore omg. Thank goodness no one blocked my finish line photo this time, LOL.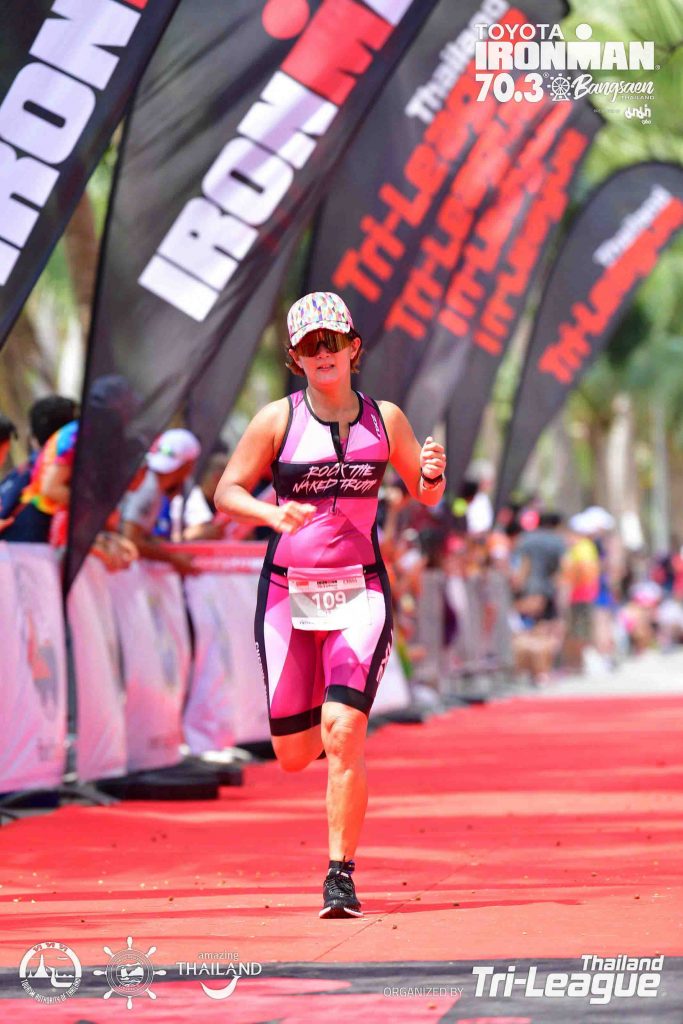 So happy to finish and into the ice pool I went. I sat in there for quite long, longer than I usually do. I just felt so spent you know – the combo of heat and hills is utter shit.
Final Time: 5:46:32 (4th in AG)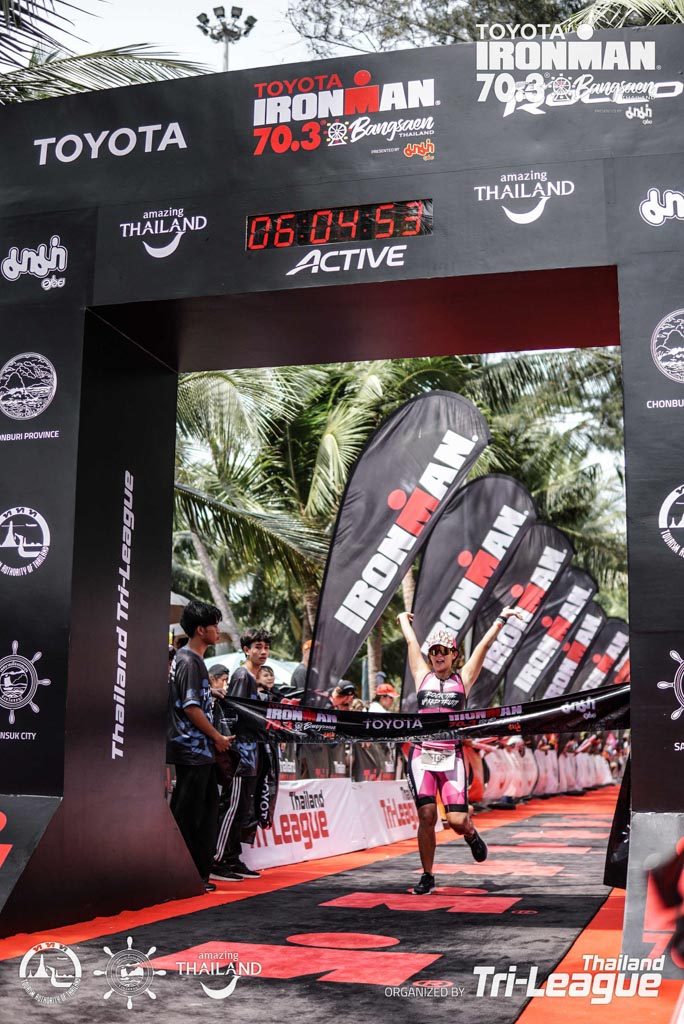 The medal is very unique – it has a ferris wheel on it (iconic to Bangsaen) and it can spin! And there's a little plush toy attached to the medal, courtesy of the main sponsor Mama. So cute!!
When I first crossed the finish line, my friends were telling me I was 3rd in Age Group. Then another girl came back after me and her total time was 22 seconds faster than me, so I got bumped to 4th. Oh no! 22 seconds! Instantly my mind replayed the race and arrowed the points where I could have saved time. I was feeling upset about missing the podium narrowly and the feeling stings, but after I cooled down and slept on it, I realised I was being silly. Yes it was a shame, but it was a hard race and I should be proud of myself for completing it.
There's always another race, another time to come back stronger aye? Guess I also needed this kick in the ass, for slacking more than I should have lol. I'm aching more than I usually do after a 70.3 and taking longer to recover – definitely worked my ass off here heh.
Thank you for the support and I'll keep working hard!
Next race – Ironman 70.3 Danang on 12 May!