I chose to return to Phuket for my last race of the year because I wanted to 1) celebrate the first anniversary of my 70.3 journey at the same place, 2) race alongside my Z-Coaching teammates and 3) do the course again with Queen Bitch II this time.
Honestly I wasn't expecting such a tough bike course, but if it's any consolation, everyone else is suffering with me. Muahahahahahaha! Last year I brought Tough Princess (my roadie) along and the bike course was flat, so it was quite enjoyable; except for the part where we had to dismount our bikes and push it across an overhead pedestrian bridge two times. I thought it would be the same course this year, but 1.5 months before the race they released the bike route and OMG the infamous Nai Thon Hills are back. It was part of the course previously when Challenge Phuket was held.
I've not done or seen the Nai Thon Hills before but I've heard how bad they are. I was worried yes, but you gotta do what you gotta do eh? At around the same time, it was also announced that Ironman 70.3 Hefei was cancelled, so the 30 slots for Kona for that race will be brought over to Phuket. (Yes, only in China you can do a half-Ironman and qualify for a slot for the full Ironman World Championships in Kona.)
Wahhhhhhh, instantly I knew that it was gonna be a competitive field. Many people were gonna come and try to get the Kona slot! (Point in case – a friend of friend flew all the way from Canada just to try and get the slot.) Hence, my mindset for the race shifted and I came to Phuket with no expectations and no pressure. I told myself I will aim for a PB if the conditions are favourable on race day. I just wanted to get the race over and done with, because I wanted a break so badly!
Start –
It was drizzling when I woke up on race morning and everything in the transition area was wet. It didn't help that the area was very cramped with our bikes touching each other (probably due to the sudden increase of participants who transferred over from the Hefei race) and so we had barely any space plus no individual baskets/boxes for our stuff. I wanted to lay out my things under my bike but there was a threat of rain and I didn't really want to put on drenched shoes so I left everything inside the Bike and Run bags that they gave us.
The race flagged off at 6.20am for the pros and 6.30am was the rolling start for age groupers (you choose your estimated swim time and stand at that section and they will flag off each section 6 people at a time every 5 seconds). I was at the start line with Jayve and Stephanie (the 2 monkeys below), and the mood was light-hearted. We were laughing and dancing to the music before we hit the waters.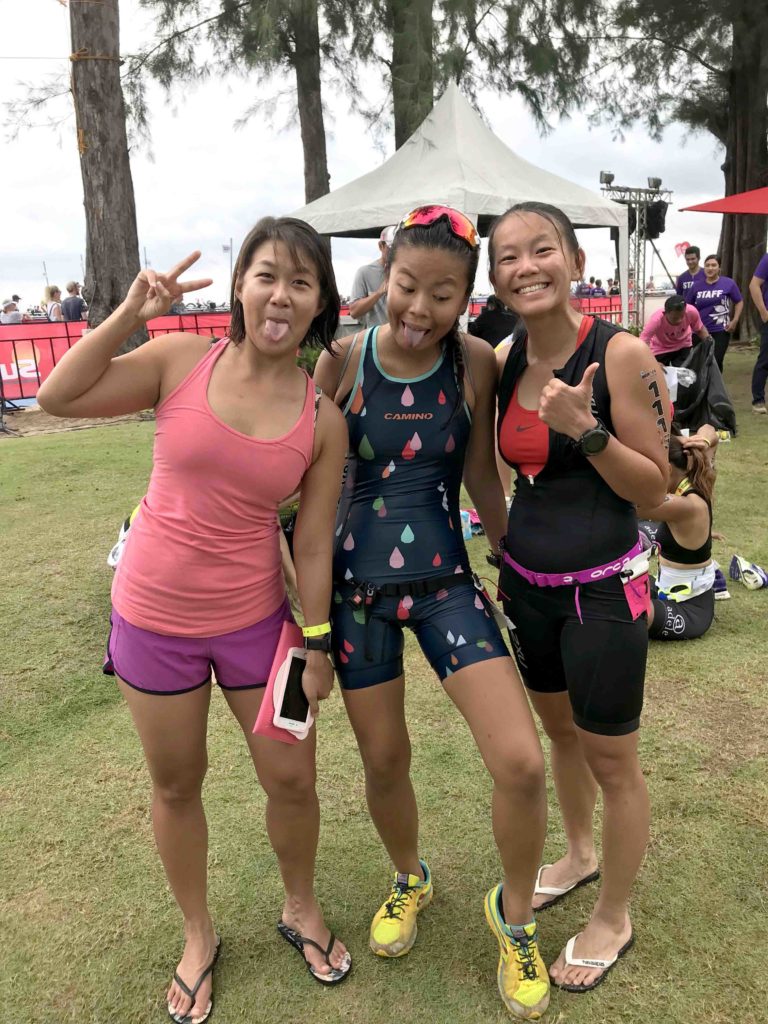 Swim –
The waters were lovely that morning – temperature was just right (not too cold and not too warm), sea was calm, water is clear (you can see the bottom) and I didn't get too badly caught in the "washing machine". I altered my swimming technique since the last race and changed up my swim programme, so I wanted to see how it would pan out. I was mighty pleased when I saw my swim time of 40:31, which is 3 minutes off my time in Bintan. Omg!! Race is off to a good start!
T1 – 
The drizzle had subsided by the time we got to T1 but everything was still wet. I had to empty the things out of my Bike bag and scramble a little to get everything on, because they aren't laid out neatly as I normally would have it. Then the Bike Out path was quite long and narrow, so it became a bottleneck because I couldn't run past the people ahead. By the time I got to the mount area, I was dying to get on my bike!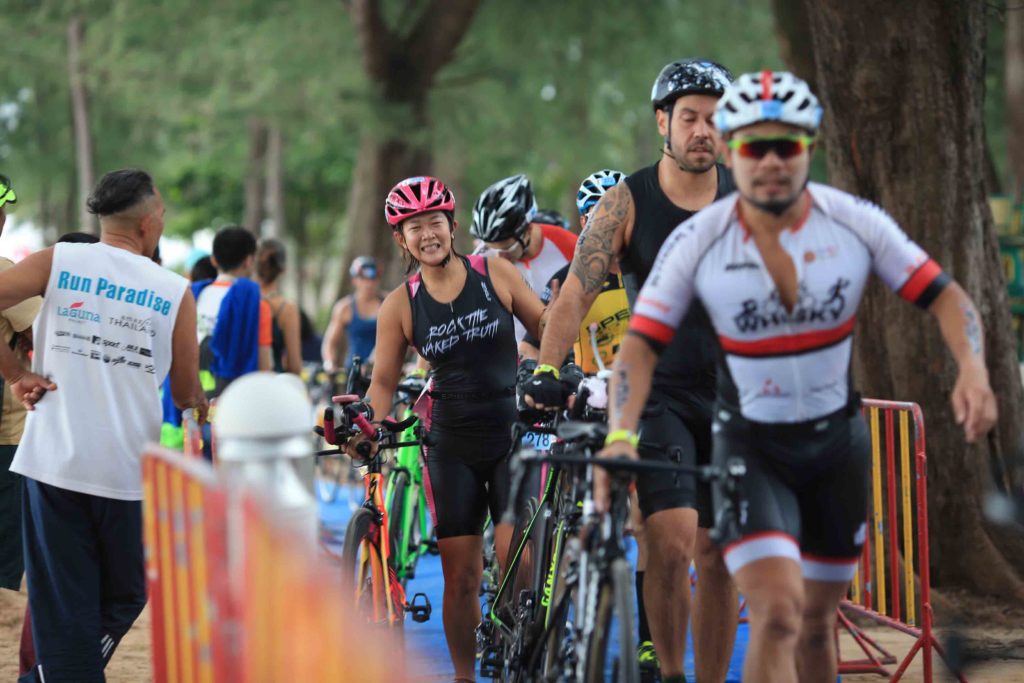 Bike – 
Finally got on QBII and out of the Laguna compound we went, hitting the roads outside. At about the 10km mark, the dreaded Nai Thon Hills came into sight. OMGWTF. Nai Thon Hills contains a series of slopes and about 3-4 of them are very steep. My goal here was to stay on my bike and get QBII out safely.

On the steep upslopes, I witnessed people falling off their bikes as they tried to stop and get off midway. I was just praying that someone in front of me doesn't suddenly stop! And each time I got to the top of the steep slopes, there were marshals waving yellow flags and telling us to slow down because of crashes ahead. Omg I hope nothing serious happened and I hope everyone is ok.
See, the downslopes are equally steep and they are windy/curvy, plus the roads were slippery from the morning drizzle, so people were smashing into the guardrail or going off into the trees… especially on this particular downslope that has the road permanently painted in red to indicate danger zone.
I got on my brakes really hard in the no-pass zone and took my time to get down the downslopes because I really didn't want anything to happen. There were some guys who didn't listen and zoomed past on the oncoming lane, and seriously that was very annoying and irresponsible. The oncoming lane wasn't closed btw.
I reached the bottom of the hill and there's a flat stretch along the Nai Thon beach, but there are so many humps on this stretch so I couldn't really carry through as much speed as I wanted to. So you start to think ok the worst is over, but NOOOOOOO there's one more long and steep slope up before you get out of the Nai Thon area. WAHHHHHHH this was the longest and I was cursing and swearing the whole way.
So can you imagine my relief when I saw the highway? Like, YES bye bye Nai Thon Hills, I won't be missing you!! I was also glad that I got out of Nai Thon unscathed and safe.
But I rejoiced too early because the rest of the route wasn't flat, with some hilly portions to go… albeit nothing as bad as Nai Thon. When we were out on the highway, we were riding alongside traffic because only one lane was closed for us. I thought that was quite dangerous because some vehicles got really close or would suddenly cut in front of you to turn off the highway. I nearly missed the U-turn point at the police checkpoint too, as they were letting these huge buses go straight and they blocked my path to make the U-turn. Thankfully I spotted this in time and stopped to wait for the buses to pass.
There was also a lot of head wind that morning, both on the highway and on the smaller inroads through the villages. You could never completely close these village roads so there were scooters and bikes riding with me too. Whatever it is, you just have to be very careful and alert all the time.
T2 – 
YES I survived, after fighting the insane hills, head winds and traffic, and I was glad to get back. This is by far the toughest bike course I've done, even tougher than Bintan. Again I got stuck behind someone in the bottleneck on the way back to my spot.
Run – 
The run course is the same as last year, so I knew what to expect, but it still doesn't take away the mental challenge of it. After running out of T2, there is this long and straight 2km+ stretch that seems longer than that because it's boring. Thankfully the weather was perfect for running – it was overcast and drizzly, which made the pain cave more bearable. It was a bit stuffy and humid though. We ran two loops and the second loop is where it gets tough, and I told myself I must not stop and walk! So I didn't, though my time for the second loop was slower.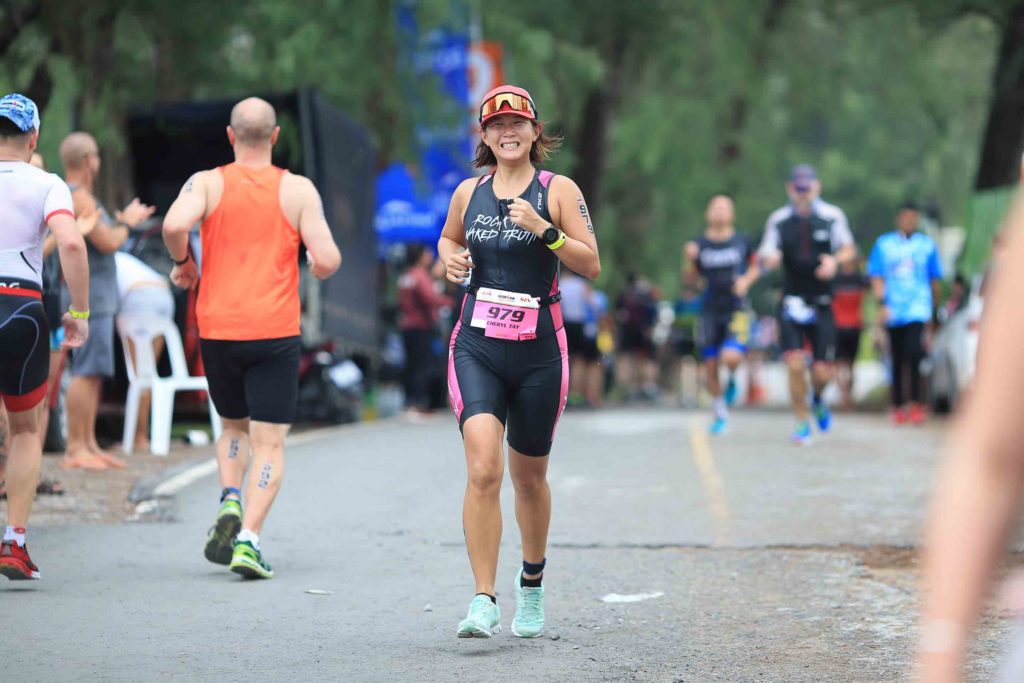 When I saw the finish line, I was like YAYYY and thinking of what pose to do. Fist pump in the air? Jump for joy? But before I could decide, this uncle started shouting "AAAAAAAHHHHH!!!!" from behind and came charging past to hit the finish line just before me. Thus, he blocked my finish line photo. Win liao lor. WAH LAO!!! Urgh.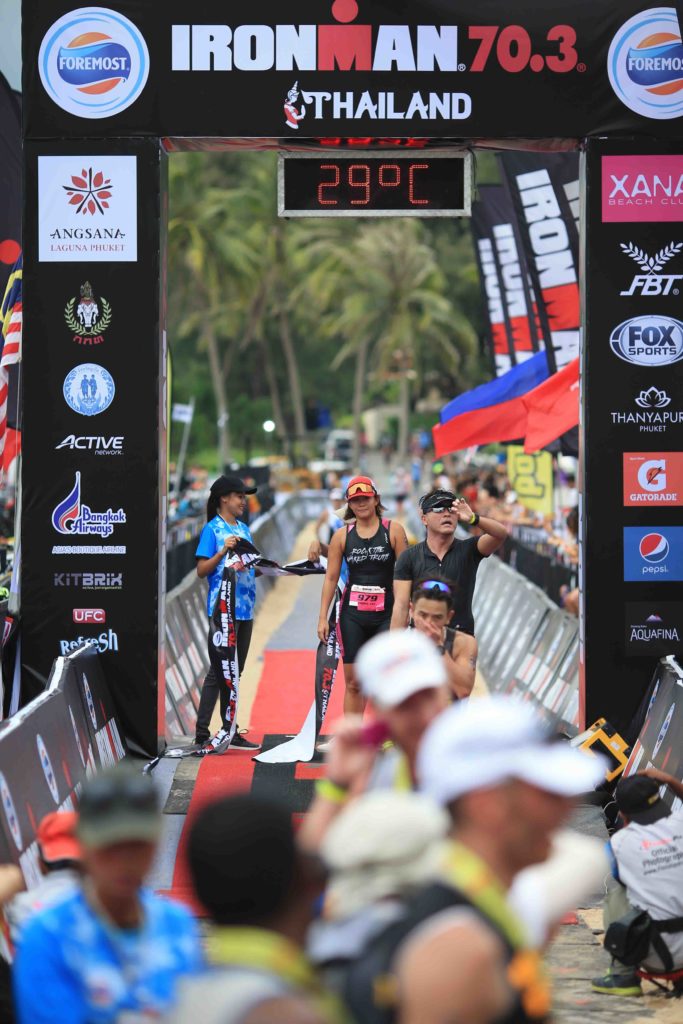 Ok lah, whatever lah, I was just thrilled to finish and realise that I nailed a PB! WOOHOO!!!!!!
Swim – 40:31
Bike – 2:48:52
Run – 2:02:21
TOTAL: 5:38:15 (incl. T1+T2)
This placed me in 11th for my 30-34 age group. Case in point – last year I also finished 11th with a time of 5:55. That's how competitive it was this year! Uh huh, the first 7 in my AG finished below 5:05. Wtf. But I'm fine because I already knew it was gonna be like that and I was just happy for a personal achievement.
So for this race, I gave myself a challenge to smile at every photographer because I wanted chio pics. My race pics are usually of my resting bitch face and I wanted some smiling ones. I think I succeeded mostly, except for the pic on Nai Thon. Which you can't blame me for… the hills were really bad. Still, I am so proud of QBII, it's her first 70.3!
Phuket will always be special to me, because it's where it all started and also because of the friends I have here.
Now it's time for the off-season! Hooray! I've been looking forward to this man. I've not had a "full season" of racing since my badminton and cross-country school team days, and I've forgotten how tiring it can get physically and mentally. This year I raced in 5 local events and 4 overseas ones, all multisport.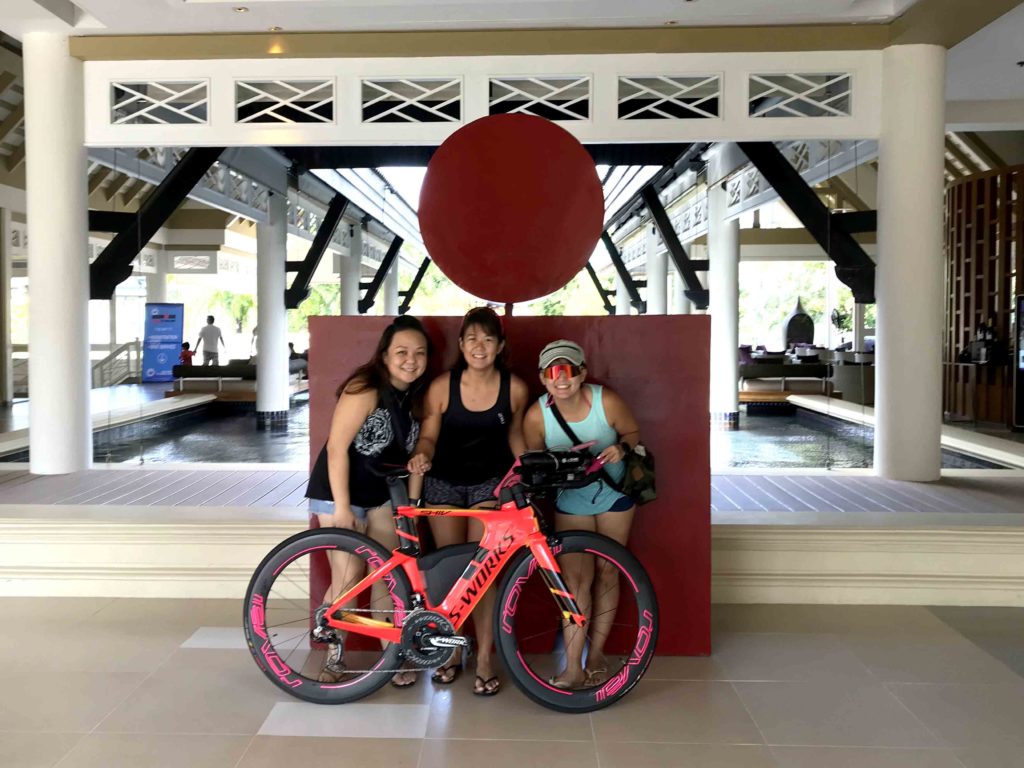 I just wanna thank all the people who are part of my journey in one way or another – thank you Connie and Jasmine for flying out to support me in Phuket; thank you to my coach Jurgen for taking me through this year; thank you to everyone supporting me from back home, like my ROCKrunners, my family and my tri-friends. Thank you also to all the volunteers and marshals for the race – it's not easy and without you guys, we wouldn't have the race.
Let me enjoy my holidays first and then 2018, here I come!