It's 3.30am the morning after and I'm wide awake. It's the effect of the caffeine from the energy gels I tell you – especially on a non-coffee drinker like me. Well, I shall  collect my thoughts about my maiden Ironman 70.3 race that I completed yesterday. I'm still feeling the adrenalin man. WHAT AN EXPERIENCE I tell you! But first, I need to say this – YEAH BABYYY I am officially part of the Ironman 70.3 club! Omg the feeling when you cross that finish line is pricelesssssssss.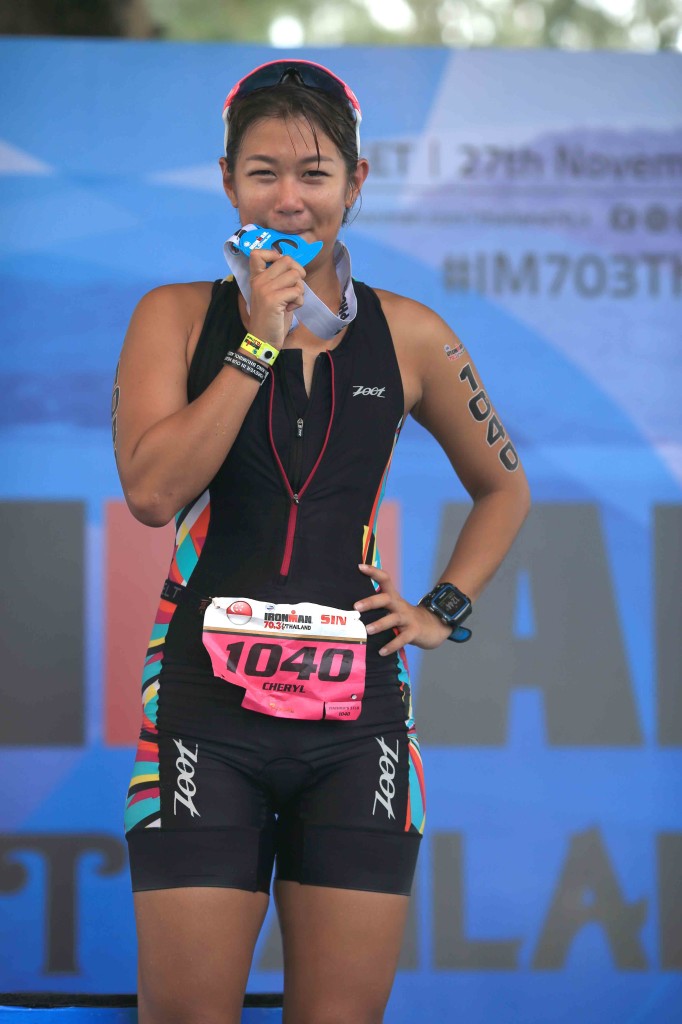 For those who are curious, here are my results:
Swim (1.9km) – 42:04
Bike (90km) – 2:52:01
Run (21km) – 2:13:43
Total (incl. T1 + T2) – 5:55:38
Div Rank (30-34 yo) – 11th
Stoked. Absolutely stoked.
I woke up in the morning feeling calm, after feeling nervous the past few days, and I was more overwhelmed than anything; simply because I can't believe I'm finally here doing my first ever Ironman 70.3 race. Those who know, will know how turbulent the past 4 months were, with all the emotional turmoil that led me to sign up for this race on impulse. It really has been a wild ride, but I am so, so glad I managed to pull through with all your support.
I guess you can call this catharsis – which is, the process of releasing, and thereby providing relief from, strong or repressed emotions. I've moved on fine and am happier with my life now, and this race meant a lot to me. It provided me with a purpose in times of loss and I wanted to see how far I could push myself.
At the start line, my tears welled up because I was just so glad to be here finally, having worked towards this. During the bike leg, the memories flooded back – basically everything that happened in the past 4 months flashed back. It didn't make me sad; rather, I smiled. That's how far I've come and the pain will no longer control me. I teared one more time on the run when I was nearing the finish line and after the finish line, I broke down and cried in my sister's arms. I did it.
Ok no more tears, here's my race review:
SWIM – The swim was a rolling start, so you choose the timings you think you will take for the swim and then everyone just keeps running towards the start line. It's my first time starting with the men, so things got a little rough in the 'washing machine'. I was shoved aside by this man because we were swimming really closely and at the same pace, so he pushed me away. And as usual, you get kicked and pulled. We swam one big loop instead of 2 loops so we didn't have to come out of the water until we are done. I got a bit lost at some points because I couldn't see the next buoy, but you just end up following the pack anyway.
T1 – I've only ever done one transition from swim to bike, and that was way back in April when I did the Metasprint Sprint Triathlon. I had laid everything out nicely and I had an order to follow but I ended up just grabbing whatever I saw first LOL. Then I was trying to decide if I wanted to wear my socks now or later, because my Specialized Trivent bike shoes do not require socks but I prefer to. I just put on the socks anyway. The transition area is quite a distance away to the bike exit and there was only a single path leading out, so everyone got jammed up here. In hindsight I should have just taken my bike and run on the sand to overtake these people, but it's ok!
BIKE – Just 200m after mounting the bike, this guy dropped his gels so he cut abruptly in front of me and nearly crashed into me. Fortunately I shouted so loud he managed to brake in time. GOODNESS. Then at the 15km mark, we had to dismount and wheel our bikes across the overhead bridge to get onto the highway. This was another bottleneck as everyone was just walking along and there was no space to overtake or run past with the bike.
The rest of the bike route on the highway was fine, except that I had a few guys on TT bikes that I kept playing cat-and-mouse with. On the straights, they would take me then I would get them back on the slopes. We aren't allowed to draft so I had to consciously make sure I wasn't directly behind them. This also makes me want to get my TT bike really badly!
We had to dismount one more time to push across the overhead bridge on the way back but this time there were less people so I could run with the bike. Riding back through the countryside roads was made easy because of the traffic police who helped to stop the vehicles, although I did encounter a few cars along the way and had to be careful.
T2 – Switching from bike to run was easier, because I didn't need to put on so many things. Just get my running shoes and visor on and I'm good to go!
RUN – The running route consisted of 2 loops which had many straight, long roads that really stretches your mental limit. There are many people along the route so you're not alone and the hydration points have cold water as well as ice cold sponges. The first loop was good and I managed to keep to my desired pace, but the second loop was when I started to drop back. The sun came out stronger and the hydration stations were running out of sponges, so I started to struggle and my pace slowed significantly. This was where I had to dig deep and thoughts of stopping to walk crossed my mind, but I refused to. The last 6km was really painful on the mind and I just wanted the race to end quickly! I just kept telling myself one step at a time, you will get there.
When I saw the finish line, all I wanted to do was keep running towards it as fast as my heavy legs could take me. It was across the sand so it was a bit hard to run fast, but getting high-fives from people along the finish line made it easier. And that feeling when you cross the finish line? Money can't buy that feeling man.
I was in a bit of a daze when I crossed the finishing line, so I didn't have any reaction. My family members and friends gathered around me and I just couldn't say anything because I was just taking everything in, clutching the finisher medal so tightly. I worked so hard for this medal!! I went straight to the ice pool and had a few moments to myself, and then the floodgates opened. I couldn't hold back my tears, hugging my sister tight as the tears fell.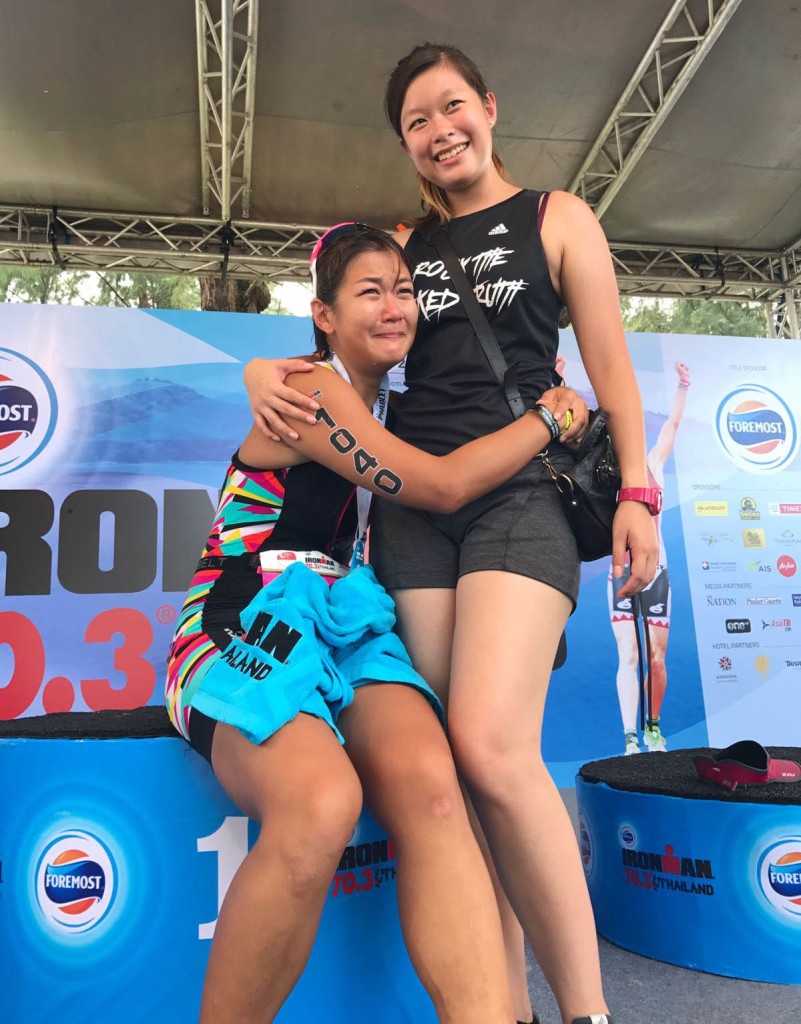 I really cannot explain the joy that I'm feeling right now.
I was aiming to complete between 6 to 6 1/2 hours ('cause road bike) so I was pleasantly surprised! Looking back, it's easy to say that I should and could have run faster, I should have done a quicker transition, my overall time could have been faster etc. But it's ok – it's my first race and I am happy with the results. At least now I know which areas to work on!
Well, this is only the beginning of a longer journey and I am just getting started. A full Ironman end of 2017 perhaps? Before this race I was already planning for more 70.3 races next year!
The mind really can achieve what you set it to. Don't underestimate yourself and don't limit your potential. You never know how much there is to you until you push yourself out of your comfort zone. Keep discovering and keep challenging yourself!
From the bottom of my heart, YOU people have been amazing with your support. I dedicate this finisher medal to all of you! Here's my Thank You speech:
I really want to thank my family – Daddy, Mummy, Claudia and Ken – as well as Yanee and Lynn, for being out here in Phuket to witness my maiden Ironman 70.3. Waiting for me in the hot sun and screaming my name as I went past really helped me, especially knowing that all of you are waiting for me at the finish line.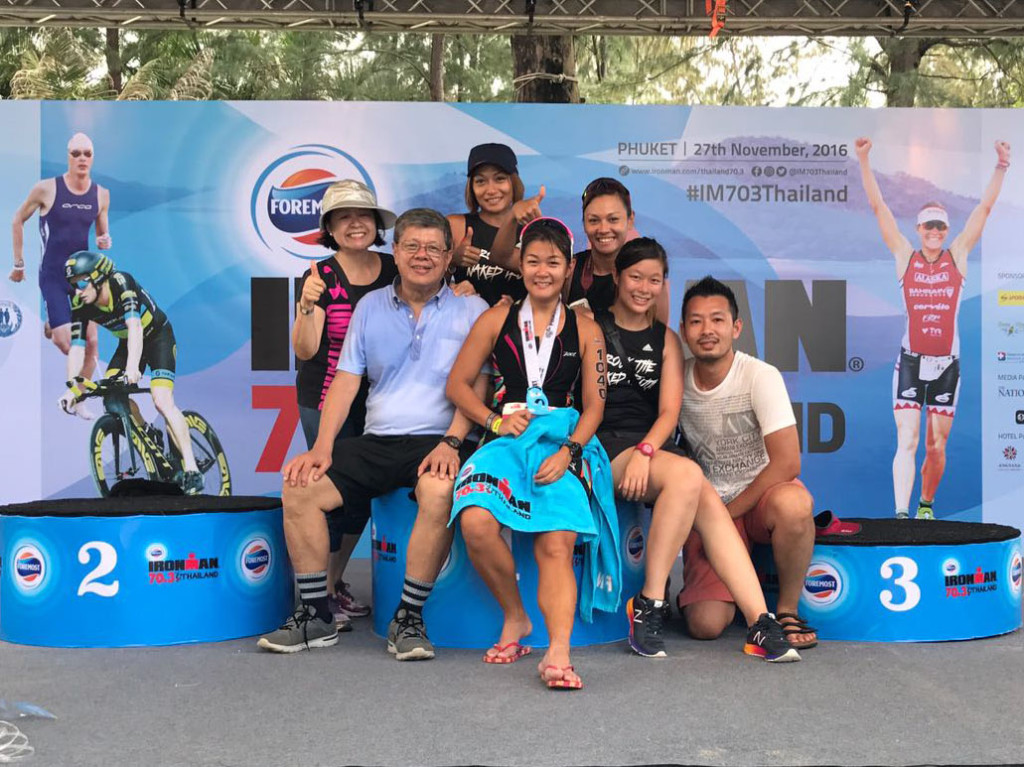 In no particular order, I also want to thank my coaches Emma and Amos for getting me here in 4 months after I signed up for this on impulse, Shern of Work Life Balance and Kevin Tan for keeping my body pain-free, Specialized @Vertex for maintaining my precious pinky, Mike of TriEdge for helping me with my bike handling and skills at the start, Alan and Ling Er for the advice and encouragement, my awesome girls Kelly, Wany, Jessica and Sara for being awesome, adidas / Running Lab / 2XU / TripleFit for kitting me up with all my training gear, my running buddy Jean who saw me through my highs and lows on and off track, my bitching partner Connie for always listening to my whines, and every single one of you of ROCKrunners for keeping me together.
Also thank you to everyone of you supporting me online and offline – the support I've received is tremendous and I'm so blessed to have you guys on this journey with me. I'm sorry if I've missed anyone out – I'm still high on energy gels (caffeine overdose) and can't think straight. I am a very lucky girl to be so loved!