All of us women were gathering around the start line on the shore, waiting for the Women's wave (it wasn't a rolling start), and I felt like I wasn't ready for this race. To be honest, the last few weeks leading up to the Ironman 70.3 Bintan 2017 were quite bad for me. I was feeling very tired, I had problems waking up for training and I was starting to feel a little sick of training. I was so glad when it was time to taper, but I struggled during the taper period too as I got even more fatigued.
I recall the last training sessions, where my times were off and I had to drag my feet through them. I didn't let this affect me too much, because it was getting close to the race and to me, the work has already been done. Throughout race week, I still continued to feel like I wasn't ready.. even after getting on a ferry and checking into the resort and doing a brief bike recce of the route. All I wanted to do was sleep… and sleep… and sleep. Which I did.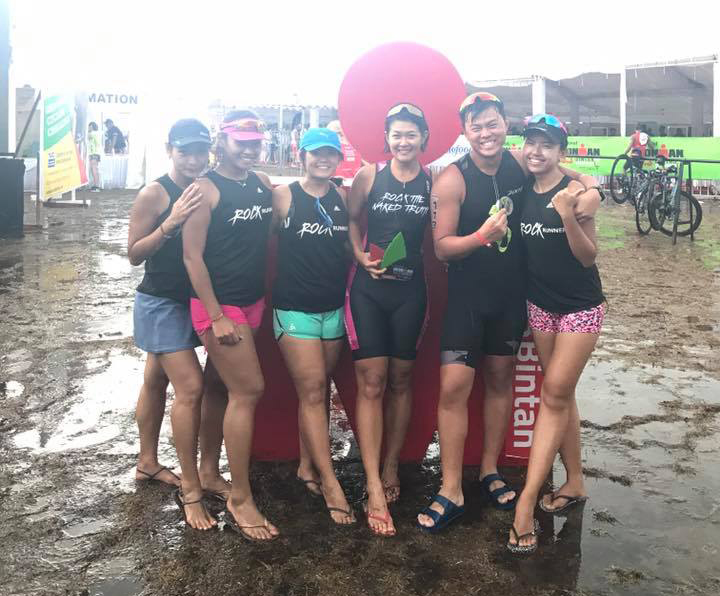 On this trip with me were Connie, sisters Yanee and Lynn, as well as couple Raynor and Hui Shan – all from my ROCKrunners club. This is special for Raynor because it was his first Ironman 70.3 race! We stayed in a 3-bedroom villa at Bintan Lagoon Resort (not the best service and food is expensive and not the tastiest), so we had a lot of fun and laughter (I pray you didn't see their Instastories of my terrible singing). I also met a lot of fellow tri friends and it was so nice to see people you know – who are actually here to suffer with me actually. LOL!!
RACE DAY
So, on the morning of the race, my first thought was, "Shit it's time to race." Yes, there was also a part of me that was excited and nervous, but a bigger part was going, "Omg what am I doing here?" Once the horn went off and I got into the water though, there wasn't time to think about butterflies and you just go with the flow. Literally.
SWIM –
The tide was pretty low, so people were running into the water. I remembered the last time I ran into the water for a race start and my heart rate accelerated so high that I suffered in the swim, so this time I chose to walk instead – walking as far as I could go before I start swimming. Bintan's waters (or at least at this beach) were pretty calm, so the swim was not too bad. Note, this is coming from someone who doesn't like the swim. LOL!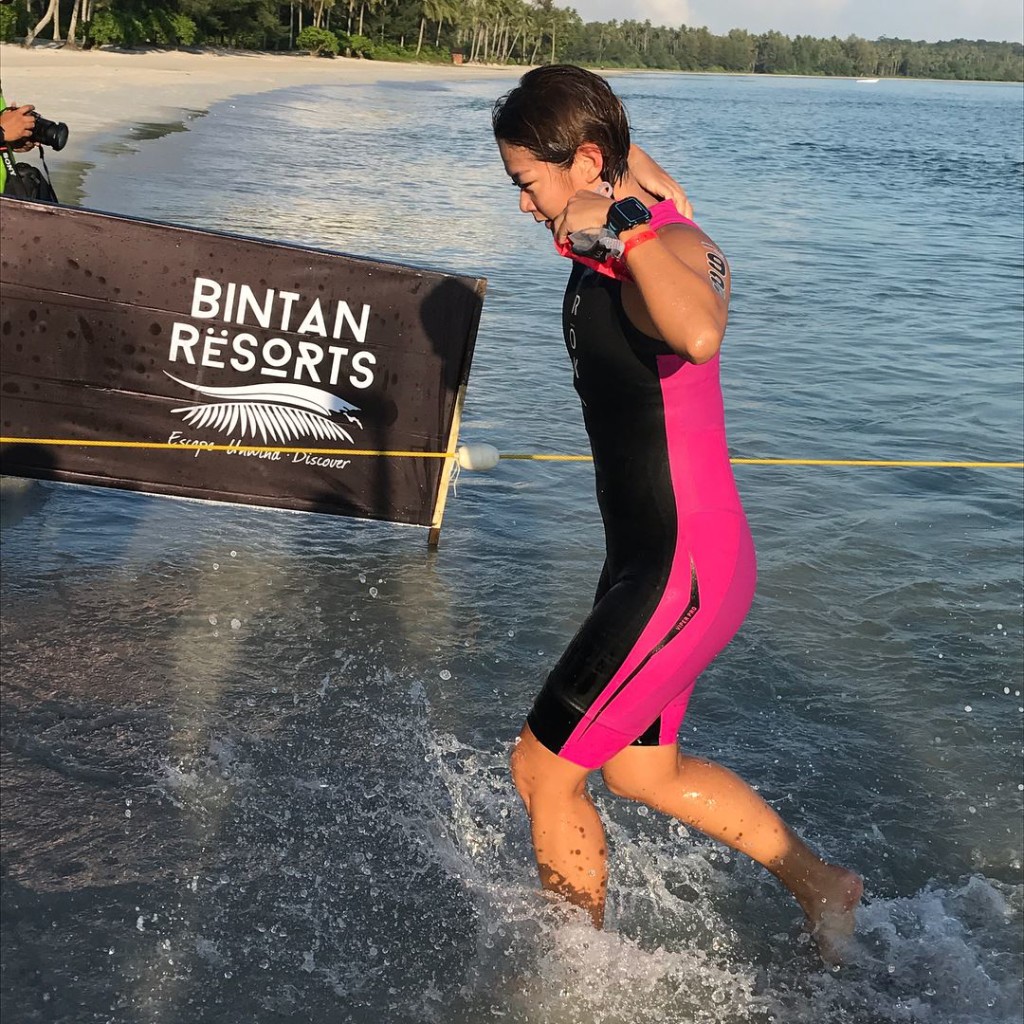 During the swim, my goggles got foggy so most of the time I was just following heads and legs and trying to see where the next buoy was. At one point, the sun was shining right into my eyes and I couldn't see where I was going. When I exited the water – again walking the last part to get out – and looked at my time, I was hoping I swam a little faster, but it's ok, just get on with the race lah. I struggled to get my swim skin unzipped – I actually heard someone on the sidelines ask "Do you need help?" – but I finally did and ran over to transition.
T1 –
My transition spot was at the end further away from the water, so I had to run down quite a bit. Transition went quite smooth for me, except maybe I spent a little too much time drinking water LOL. I was so thirsty from the swim!
BIKE –
Always my favourite part of the race – I am happiest when I am on Queen Bitch (that's the name of my bike)! The bike route is hilly, so I had to be careful not to smash the legs especially on the upslopes. Up and down we went, and into the village where it was quite dangerous.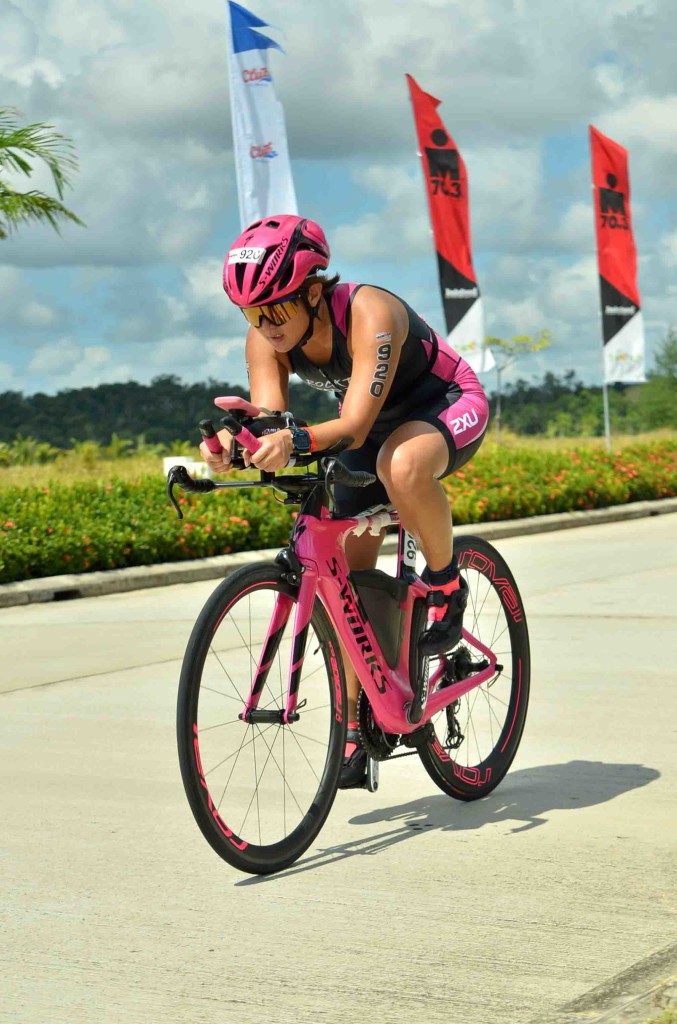 There were a lot of kids standing by the sides asking for "bottles" – they were referring to bike bottles, which we were given at the water points. I felt it was a bit dangerous because they held their hands out so far they were almost touching us and they kept coming closer to us. I've heard stories of them wanting to grab your bottles from the bottle cages, so I didn't want to knock into any of them or be pulled by them. One of my friends even got something thrown at him by these kids!
Along the entire route, there were also vehicles passing us so it could get a little scary when a lorry suddenly speeds past you to overtake you or a motorbike zooms past you loudly. The police were managing traffic and we were already informed prior that some traffic is to be expected, but it's still scary.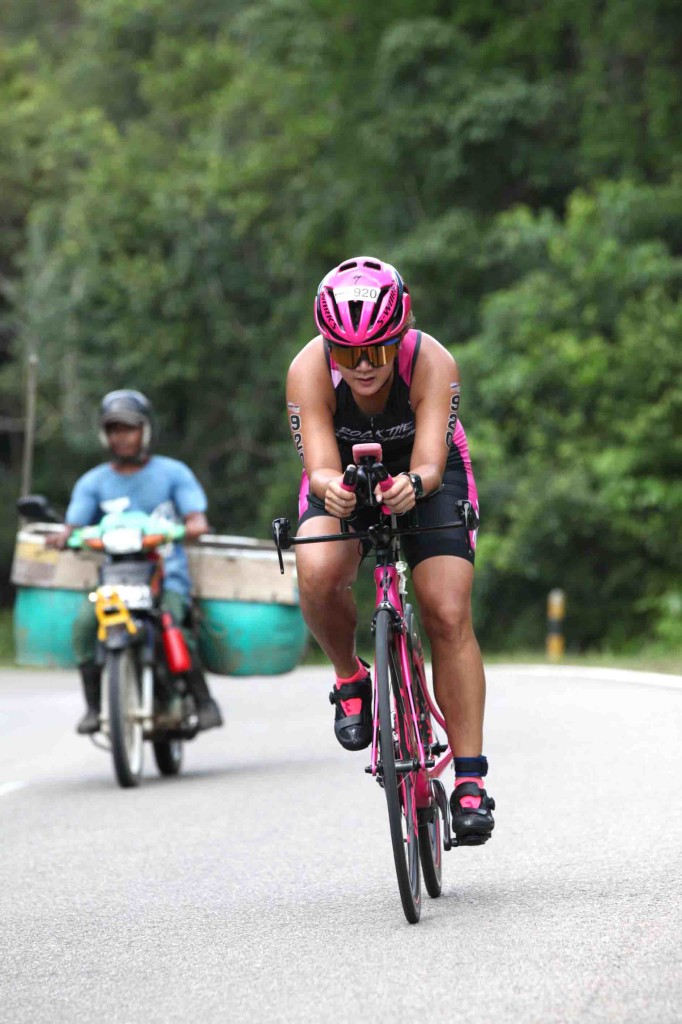 Somewhere at the 30km mark, my left aeropad CAME OUT. Wtf. The adhesive lost its 'stickiness' because of my perspiration and probably got stuck to my elbow when I came up onto the base bar. I didn't realise it was stuck to my elbow probably and I only realised it was missing when I went back into aero. Oh well! Raynor said he saw an aeropad on an upslope – THAT'S MINE!!! LOL.
Coming back to transition, I was happy with the ride but I was also worried about my legs. At Danang I remembered how soft my legs felt when they first touched the ground after I got off the bike.
T2 –
This was pretty straightforward; just hook up the bike, get helmet and bike shoes off, then get cap and running shoes on. The Run Out was at the end nearer to the sea, so I had to run back down the length of the transition area.
RUN –
Thankfully my legs didn't feel too shit, but the heat was getting unforgiving and the run route didn't look the most exciting. We were running around this manmade (?) lake, so there was no shade and no scenery. We ran 2 loops of 10.5km, which meant you would see your friends at the halfway mark (after the first loop) so getting some high-fives and cheers from them helped. Along the way I also saw fellow friends in pain and exchanging words of encouragement helped too. I had my resting bitch face on all the time though, not because I was being rude, but because I was suffering. SORRY LAH, I wasn't being dao ok! Seeing familiar faces helps with the pain, but it doesn't mitigate the sufferfest.
The first loop was manageable for me and getting to see my ROCKrunners at the spectator area (near the finish line) screaming for me gave me a boost. That boost fizzled out quite quickly though, and I struggled with the looming thought of another 10.5km.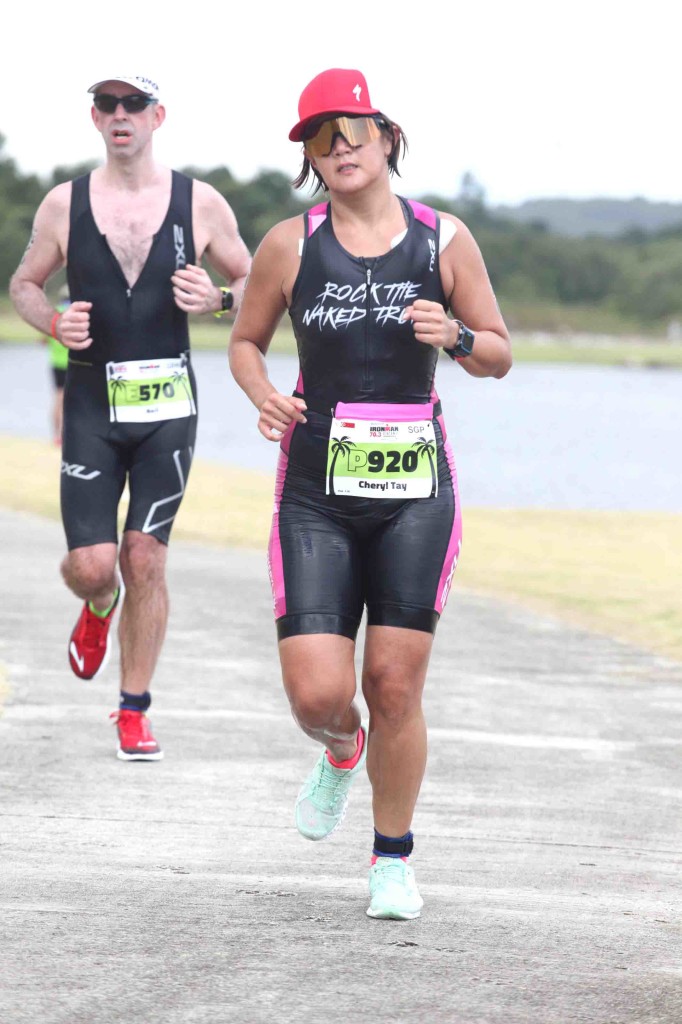 At the 15km mark, I actually stopped to walk. I looked into the sky and said, "What the f*ck am I doing here man? This hurts so bad." I won't deny that thoughts of giving up crept into my mind, but I somehow managed to pull myself together and willed my legs to continue. Like, please ah please ah Legs, just take me home can!
The water stations were really helpful too – I walked through a few to get cold water splashed over my head and also took lots of chilled sponges. There were moments when the clouds covered the sun and we got a respite from the heat, but for the most part, I wanted to hold an umbrella. Just kidding.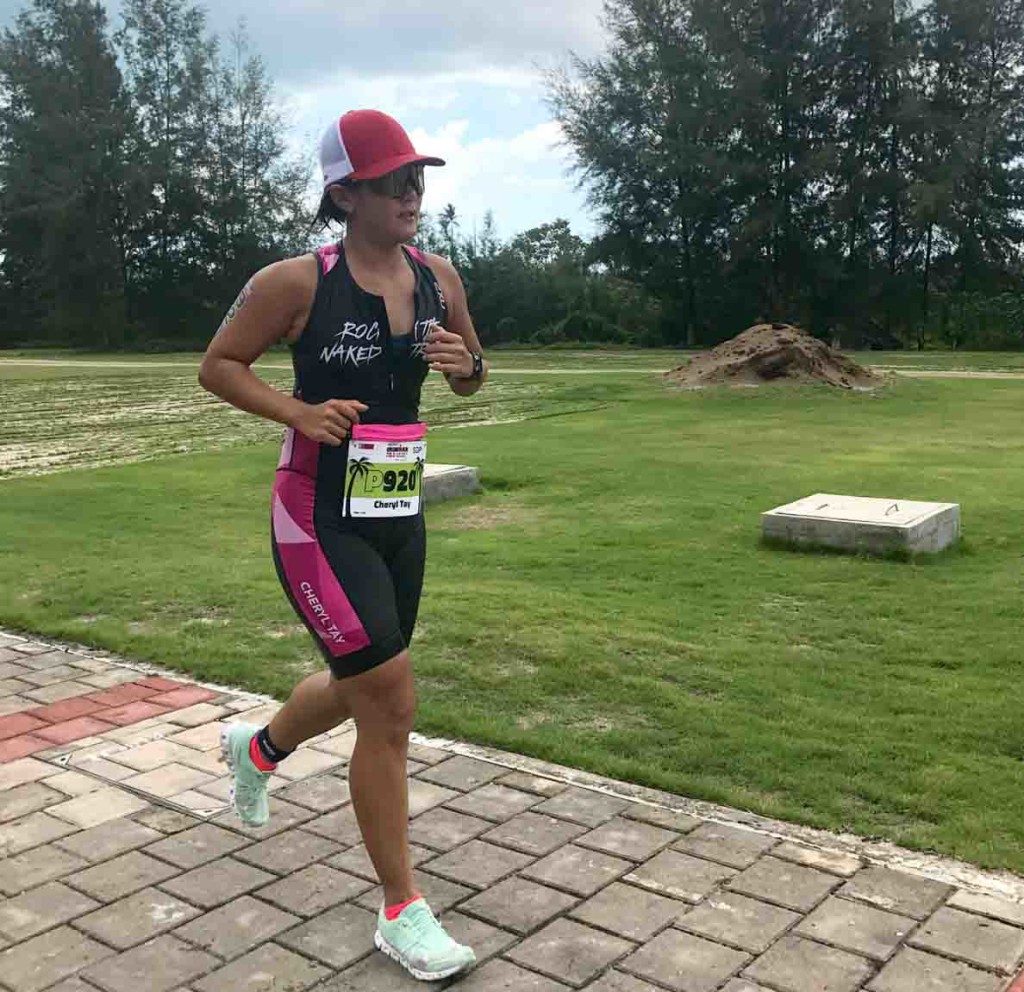 The last 3km was super painful – knowing that you're near but at the same time, your legs are getting heavier and heavier. I was so relieved to see my friends and the red carpet which led to the finish line. I just took whatever was left in my legs and gave it a last sprint to the end.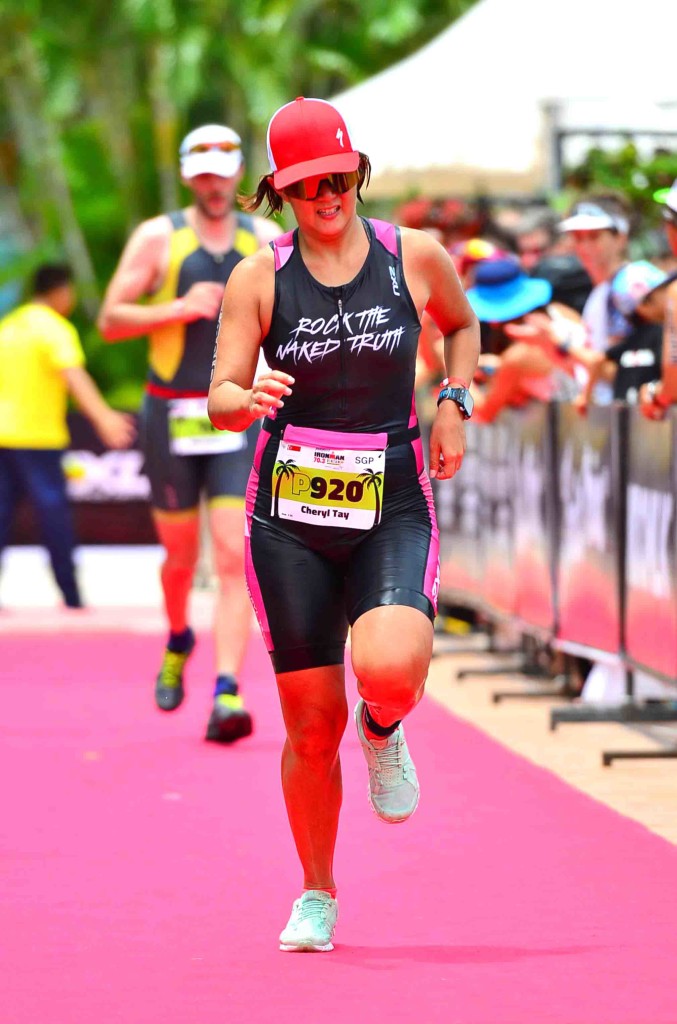 When I saw the time 6:02 on the time board, I realised I did a sub-6 (the Women's wave was flagged off about 15 min after the start) and I was so happy because it meant a PB. My official finish time was 5:45:27! That made me pump my fists in the air when I crossed the finish line – finally, I get a nice finish line photo. (The past 2 races I simply walked through.)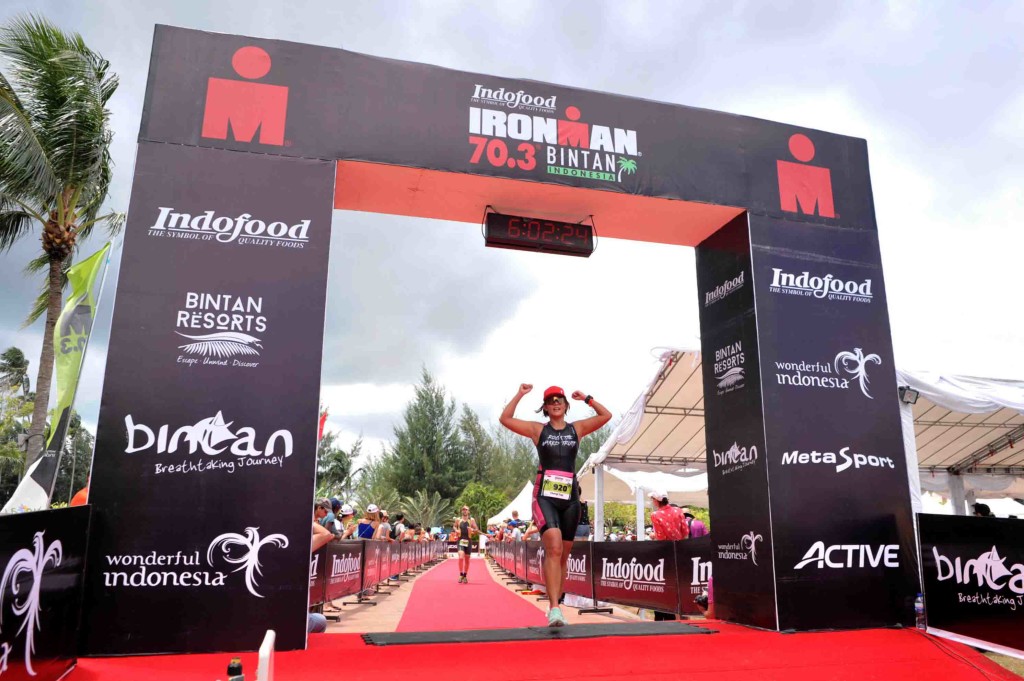 Connie, Yanee, Lynn and Hui Shan (my ROCKrunners who came out here to support Raynor and I) were shouting "Podium! Podium!" but it didn't really register in my head because I was so winded. I got my finisher medal and finisher towel, then I walked/limped into the athlete area (closed to spectators) to get into the ice bath. That's where I saw the Iron Project people – crazy fast people like Arthur (who got 3rd in AG), Yang, Ian, Ernest etc – and I chatted with them for a bit. Then Arthur told me to go and print my result – which I did.
And then OMGWTFWHOANOWAYWHAT. I really did get third for my Age Group (30-34 years old). This mix of emotions just washed through me – I felt elation (my first IM 70.3 podium leh wtf), disbelief (you sure I'm not dreaming?) and a bit of guilt (for stopping to walk during the run). It took a while to sink in; in fact, I'm still in disbelief.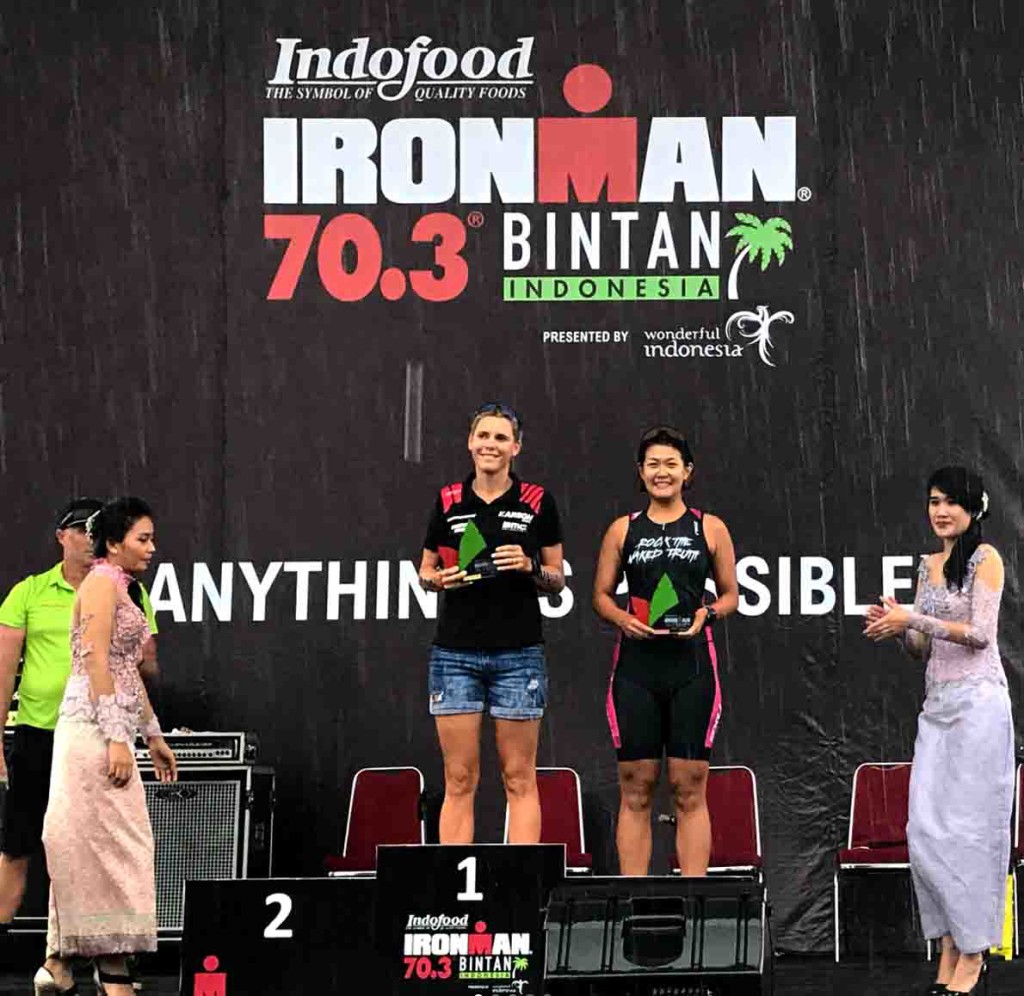 Unfortunately, I didn't get the 70.3 World Championship slot (for 2018 in South Africa) because the top 2 in my AG took the slots. Only if one of them rejects it, then it will roll down to me. BOOHOOHOO!! But it's ok, that just means I have to go back to the grind and fight another day.
Well, there's still reason to celebrate – a PB and an AG podium – so that's good enough for me this time.
Hmmm, you know, I gave myself no expectations for this race. Prior to the race, people asked me what time I was aiming for, to which I would answer, "Just go with the flow, see how the weather goes and hope for the best." I didn't want to give myself any pressure.
There are a lot of "should haves" and "could haves" when you look back at the race and think about specific points where you could have done better, cut down the time or gone faster… but really, you will feel like that at every race no matter how you do. So, I'm just gonna continue learning and look to the next race.
Most importantly, thank you to my coaches Jürgen Zäck and Amos Tan for the guidance, to 2XU for the pretty customised trisuit, to the ROCKrunners who came out here and also tracked me from home, to everyone who cheered me on during the run (I really needed it) and to my friends for the belief. This is for you!
P. S. My crew is the best.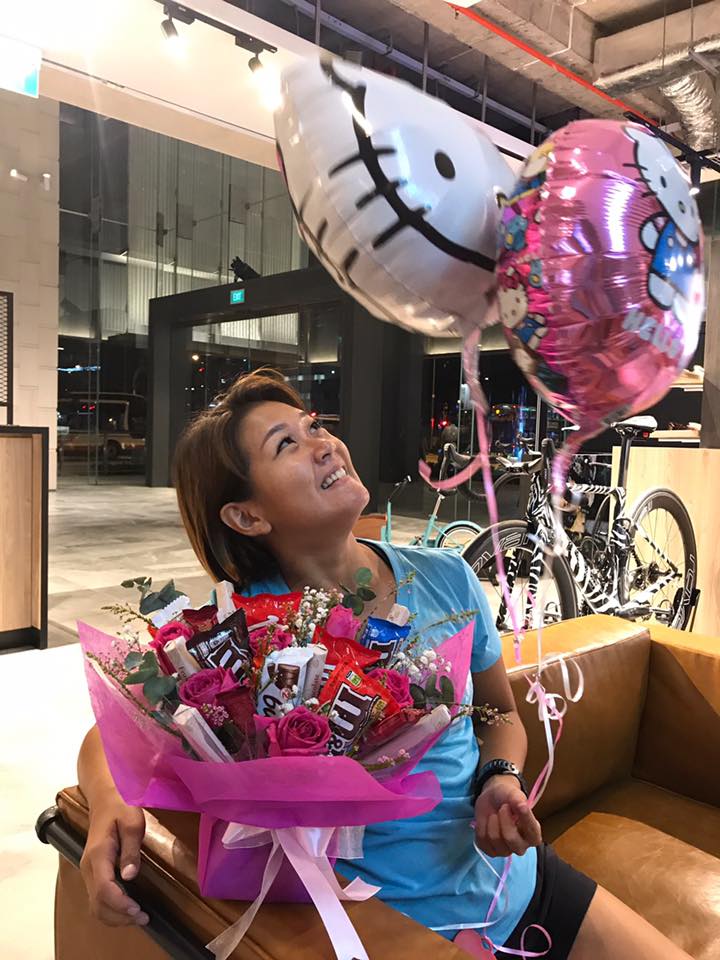 After we wrapped up the HIIT last night for the SCSM Women Squad at The Autobus, Connie and Yanee suddenly appeared with this beautiful bouquet (of my favourite pink roses and lots of chocolate) and Hello Kitty balloons to congratulate me for the race result over the weekend. Aawwww… I'm really touched!! And thank you Dawn for the custom IM pendant!!!